LITTLE VILLAGE — Vendors selling paletas, elotes and tamales are a common sight on Little Village's bustling 26th Street — but some now fear for their livelihood after being targeted in recent robberies.
Local officials and street vendors said they've seen a surge in robberies in the neighborhood's business district over the past few months. Ald. Michael Rodriguez (22nd) said he's worked with vendors and police to address security, particularly since November, and his office issued a community alert earlier this month warning people about the robberies.
"We've got to throw everything at it," Rodriguez said.
A Police Department spokesperson said the agency doesn't have data for how many vendors have been robbed recently, and they wouldn't say how they're deploying officers.
But the Ogden (10th) Police District approved additional overtime availability 4-9 a.m., when vendors say the robberies typically occur, Rodriguez said. And his office has passed out bright, reflective vests to vendors to deter robbers and make the vendors more visible to police.
The Little Village Chamber of Commerce and Rodriguez's office also recently hosted a workshop to teach vendors how to go "cashless" to decrease the amount of cash that could be stolen during a robbery.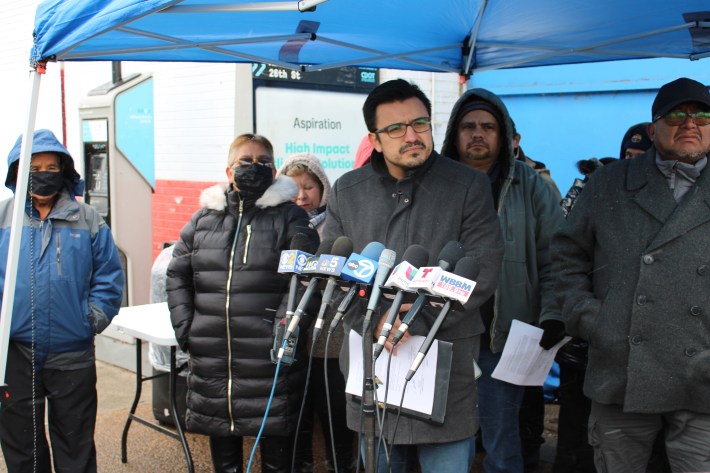 Members of the Little Village Street Vendor Association and Ald. Byron Sigcho-Lopez (25th), whose ward covers Pilsen and will include a sliver of Little Village under the new ward map, are also raising awareness on the issue.
During a news conference Friday morning, Sigcho-Lopez and street vendors said they want more citywide attention on the issue. They plan to deliver a letter to Mayor Lori Lightfoot.
Maria Velazquez, a Little Village resident who has sold tamales at 26th Street and Millard Avenue for 15 years, said she's been the victim of three robberies since Nov. 15, all occurring 3-6 a.m. She said she hasn't experienced anything this like before.
"After [a Dec. 3 robbery], I didn't go out to sell on Sunday because of fear, because I'm so afraid," Velazquez said in Spanish. "I've barely started again because I'm nervous, tense and very worried about what's happening to us."
Another vendor said she's been robbed twice: Nov. 11 and Dec. 4. She said all she wants is to do her work without this violence.
Velazquez said she's speaking out on the issue because she hopes to bring justice and peace to the victims.
"We hope that now, through all of this, that we're heard and at least the people who come to do this damage see [the effects] and stay away from us," she said.
Sigcho-Lopez said he's advocating for more attention on the issue from top city officials.
"Safety shouldn't matter on [your] ZIP code," he said.
The Mayor's Office didn't immediately respond to a request for comment.
Listen to "It's All Good: A Block Club Chicago Podcast":