PILSEN — Neighbors at a Thursday meeting debated if the development of Pilsen's largest vacant lot should focus on adding as much housing as possible to the area or if the city should also push for more green space.
Dozens of neighbors turned out to a Thursday night meeting at Jungman Elementary School, 1746 S. Miller St., to hear about three scenarios for the 6-acre lot at 18th and Peoria streets. The scenarios are not concrete plants; they are just to give neighbors an idea of what the space could be used for, housing officials said.
Feedback from the three scenarios will be used to shape formal requests for proposals for developers early next year. Officials hope to have applications chosen for sites within the project by fall.
Details for the three scenarios:
Trailhead
The Trailhead scenario centers the development's green space around the future El Paseo Trail.
298 housing units
180 parking spaces
170,000 square feet of green space
14,000 square feet of commercial space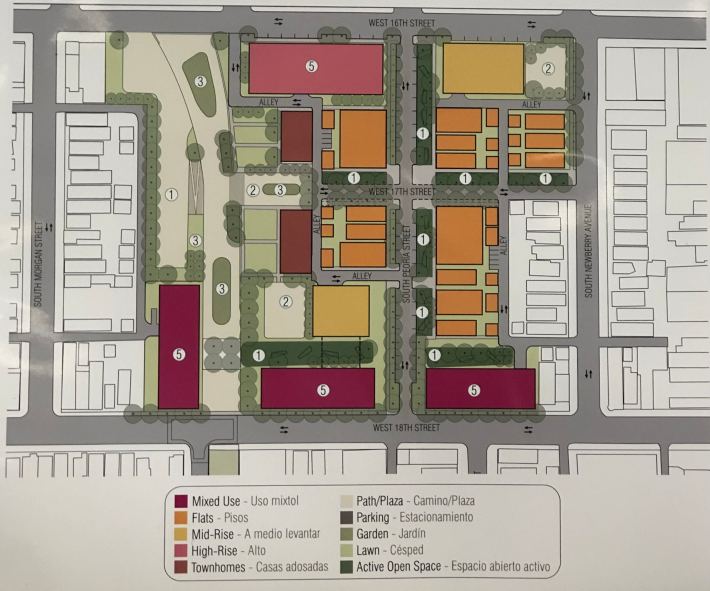 Linear
The Linear scenario uses green space to connect parts of the development.
355 housing units
287 parking spaces
140,000 square feet of green space
20,000 square feet of commercial space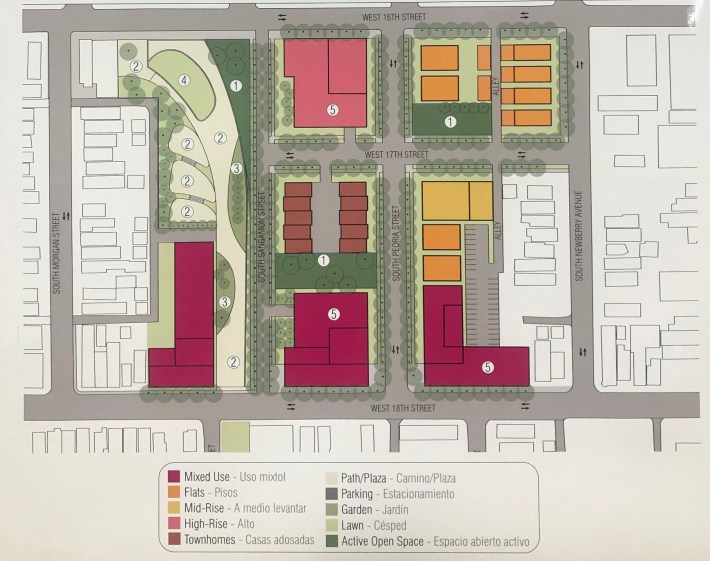 Pocket Parks
The Pocket Parks scenario separates smaller parks throughout the lot and introduces a more grid-like street system.
286 housing units
156 parking spaces
97,500 square feet of green space
19,100 square feet of commercial space
All of the scenarios propose mixed-use housing buildings that would have commercial space on their floors, as well as mid-rise buildings and three-flats. But the Linear and Pocket Parks scenarios would also include townhomes and high-rise buildings.
Several neighbors spoke in favor of maximizing the amount of housing units available, citing a current shortage of affordable housing in Pilsen.
"I don't like the the idea of townhomes," one neighbor said in response to the scenarios that include townhomes and three-flats. "I think we should aim for higher density."
Project officials said increasing units could mean they'd need to trade off other amenities, such as outdoor space.
Others neighbors said green space shouldn't be compromised to "stuff" as many people into homes as possible.
"Children need space," a neighbor said. "We want to help people create a home."
After project leaders sort through feedback from Thursday's meeting, the next steps are creating a formal proposal to be drafted in January and a 30-day public comment period to follow.
The city's $12 million purchase of the lot at 18th and Peoria streets passed City Council nearly a year ago. The February sale was a part of a lawsuit settlement between developer Property Markets Group and the city.
Officials and developers long have battled over the future of the lot amid debates over gentrification in the neighborhood. 
Property Markets Group sued the city in 2018 after then-Ald. Danny Solis rezoned the property from residential to industrial use, effectively blocking development on the site.
The developer had proposed building 500 apartments and a park there, but residents and activists pushed back. Sigcho-Lopez, who was a Pilsen Alliance organizer and opposed the plan before being elected, said the lot should have more affordable housing than was being offered. Solis demanded at least 21 percent affordable housing at the site.
Property Markets Group tried to resurrect the project in 2019, but Sigcho-Lopez opposed it.
Listen to "It's All Good: A Block Club Chicago Podcast":