RAVENSWOOD — A group of Ravenswood neighbors, rattled by recent armed robberies and shootings in and near the area, are launching their own system to help alert each other about potential public safety issues.
Ravenswood Neighbors Association members are starting a block captain program, designating a point person to reach out to police leaders and the alderperson if about crime or police activity in the area, said Laine Rivas, a member of the group.
Neighbors can go to the block captain for updates and to quickly inform each other about any ongoing issues, Rivas said.
Neighborhood group chats lit up Monday when police chased four men they said were suspects in nearby armed robberies. The driver crashed into a city truck, causing the car to burst into flames.
Then two brothers, 17 and 20, were fatally shot in an alley Wednesday night. That occurred about 20 minutes after a 15-year-old boy was wounded in a separate shooting, police said.
Neighbors hearing police sirens and helicopters related to the police chase turned to their group chats to try to figure out what was happening. Some shared unconfirmed news, while others asked what was going on, Rivas said.
In that moment, Rivas said neighbors quickly needed more information from police and elected officials about what was happening and if they needed to take precautions.
"For me, it boils down to a lack of communication," Rivas said. "I know you can't just say something off the bat that could get people rattled. But something needs to come out like an amber alert or something saying, 'There's police activity; please stay inside.'"
Alds. Andre Vasquez (40th) and Matt Martin (47th) shared updates about the police chase in their emailed newsletters. Rivas said neighbors did eventually receive the notifications from their aldermen but they came after people were already panicking about the frenetic scene.
"I do believe a screen shot of it was circulated in group texts afterwards. But someone should have said something about police activity and for everyone to stay put or something like that because the men from the car were on foot," Rivas said.
Neighbors already use group chats to ask questions about things going on in the area. Now, they want to go beyond just chatting about the news.
The block captain will also organize neighbors so they can submit coordinated reports to 311 for issues like when a streetlight is out, Rivas said.
"This is our neighborhood. Our kids walk around this neighborhood," Rivas said. "We really care for each other and for the safety of everyone."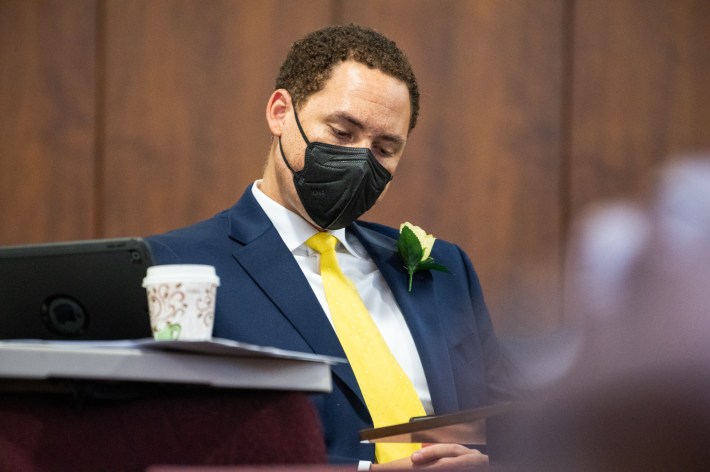 Martin said the community has to come together to address crime, and he credited neighbors for organizing, talking with each other and sharing surveillance footage with investigators when a crime does happen.
"This is traumatic. It's frustrating, and it's scary. The fact that on Monday, you had multiple armed robberies in the early morning, as well as in the mid-morning … is something that we don't see very often and was very scary," Martin said. "I'm thankful that [police] responded as quickly as they did and that no one was hurt further physically."
Martin said he's talking to police about where they're allocating resources in the neighborhood after Wednesday's shootings.
"I'll continue talking with neighbors throughout the day and beyond about the tragedy that happened. … Those were two brothers, a 17-year-old and 20-year-old, and my understanding is their family lives in the area. It's a truly terrible situation," Martin said.
Martin's also reached out to the Cook County State's Attorney's Office and the Cook County Sheriff's Office to make sure they're aware of what happened this week, he said.
Additionally, Martin's in communication with violence prevention organizations such as the Alliance of Local Service Organizations and ONE Northside to flag the recent shootings to understand why they happened and try to prevent future violence, he said.
"At the end of the day, we don't address these issues quickly and successfully if we operate in silos," Martin said. "We need to be collaborating in real time and sharing that information out to residents." 
Listen to "It's All Good: A Block Club Chicago Podcast":