CHICAGO — Chicago leaders are warning residents to start preparing for the cold, snowy weather heading our way.
Temperatures this week are expected to stay in the 20s and 30s, but an arctic blast could lead to a dramatic dip and "MUCH colder" weather coming up, according to the National Weather Service.
RELATED: An Arctic Blast Is Coming, Bringing 'MUCH Colder' Weather To Chicago Next Week, Experts Say
There's at least an 80 percent chance Chicago will have to stick it out through below-average temperatures Dec. 20-26, according to the weather agency.
"Very cold air" is expected in the days before Christmas — and Tuesday may be Chicagoans' last chance to spend time outside before temps fall, according to the weather agency.
At a Thursday morning press conference, Richard Guidice, executive director of the Office of Emergency Management & Communications, said Chicago is prepared to cope with "extreme winter weather conditions."
Streets and Sanitation workers are prepared to fire up 300 snow vehicles and already have 40,000 tons of salt in piles across the city, commissioner Cole Stallard said.
"We haven't had serious snowfall yet, but we know it's coming," said Mary Sheridan, First Deputy Commissioner of the Chicago Fire Department.
Plowing will usually happen overnight and at low-traffic times, but drivers sharing the road with snow vehicles can continue at their speed and try their best to stay out the way, Stallard said.
"Just be aware we're shooting salt out the back," Stallard said.
There are 7,400 miles of sidewalk in Chicago and it's "everyone's responsibility" to clear it of snow and ice, said Tom Carney, commissioner of transportation.
Property owners are required clear a path at least 5 feet wide on all sidewalks adjacent to their property, including any crosswalk or ADA ramp. Snow should not be shoveled into the right away, including CTA transit stops, bus paths, parking spaces, bike lanes, bike racks, Divvy stations and any other space where snow impedes traffic, he said.
If an area is not shoveled residents can report it to 311, Carney said.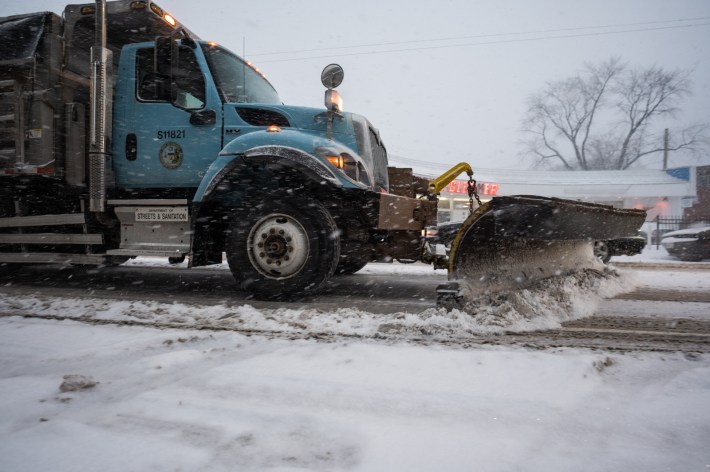 The city's heat ordinance requires landlords keep temperatures at least at 68 degrees during the day and 66 degrees at night between Sept. 15 and June 1. Neighbors should call 311 to report inadequate heat in a residential building, officials said.
Sheridan warned residents not to heat their homes with ovens or stovetops, nor to try to thaw frozen pipes themselves. Neighbors should try to keep warm air circulating through the home and keep a trickle of water running to prevent freezing pipes, city officials said.
The city has six warming centers officials will open if temperatures are 32 degrees or below, said Mark L. Sanders II, commissioner of the Department of Family & Support Services.
The centers are open 9 a.m.-5p.m. Monday-Friday. The Garfield Community Service Center is open 24 hours to help connect residents with emergency shelter, according to city officials.
Englewood Community Service Center
1140 W. 79th St.
312-747-0200
Garfield Community Service Center
10 S. Kedzie Ave.
312-746-5400
Dr. Martin Luther King Community Service Center
4314 S. Cottage Grove Ave.
312-747-2300
North Area Community Service Center
845 W. Wilson Ave.
312-744-2580
South Chicago Community Service Center
8650 S. Commercial Ave.
312-747-0500
Trina Davila Community Service Center
4312 W. North Ave.
312-744-2014
Chicagoans can also seek shelter at police stations, libraries and Park District facilities, Sanders said.
Sign up for emergency weather updates from the city here. You also can call 311 to request up-to-date information on warming centers, or to request a well-being check on a loved one or friend.
People should limit their time outdoors during extreme cold, layer up warm clothing and watch for signs of hypothermia and frostbite, city officials say.
Frostbite symptoms start as a pins and needles or tingly feeling; your skin may change color, becoming red, white, blue, purple or grayish depending on the severity, according to Cook County officials.
Signs of hypothermia include, like intense shivering, slurred speech, drowsiness and loss of coordination, according to Cook County officials. Seek medical care if you are in need.
Listen to "It's All Good: A Block Club Chicago Podcast":