WEST LOOP — You might stumble upon your new favorite non-alcoholic drink at a taste-testing event next month featuring alcohol-free beers, wines and spirits from more than 20 companies. 
Chicago AF, a nonprofit dedicated to creating fun community spaces that don't involve alcohol, will host NA Day from 1-5 p.m. Jan. 14 at Loft on Lake, ​​1366 W. Lake St. Tickets are $25 and can be bought online. 
"The non-alcoholic market is absolutely booming, there's so many spirits, beers and wines that don't have alcohol nowadays," said Kerry Tuttle, a member of Chicago AF who organized the event. "I thought it would be really cool to put together an event where people can try all of these different options that can be pricey to buy on your own if you haven't tasted them before." 
Attendees can expect an experience similar to a craft beer or wine festival. There will be a variety of booths to visit at your own pace, each offering different drinks to taste while you mingle with other attendees. 
"It's been really exciting to see the response, especially from people who might not be fully sober but are just curious about some of these non-alcoholic options," Tuttle said. "The event is for anyone who's sober, doing Dry January or even just looking to cut back on drinking and interested in seeing what's out there." 
The event is also an opportunity for bar managers and others in the food industry to connect with non-alcoholic brands, many of which are just entering the market, so that they can start to "envision a place for them on their menus," Tuttle said. 
"That way, when people go out who are sober or just don't want to drink that night, there's more inclusive options," Tuttle said. "Chicago has actually done a really good job at this in the last couple of years, making those strides, but more is always better."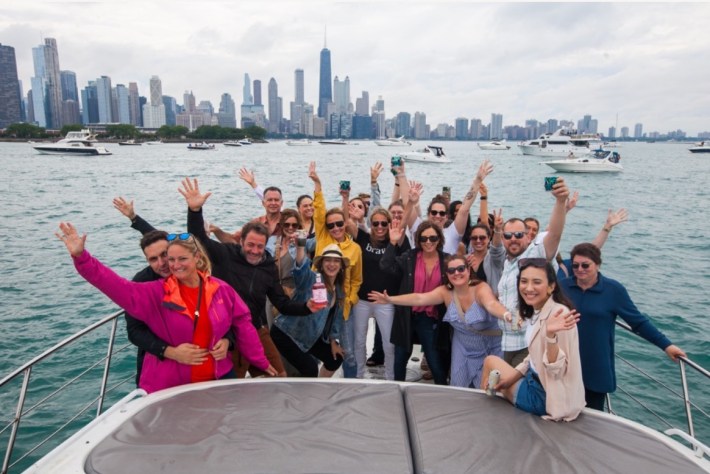 Chicago AF hosts weekly meetings and monthly events in order to create a community for sober adults. In the past, members have set sail on a no-booze cruise, attended sports games, painted pottery and much more. 
"It's been awesome seeing people come into the group and watching their sobriety flourish because they're able to connect with other like-minded people," Tuttle said.
Listen to "It's All Good: A Block Club Chicago Podcast":