LINCOLN SQUARE — Four men arrested Monday after a police chase that ended in a fiery car crash are facing a litany of felony charges related to a string of armed robberies earlier that day.
Marcus Carter, 20; Marchelo Hicks, 21; and Dashun McGraw, 19 — all from East Garfield Park — and Marquise Green, 20, of Dearborn Homes, all charged with multiple counts of robbery, armed robbery and aggravated robbery, police said Wednesday. Carter, Hicks and Green also have been charged with unlawful use of a weapon, police said Wednesday.
Cook County Judge Susana Ortiz denied bail for Carter and Hicks on Wednesday, according to the Sun-Times. McGraw and Green are expected in Cook County Bond Court Thursday.
The four were involved in four armed robberies during a seven-hour stretch Monday morning in Lincoln Square, North Center and Bucktown, officials said. The robberies occurred:
3:15 a.m. in the 2400 block West Berwyn Avenue
3:18 a.m. in the 4300 block of North Leavitt Street
10:26 a.m. in the 2100 block of North Claremont Avenue
10:39 a.m. in the 4100 block of North Wolcott Avenue
In each case, three men approached someone while they were walking or sitting in a parked car and demanded their property, Supt. David Brown said. The people they robbed were all men, ages 22 to 42, police said.
The men were arrested after police spotted a stolen silver Hyundai they suspected was involved in the robberies, Brown said. The driver of the car fled and crashed into a Streets and Sanitation truck parked near Oakley Avenue and Winona Street, and the car caught fire, police said. 
The men ran from the car after the crash and hid in a garage in the 5100 block of North Oakley until officers found them, Brown said.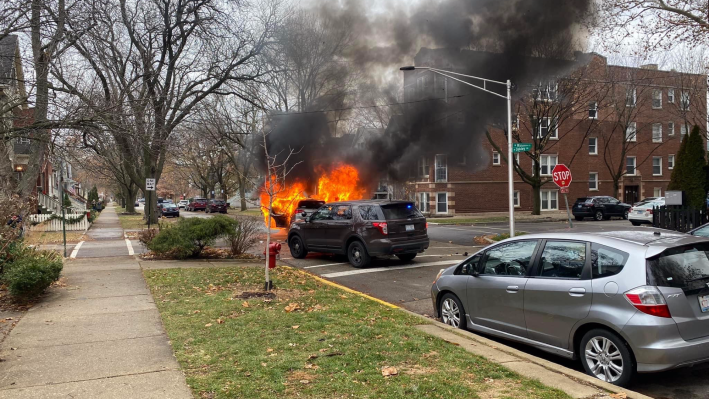 Officers also recovered three weapons they say were used during Monday's robberies, which occurred in three different police districts, Brown said. 
"These people were moving at a speed that was tough to catch up to them. We were catching midnight robberies and then other districts were catching daytime robberies," said Rogers Park (24th) Police District Commander Joseph Brennan. "…It was just a matter of time until we were able to get on them."
Detectives are still investigating if the four men are involved in dozens of other armed robberies across the city, Brown said.
Listen to "It's All Good: A Block Club Chicago Podcast":