LOGAN SQUARE — The 1st Ward aldermanic race is heating up as former Ald. Proco Joe Moreno and attorney Sam Royko fend off efforts to remove them from the ballot.
Residents Dodie Anderson-Barden and Erika Gutierrez filed an objection earlier this month to block Moreno's bid to return to City Council. Jay Ramirez, who successfully booted an opponent of Moreno's from the ballot in 2014, filed an objection against Royko.
Initial hearings for the ballot challenges were held Monday, and the first round of decisions from the Chicago Board of Election Commissioners could come as soon as next week, board spokesman Max Bever said. Cases are expected to be settled over the next few weeks.
Anderson-Barden and Gutierrez, who are neighbors of Royko's, allege Moreno's nominating petitions have invalid signatures and his circulators and notaries didn't follow proper protocols under the Illinois Election Code.
Circulators had people who are not registered 1st Ward voters sign petitions, according to their complaint.
The petitions also include names of people with missing or incomplete addresses. Some signatures appeared more than once, and others look to be forged because they were written in the same handwriting, according to the objection.
The seven-page objection, which is long compared to other complaints, alleges Moreno worked with circulators and notaries who demonstrated a "pattern of fraud and disregard of the Election Code." Their petition sheets are riddled with issues, such as incomplete or missing notarization, addresses and signatures, the objectors said.
"The petition sheets purportedly circulated or notarized by the above Circulators or Notaries reveal a pervasive and systematic attempt to undermine the integrity of the electoral process," according to their objection.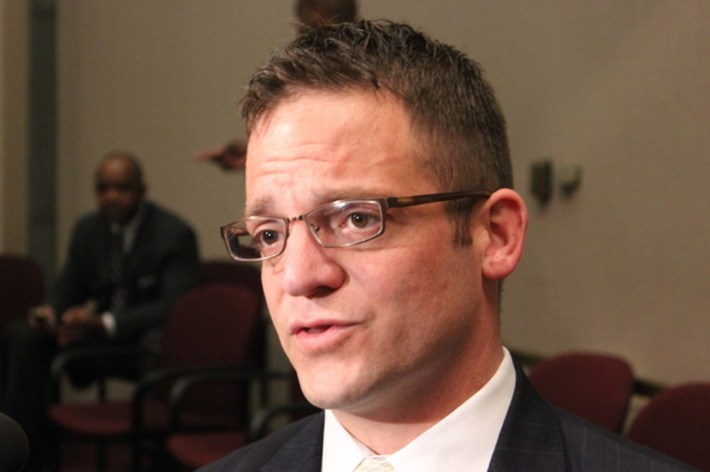 The objectors also argue Moreno's criminal history makes him ineligible to run under Illinois law.
Moreno was appointed 1st Ward alderperson in 2010 by then-Mayor Richard M. Daley, then lost his seat in 2019 to community organizer Daniel La Spata by almost 4,000 votes.
In the midst of that election battle, Moreno was charged with insurance fraud and obstruction of justice for falsely reporting his car stolen. While that case was pending, he was charged with drunken driving and reckless driving after crashing into parked cars on the Gold Coast.
Moreno pleaded guilty in both cases. He was given "second chance" probation for the first case and community service and court supervision for the DUI.
Illinois law prohibits people convicted of "a felony, bribery, perjury, or other infamous crime" from holding public office unless they've been cleared in some way, either through a pardon or plea agreement.
Moreno told Block Club in October the charges were wiped from his record because he completed his probation under the "second chance" law. Block Club reviewed court documents showing the probation had been terminated "satisfactorily" in August, nearly a year early and over prosecutors' objections.
Moreno didn't respond to requests for comment. He previously said he should be able to move on legally and he's in a much better position to lead the 1st Ward after receiving treatment for alcohol addiction and completing community service.
"I still allowed myself to make bad decisions in my personal life. But all the charges were dismissed. … The charges with the woman and the car and all that, all that stuff, they were all dismissed," Moreno said in October.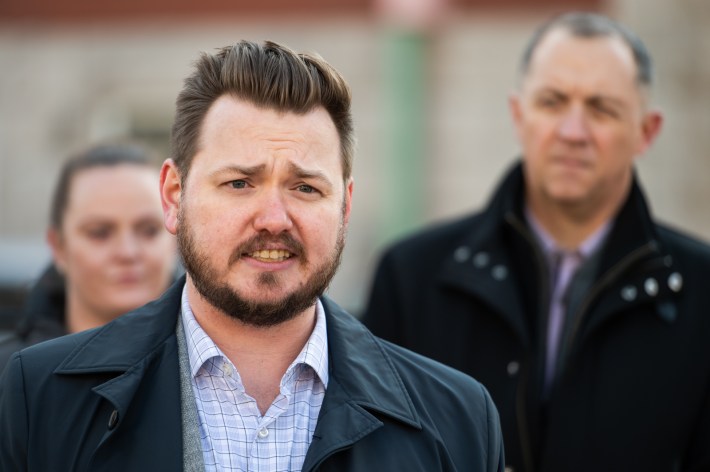 In Ramirez's objection, he alleges Royko didn't list his actual home address on his petition sheets, a move he calls "confusing and misleading to voters."
Royko, the son of famed newspaper columnist Mike Royko, lives on North Noble Street and not West Ohio Street as purported, according to the objection.
The objection alleges Royko receives a homeowner's exemption on the Noble Street property, which he owns as a beneficiary of a land trust, according to the objection.
Royko declined to be interviewed and did not answer questions about if he was backing the duo challenging Moreno's candidacy. He also did not answer questions about Ramirez's challenge to his petitions.
Royko instead released an emailed statement addressing the challenge to Moreno.
"The first test of any elected official is to follow the rules for placing their names on the ballot. My family has a history of holding public officials accountable," Royko said. "This challenge raises concerns about the eligibility and signatures submitted by one of the candidates. I look forward to continuing our campaign to build a stronger and safer 1st Ward together."
The 1st Ward includes parts of Logan Square, Wicker Park, Humboldt Park and West Town.
Moreno and Royko are vying for a seat held by La Spata, who is seeking a second term in office. Logan Square Preservation President Andy Schneider is also running for 1st Ward alderperson.
The nominating petitions from La Spata and Schneider were not challenged.