CHATHAM — A South Side wine and charcuterie bar is one step closer to becoming a reality after getting a big boost from a city grant. 
Park Manor 75, a Black-owned business led by a husband-and-wife duo, was one of 60 beneficiaries of the city's Community Development Grant in November. The grant, created under Mayor Lori Lightfoot's Chicago Recovery Plan, awards funding to businesses citywide as they recover from the pandemic. 
Owners Charlette Stanton and Jacare Thomas received $250,000 to fulfill their dream of opening an eatery at 600 E. 75th St. and building a thriving business in the neighborhood where their relationship began. 
Park Manor 75 will bring craft cocktails, mocktails and charcuterie boards — a craft Stanton mastered during the pandemic — to Chatham, the owners said. Neighbors can expect a low-key space that prioritizes low drum music and local artists' work on the walls, owners said. 
Park Manor 75 will hopefully pave the way for a new 75th Street, Stanton said.
"People might be a bit leery to build these types of businesses in our community, but we're packing a punch," Stanton said. "Maybe people will see what we're doing and think they can make 75th Street a walking community where we go to restaurants and bars and have entertainment. Maybe people will want to get an apartment or buy a condo in the community because it's up and running and on the rise."
Stanton and Thomas hoped to open their business in August, but permit delays halted their progress, Thomas said. 
The duo decided to apply for the grant in August so they could open Park Manor 75 "comfortably without the stress" and invest in the community, Thomas said.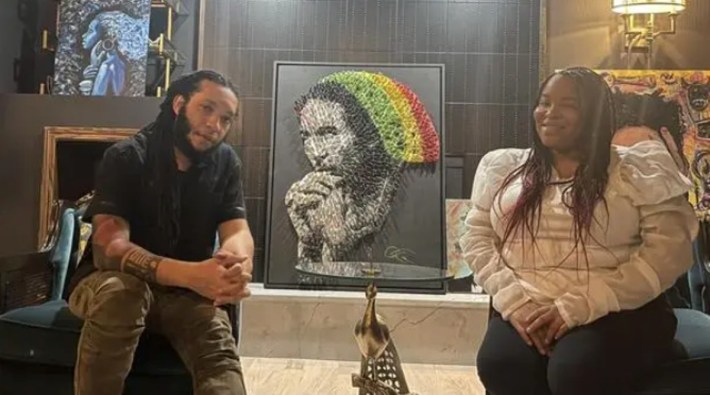 It was their fourth time applying for the grant, but the two planned to start construction in January with or without the money, Thomas said.
The grant means the couple can make their most ambitious plans with the building a reality, Thomas said.
"We knew the grant would make a huge difference for us in terms of what we're able to offer and create," Thomas said. "Now, we don't have to pull any punches. We're going all in and all out to make it exactly what we imagined in our heads." 
The couple will use their $250,000 to begin construction on Park Manor 75. They'll also use the grant to hire Lee Bruce, owner of Superior Plus Painting, to make the interior and exterior of Park Manor 75 "pop," Stanton said. The company most famously painted the Trap Music Museum in Atlanta. 
"If you go down 75th Street or many of the other main streets on the South Side of Chicago, everything is brown," Stanton said. "Our building will pop by being white and black. It's going to be stark and something very different from what you would normally see in our neighborhoods." 
Stanton and Thomas are still winding their way through the city's permit process, the couple said. They hope to break ground by January and welcome their first customers this spring, Stanton said. 
The couple has dreamt of opening something like Park Manor 75 throughout most of their marriage, they said earlier this year.
The two frequented the 75th Street mom-and-pop stores and restaurants when they were dating. Wanting to dive more into the scene, the couple created Noir Urban Arts Collective in 2003, a group that showcased up-and-coming Black artists in the city. Soon after, the duo founded CeeBlaq Social Club, an organization that encourages networking, conversations and "bringing people together," Stanton said. 
Once they found the 75th Street location, the couple sold their four-bedroom, four-bathroom condo in Woodlawn and moved with their three children into the "tiny" three-bedroom apartment above the commercial space to try to make Park Manor 75 a reality.
"We always loved 75th Street, but when we saw this property, we were like, 'This is it,'" Thomas previously said. "It was perfect."
Park Manor 75 is only the first "phase" on a list of goals they have for 75th Street, Thomas said. Phase two will see the couple remodeling the second floor of their building and creating a community kitchen or a sit-down restaurant. 
Reimagining 75th Street isn't a "one-time thing," Thomas said. 
"We want to be able to continue to build up the neighborhood," Thomas said. "We're thinking about how we can continue to redistribute and reinvest in a neighborhood to create jobs and offerings so we're not going to the south suburbs or Downtown just to sit down and have a meal."
Listen to "It's All Good: A Block Club Chicago Podcast":