PORTAGE PARK — A birthday party for a 25-year-old woman at a Far Northwest Side lounge ended in tragedy Sunday morning after someone shot her and fatally shot her father and two others, family and police said.
Ricky Vera, 50; Mario Pozuelos, 26; and Mercedes Tavares, 24, died after the mass shooting around 2:30 a.m. Sunday in the 5500 block of West School Street, according to police and the Cook County Medical Examiner's Office.
Mariah Vera, who is Ricky Vera's daughter and was celebrating her birthday, was shot in her head and hospitalized in critical condition, according to police and social media posts from family.
The birthday party was at Vera's Lounge, 3235 N. Central Ave., and the shooting was nearby, according to posts from relatives of the victims.
People inside the lounge got into an argument, which turned into a physical fight that spilled into the street, police said at a Sunday news conference. A person fired shots, hitting two men and two women outside the bar, then drove off in a dark-colored SUV, police said.
Detectives arrested and were questioning a person of interest Monday, police said.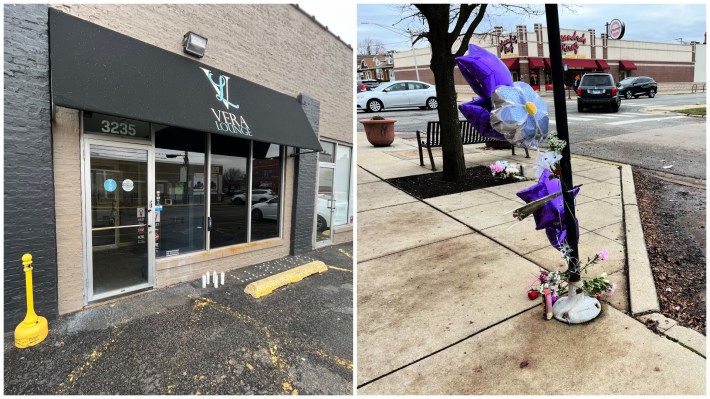 Balloons and candles were tied to signposts at North Central and West School streets on Monday. "Forever in my heart" and "May you rest in peace" were written on pink balloons that were wet with rain.
Two fundraisers have been created to pay for funeral expenses for Pozuelos and Tavares.
Pozuelos lived in northwest suburban Franklin Park and Tavares in south suburban Chicago Heights, according to the Medical Examiner's Office. Vera lived in Chicago, according to his Facebook page.
A fundraiser for Tavares' services has raised more than $7,000 of its $12,000 goal. People can donate online.
"I am trying to raise a little more money to bury the mother of my kids," wrote organizer Miguel Gordillo. "She was taken from us in a senseless crime."
Ricardo Pozuelos, Mario Pozuelos' brother, also launched a GoFundMe and is asking the community to help the family bury the 26-year-old and honor his life.
"Our hearts are with the other victims and families," Ricardo Pozuelos wrote. "They never deserved this our Mario had his whole life ahead" of him.
More than $3,000 has been raised for that fundraiser, with the family hoping to collect $11,500 for the service.
A friend of the Vera family also launched a GoFundMe to help with the family's immediate needs and for Mariah Vera's medical expenses. Almost $8,000 has been raised for the family so far, with the goal of collecting $40,000.
Family members did not respond to requests for comment. Carlos Vera Jr., owner of Vera Lounge and Ricky Vera's brother, also did not respond to requests for comment.
Outside the lounge's entrance, five white candles were on the ground next to dozens of white tea candles that spelled "LL My Tio," meaning "Long live my uncle," on Monday.
Rosie Andino, who identified herself as a relative of victims, said in a video the shooting had nothing to do with the bar and the person who fired shots was a stranger to the family.
"Let the family heal. … They have a brother, an uncle, a brother, a father that is not here any longer, and his daughter is fighting for her life," Andino said. "Let the family figure it out, and everything, all of the truth, will come out."
A man who lives a few blocks away from the bar, who declined to give his name, said he heard the gunshots and saw drivers speeding down Central Avenue as people left the bar.
"It's rare and scary," he said in Spanish on Monday. "I have lived here for almost 23 years, and nothing like this has happened."
He did not know the lounge existed until he heard about the shooting, he said. The lounge, which serves Latin cuisine and hosts Latin music nights, opened in October 2021, according to a Facebook post by Ricky Vega.
Listen to "It's All Good: A Block Club Chicago Podcast":