BUCKTOWN — Third-graders at Jonathan Burr Elementary hatched an idea this fall to help out older schoolmates.
They had heard eighth-graders at the Bucktown school, 1621 W. Wabansia Ave., were raising money to pay for the annual spring trip to Washington, D.C.
But not everyone can easily afford the $1,400 price tag, so the younger kids decided they could sell cookies to raise money. With help from their parents, local chefs and business owners, the Burr kids are up and running with their cookie operation, baking the products themselves and donating all the proceeds to the eighth-grade trip.
Paige Horvath and Charlotte Magiet, two of the students who came up with the idea, said the project is ultimately just a "nice thing to do."
"I just wanted to raise money for the eighth-graders because they don't have much money for the Washington, D.C., trip, and they're trying to raise more," Paige said. "Anytime we do something nice, Charlotte said she feels really good about it and she wants to help people more."
Cookies cost $30-$35 per dozen and are available for pickup and delivery within certain areas. You can order cookies and find more details here.
For every dozen cookies the third-graders sell, six will be donated to Breakthrough Urban Ministries and Franciscan Outreach in East Garfield Park.
The three-day tour to D.C. is an "eighth-grade tradition," Principal Amy Klimowski said. It features visits to monuments, museums and historical buildings such as Ford's Theatre and Mount Vernon. For some students, it's the first time they get to travel on an airplane or away from their families.
Klimowski said she supported the kids' cookie idea, but the students needed to get at least a few parents involved to manage logistics, like where they would bake the cookies and how they would sell them.
"They came up with the idea to bake cookies to sell for the eighth-graders, which is a great idea in concept, but putting it together was just a gigantic project," said Pete Horvath, Paige's dad. "There was a lot of drawing cookies on paper, coming up with different ideas."
That's when Robert Magiet, a local restaurant owner and Charlotte's father, got involved.
Magiet said he and other parents didn't take the bake sale idea too seriously at first. But it soon became clear their kids really wanted to help.
"The principal emailed us and said, 'Hey, I think your kids are pretty serious about this.' And that's why I actually engaged my daughter about it. And there was no way I could turn her down," Magiet said. "I asked her, 'Do you want me to help? I have a friend who has a kitchen, I know some really talented chefs.' And she's like, 'Oh my God, that would be great.'"
Magiet reached out to KitchFix, a commercial kitchen in West Town that donated space and time to the fundraiser. He also called a few local chefs who came up with five unique cookie recipes for the sale, and last week he held a baking tutorial with the third-graders and a few siblings.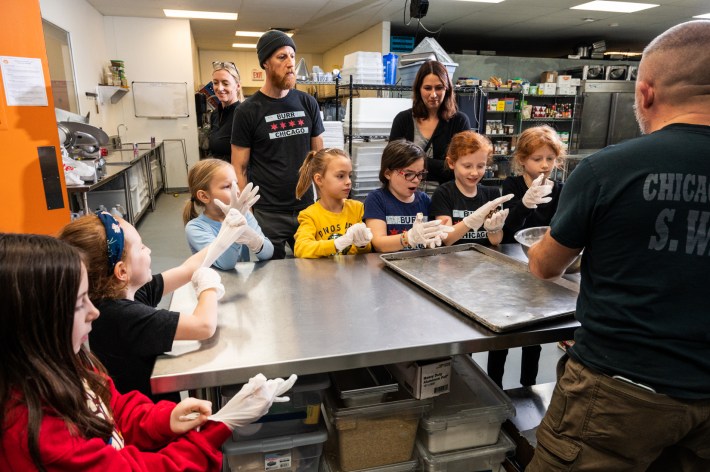 Recipes included a candied bacon chocolate chip cookie from chefs Jennifer Brooks and her husband, Erick Von Kondrat, who run the food truck Gilty Pig, as well as gluten-free and vegan options created by Halee Raff of pastry and bakery company Hardbitten.
With a third-grader of his own, chef Jason Vincent decided to keep things extra simple. He taught the kids how to make a classic chocolate chip cookie, not too different from the famous Toll House recipe.
Vincent said he worked with Magiet during the pandemic when they teamed up to serve meals to neighbors experiencing homelessness, and he was eager to help out with Magiet's latest philanthropic endeavor.
"I understand the need and the cause and all that stuff. Eighth-grade trips are like the greatest things that ever happened [for the kids] … I still remember the bus trip," said Vincent, who owns Giant in Logan Square and Chef's Special in Bucktown.
Now, the baking will fall to the third-graders and their parents, who will return to KitchFix over the next few weeks to bake however many cookies are bought.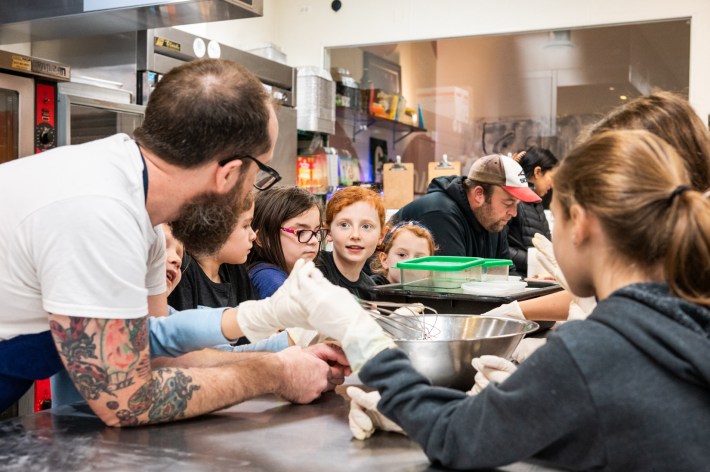 The excitement was palpable at a cookie demonstration last week as the kids crowded around a prep table, watching as chefs mixed sugar and chocolate chips and explained how the recipes worked.
Third-grader Sienna Culliton said she was thrilled to be involved with the fundraiser because she "wanted to help the school and be part of something that helps our community and stuff."
While Klimowski said Burr is focused on helping all eighth-graders attend the trip this spring, the money raised will first go to the students with the greatest financial need.
"We just want to prioritize fundraising to try to offset the cost as much as possible to make it a reality for everyone. But we have 14 students that qualify for free and reduced lunch that we want to prioritize," Klimowski said.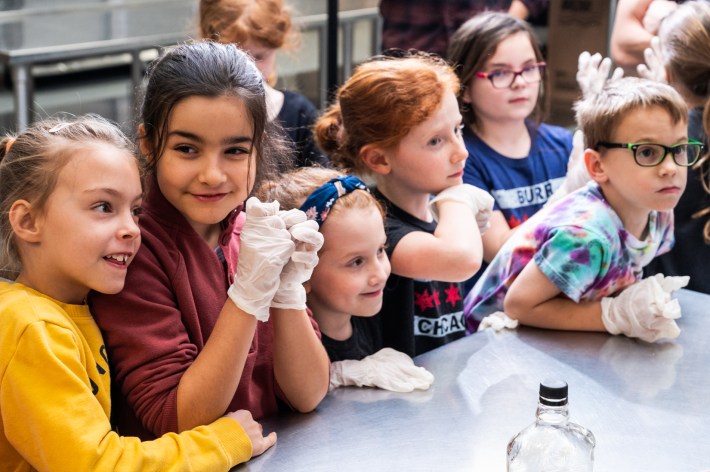 While Magiet's kids are still years away from their own eighth-grade trip to D.C., he said he hopes the fundraiser will get them and others thinking about it well in advance.
"What I'm hoping … is that the kids starting from first grade, they'll start fundraising, and they'll build it up all the way through eighth grade," he said.
But for third-grader Raia Magaña, the takeaway from last week's baking demonstration was a little simpler.
"I learned two things," she said. "Number one, that making cookies, you need lots and lots and lots of ingredients. … I also learned that every cookie in the world is yummy."
Listen to "It's All Good: A Block Club Chicago Podcast":