NEAR WEST SIDE — Chris Clark was furloughed from his corporate job during the pandemic before launching a racket sports business to encourage more people to pick up tennis and pickleball.
Now, Clark will host the first pickleball tournament played inside the United Center. The action is 10 a.m.-4 p.m. Dec. 30 before the Bulls take on the Pistons.
Anyone who buys a ticket to the Bulls game can opt into Clark's pregame pickleball clinics played in the United Center's atrium or his tournament played partly on the Bulls' floor in between shoot-arounds.
Clark was a Division I tennis player at University of Toledo, and he is the founder and CEO Toss & Spin, which has more than a dozen employees.
Toss & Spin gives lessons in pickleball — a hybrid of tennis, badminton and ping pong — and organizes corporate outings centered around tournaments.
The sport is one of the fastest growing in the United States, with the Park District planning to build 50 new courts by 2025.
"Pickleball has just exploded. And so has the business," Clark said. "We're looking to build an empire. I'm going to try to put a paddle in everyone's hand."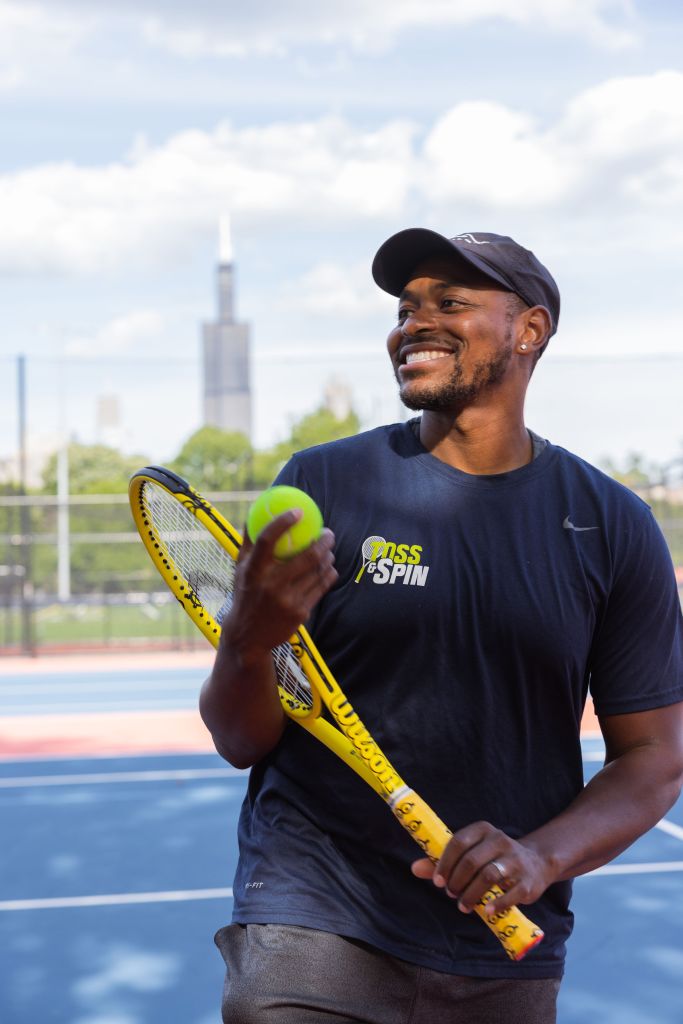 Clark's tennis lesson business in Waveland Park grew to local events and then to pickleball — right before its big blowup. He started playing with his mom, "the first thing we've done athletically together in years, outside walks and bikes," Clark said.
"The unique thing about pickleball is that you can pop up a net and some lines and have a game. It's a low-barrier sport," Clark said. "I tell people, 'If you're not winning, you're learning.'"
Toss & Spin's pickleball mania has bounced around from Chicago to New York City and south Florida and Los Angeles, Clark said.
Clark recently organized a tournament on the rooftop of the Old Post Office for Gatorade, pickleball-themed fundraisers for the Alzheimer's Association and Susan G. Komen and free pop-up clinics with DJs for more than 500 people throughout the city.
Clark's latest pickleball partners are the Bulls.
"I grew up a Bulls fan, man, and now to be standing on the floor, it gives me the confidence that we can put on an event anywhere," Clark said. "Chicago is rich in sports history and rich in its innovation. And anybody can play pickleball."
Clark doesn't expect pickleball's popularity to fade anytime soon.
"It's going to continue to grow; the question is at what rate," Clark said. "We want to be inside every NBA arena."