WEST LOOP — A music venue that would host community programs during the day and operate as a nightclub at night wants to open in the West Loop, but it is off to a rocky start this week after neighbors said they felt blindsided by the project.
Business partners Danny Graham, executive director of New World Presents, an event production company, and James Russell, of REVIVEcollective, a Chicago collective of artists, want to open Habitat Chicago in a vacant storefront at 1025 W. Jackson Blvd.
The venue would aim to be a "safe and approachable nightlife experience" for women, people of color and members of the the LGBTQ community, while serving as a community space with wellness programs during the day, Graham and Russell said.
But several West Loop residents said they had little heads up about a community meeting to learn about the proposal for the first time. On Tuesday, neighbors circulated photos in a Facebook group showing a notice for a community meeting to review the business' application for a late-night liquor license taped to the front of a condo building.
Sigcho-Lopez, whose ward includes the property, said Tuesday his office recommended the meeting date in November, but it was never confirmed.
"Last night, we received an email saying we would like to go forward with the meeting," Sigcho-Lopez said. "Forty-eight hours was not given even to our office."
The business owners still held the meeting Tuesday night, but they will be required to host another community meeting in January, Sigcho-Lopez said. Rubén Franco, director of legislative affairs for Sigcho-Lopez, attended the meeting in place of the alderman.
Residents were concerned the notice did not meet the city's 48-hour notice requirement for public meetings.
The owners are pursuing a late-night liquor license and a public place of amusement license, and they need Ald. Byron Sigcho-Lopez (25th) to support an ordinance lifting a liquor moratorium on the block.
Twelve residents attended the meeting. Graham and Russell apologized for the late notice.
"We don't want you to feel like this was the only time to speak up," Graham said.
Habitat Chicago would be "one-of-a-kind" house and techno performing arts center in the 9,000-square-foot vacant storefront, the business partners said.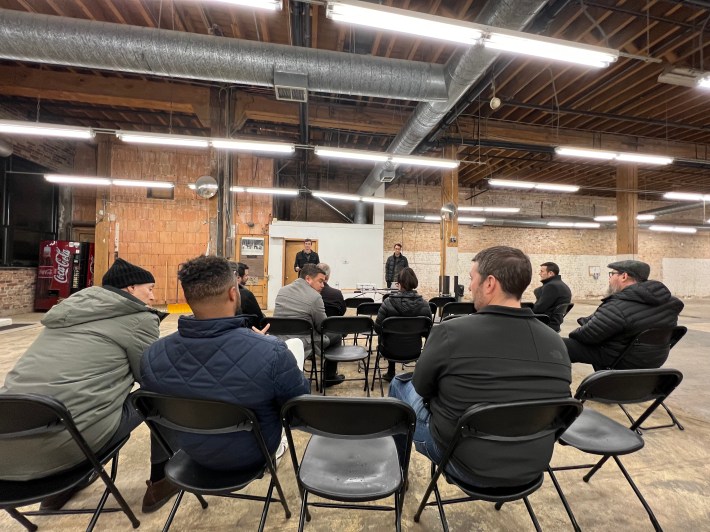 During the day, the center would host programs such as sound meditation, yoga classes, art exhibitions and art and music therapy, like a "true community center," Russell said.
At night, the center would turn into a late-night nightclub hosting DJ sets staffed with one security guard per 50 guests, according to the group's presentation. The venue is zoned to hold up to 999 people, but the group plans to limit occupancy to 500, they said.
Four security guards would be at the front of the building, and others would be used as "consent staff" wearing "high-visibility jackets" inside the venue so guests can report inappropriate behavior, such as sexual harassment, they said.
Graham, who previously ran a similar club in Salt Lake City, said his venue was known for being a "safe environment" and good neighbors to the businesses around them.
"My business partner and I would come after each event, picking up cigarette butts outside of our building. … We take these things very seriously," Graham said.
But residents questioned why owners want the club in their quieter stretch of the West Loop, about a half-mile south of Fulton Market, a lively entertainment hub. They doubted he owners can limit late-night loitering on the streets or violence they worry clubs can attract
The property is zoned for a "medium-size venue," something Russell and Graham said took more than a year to find. Many of the warehouses in Fulton Market are zoned for industrial use and would require a zoning change, which could take six months, the owners said.
The group also met with several alderpeople and said Sigcho-Lopez seemed the most receptive, which led them to pursue the Jackson Boulevard location.
Russell said the city "really deserves a space like this, and I don't think that you have any other venues that showcase the type of work that we intend to bring to this community."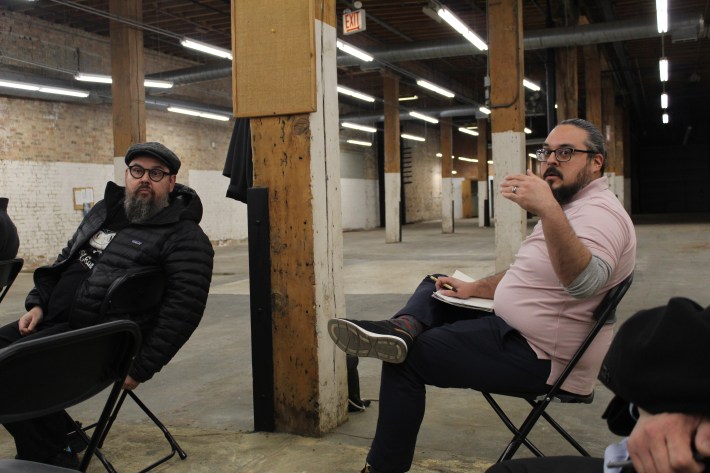 The group has yet to finalize a lease on the storefront, Russell and Graham said.
Residents also said they're concerned the venue will be in the newly formed 34th Ward in May and have an entirely new alderperson. Some said the owners should wait until their City Council representative is elected to move forward.
If the project is considered by the new alderperson instead of Sigcho-Lopez, it'd be subject to the new alderperson's community review process, or lack of one, Franco said.
The next community meeting will take place the week of Jan. 9. Details are still being finalized.
Listen to "It's All Good: A Block Club Chicago Podcast":