WRIGLEYVILLE — Every inch of Guthries Tavern has transformed into the Candy Land board game to celebrate the bar's first year under new ownership.
The pop-up experience starts outside Guthries Tavern, 1300 W. Addison St., with 12-foot candy canes and a sign welcoming people to Guthries Candy Land. Inside, the entire ceiling has been transformed into the game's board and each section of the bar is decorated like a section of the game.
"It was a total team effort," said Matt Baldino, who bought Guthries Tavern in 2021 and reopened the bar from its pandemic-induced closure later that year.
"After finishing our first full year as the new owners, we wanted to do something special for the neighborhood," Baldino said. "So we decided to do a pop-up connected to what has always made Guthries special, which is the games."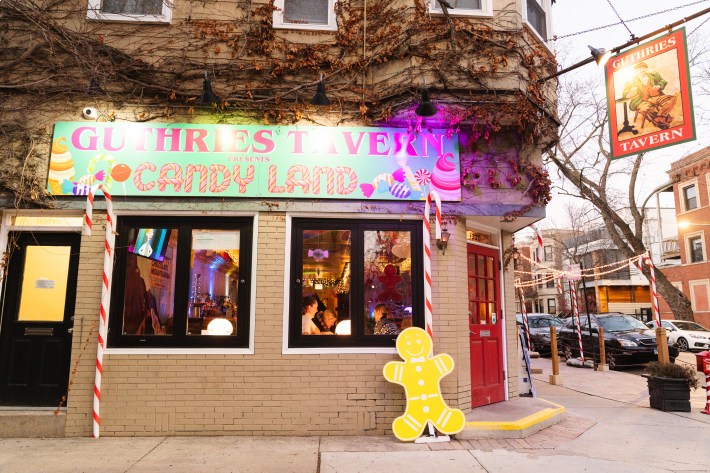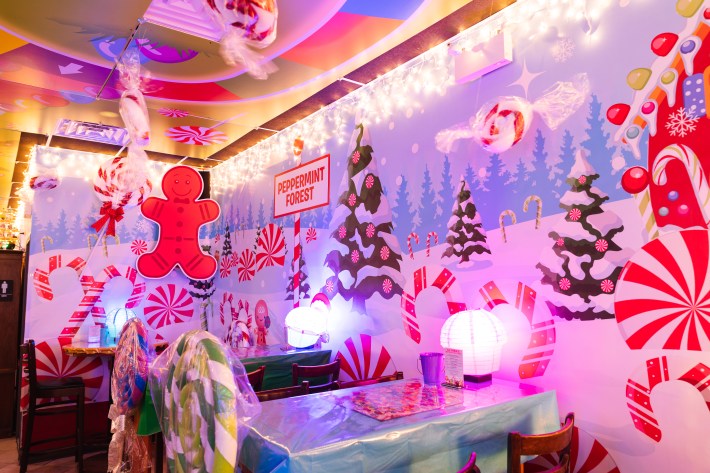 Baldino chose Candy Land as the pop-up's theme because it's his 3-year-old son's favorite game to play when he's at Guthries, he said.
From there, building the pop-up was a family effort involving Baldino's brother, who's an engineer; wife, who's a graphic designer; and a local printing company that helped with the ceiling, Baldino said.
"All of my siblings and family members helped out, and that's what makes Guthries so special," Baldino said. "Steve and Laura Leith [the bar's previous owners] created a really special family environment and I'm proud that we can build on that."
The pop-up will run at least through mid-January, Baldino said. When it ends, an artist will be hired to create a special ceiling tile to commemorate the experience. Everyone who helped create the Candy Land pop-up will sign the tile before it's placed on the bar's iconic ceiling, Baldino said.
When Baldino renovated Guthries, he was able to preserve about 80 percent of the bar's ceiling tiles, which are known for their creative designs. Any tile that had a light, smoke detector or other fixture was replaced with a solid black tile.
Baldino hopes to replace the empty tiles over the years by painting one annually to commemorate that year's pop-up and doing contests for artists to create their own tiles, he said. The first contest will likely launch in January.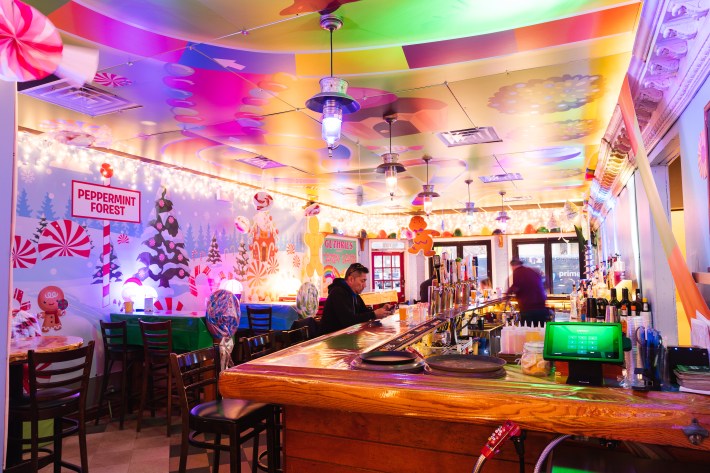 Baldino vowed to stay true to the original vibe and mission of the bar when he bought Guthries. Maintaining as much of the ceiling as possible was crucial to his renovations, he said.
The interior bar hasn't changed or moved, but Baldino installed a new lighting system, gutted the bathrooms and brought on some other improvements, he said.
"The first year has been phenomenal, and we've been really well-received," Baldino said. "But the single thing I'm most proud of is that Steve and Laura Leith have become friends of ours, still come into the bar and are excited about the job we've done."
Guthries Tavern is open 3 p.m.-2 a.m. Monday-Thursday, noon-2 a.m. Friday, noon-3 a.m. Saturday and noon-2 a.m. Sunday.
Listen to "It's All Good: A Block Club Chicago Podcast":