DUNNING — An iconic Chicago cheesecake company's future keeps getting sweeter.
Eli's Cheesecake Company, 6701 W. Forest Preserve Drive, received a $1 million boost to build its innovation and education center inside its expanded production facility. The grant is part of a $40 million community development initiative spearheaded by the city to spur economic activity after the pandemic. The latest round of grant winners were announced last week.
The company broke ground over the summer on its $9.5 million expansion, adding 42,000 square feet of production space. But what was missing was money to include a center to host its education programs and test out new products, said President Marc Schulman, whose father opened Eli's The Place For Steak in 1966 and started the Eli's legacy.
"What we really wanted to do was to build the innovation and education center, but we had to take it out of the budget," Schulman said. "Our expansion project … had gone up by over 20 percent."
The company is now committed to spending an additional $1 million to match the city's grant, which will also go toward the center's additions, Schulman said.
Thanks to the grant, Eli's will soon be able host employee education programs on site at the production building, Schulman said. In the past, the training and graduation ceremonies have been at other schools or crammed into the existing kitchen or cafe.
Eli's offers English as a second language classes to its employees through Eli's U, an onsite GED program administered by Wright College. It also works with Vaughn Occupational High School and The Chicago High School for Agricultural Sciences to teach people about the food industry and business.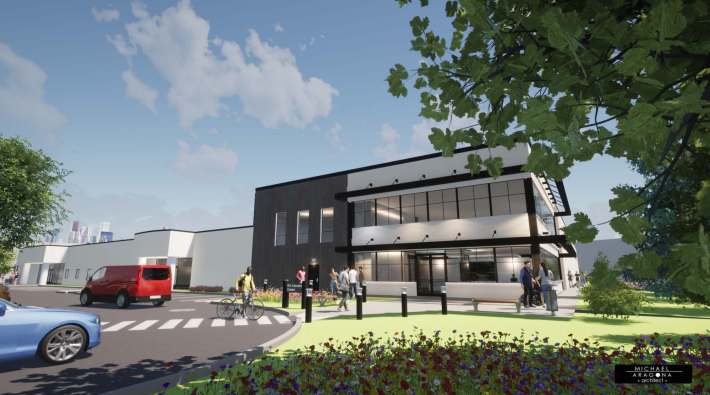 Having more space means more community partnerships like these can flourish, Schulman said. Earlier this year, the company received a state grant for its expansion and work to create jobs.
The innovation center will add a pilot plant for product development and to give bakers more space creatively and physically, Schulman said.
"They work out of a kitchen next to the cafe, [but] it's inadequate for what we are doing now," Schulman said. "We do a lot, but we are out of space. We have the vision and are grateful to the city. If we didn't get the grant, who knows when we could have done it?"
The building expansion is set to be complete in late April or early May; walls and interior work for the innovation and the education center will go up after that, though there is no set timeline for its completion, Schulman said.
The hope is the bigger production facility will be up and running by May while the buildout of the program side continues, which will allow the company to spread out and hire more people, Schulman said.
Growing the business and giving people lasting opportunities through education and employment is the main goal, Schulman said.
"It's really the heart of our business. … If we cannot educate, innovate and train, the production space would be somewhat meaningless," Schulman said. "We're very honored to be chosen by the city."
Listen to "It's All Good: A Block Club Chicago Podcast":