ALBANY PARK — A Northwest Side plant shop owner is putting her business on the market after just one year, saying rising costs and falling sales have forced her to sell.
Hanan Khrawish opened Green Spaces Plant Shop at 3003 W. Montrose Ave. in December 2021 to sell houseplants, potting supplies and gardening accessories.
Business started well in January and February, when Khrawish averaged enough monthly sales to cover her salary and business expenses, she said.
But by July, sales weren't keeping up with rising prices from suppliers and the increasing overhead costs for electric and other utilities, Khrawish said.
By November, Khrawish was averaging less than half in sales compared to the beginning of the year, which barely covered her overhead expenses, she said. She put the shop up for sale last month.
"We were starting to get really tight, but I wanted to push ahead. But by October, I knew that was it. I had to put this on the market because the business was just plummeting," Khrawish said. "I feel like everyone's struggling with inflation. I think that's what really has kind of destroyed a lot of businesses."
Khrawish's journey into gardening began while she was getting a divorce and became a single mom to her three children. She tried her hand at gardening when she was working as a nanny and a grandmother asked her for help tending to a dying houseplant.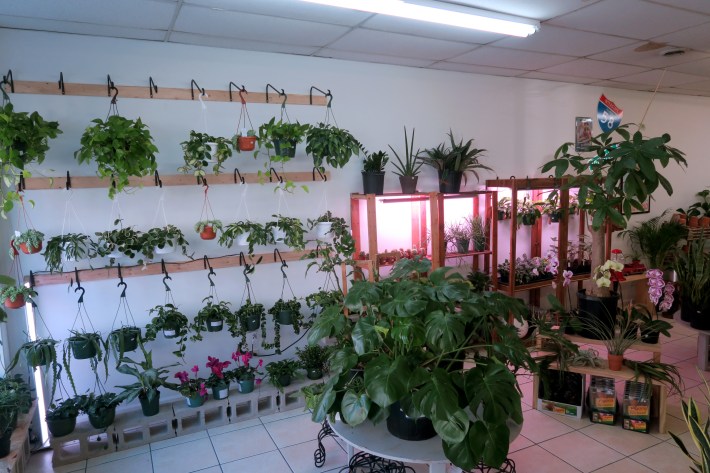 Khrawish grew up in Albany Park working alongside her father at his grocery store, which used to be next door to where she opened Green Spaces. When she found out the space was available, she jumped at the opportunity to move her business there, she previously said.
"It just feels like home, you know? It's just nice," she said.
The shop is Khrawish's main source of income. With the lower sales, she had less money to pay her bills, feed her kids and buy them clothes, she said.
"I was making way more money working for somebody than opening up my business," she said. "It's sad."
Khrawish considered taking out a small business loan. but the interest rates banks offered were too much for her, she said.
Khrawish also asked local chambers if there's any kind of grant program available, but the enrollment periods for financial assistance wouldn't start for months and her bills continue to pile up, Khrawish said. 
"I wanted to wait to list the business for sale until after the holidays because this is usually the time that brings in the most money. But I just keep getting myself more and more in debt, so I decided to just list it," Khrawish said.
Green Spaces was voted best speciality shop during the Albany Park Chamber Of Commerce's 2022 Best Business Awards event.
"It was surreal and I got all excited because the other businesses in that category, if you look at their social media, I didn't think I stood a chance," Khrawish said. "And now the business is struggling, but when I found out I won I was literally shaking as I went up to give the speech."
Khrawish has considered keeping the business going if her sales do go up, but even with an upswing in business, she worries she'll still struggle with rising operating costs, she said. 
"But obviously, if the sales do end up working out I wouldn't need to sell it or closed down," Khrawish said.
Listen to "It's All Good: A Block Club Chicago Podcast":