ANDERSONVILLE — A popular Andersonville antique store is moving to a new spot on Clark Street to make way for a Taco Bell, a swap that isn't sitting well with neighbors who don't want big chain businesses moving into the area.
Andersonville Antiques, 5245 N. Clark St., will move early next year from its home of 15 years after the building was sold to a new owner who plans to open a Taco Bell, according to the shop owners and the former owner of the building.
The antique shop isn't going far, though — it will move across the street to 5234 N. Clark St. when its lease ends Jan. 31, co-owners Ken Angle and Mark Valerio said.
The 5245 N. Clark St. building was sold in October for $1.275 million to Sanjeev Khatau, a businessman who owns dozens of Taco Bell and Dunkin Donuts franchises in the area. Khatau has opened Taco Bell restaurants in Rogers Park and Streeterville, among other neighborhoods.
The franchise owner plans to open a Taco Bell Cantina on Clark Street, said Jennifer Baxter, whose family sold the Clark Street building. The "cantina" version of the fast food taco spot serves alcohol.
It is not clear when the restaurant might open. Khatau did not return requests for comment.
Taco Bell is the latest national chain eyeing a move to Andersonville. It would join Sweetgreen, Jeni's ice cream and Warby Parker as national brands to open recently on Clark Street.
News of Taco Bell's move into the neighborhood has not sit well with some, including the Andersonville Chamber of Commerce. A "Stop Taco Bell and other chains from taking over Andersonville" petition has nearly 1,000 signatures as of Wednesday.
"It's happening on every block now," Valerio, co-owner of Andersonville Antiques, said of chains moving in. "We'll move and and we'll be fine. Our customer base is loyal. They believe in shop local."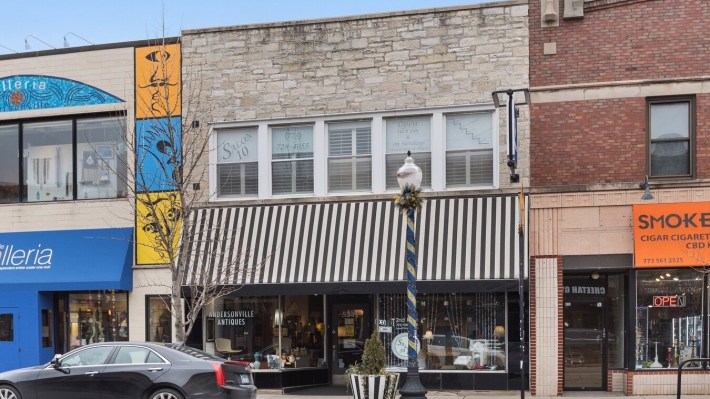 Leaders of the Andersonville Chamber of Commerce said in a statement they do "not support the sale of the building to Taco Bell nor Taco Bell as a tenant."
"There are times where chains join the Andersonville community and we do our best to offer local [and] independent, first and foremost," chamber leadership said in the statement. "We are always humbled by the fierce support of our community for localism."
The building was sold by siblings Jennifer and John Baxter. Their mother, Jan Baxter, was a longtime business owner on Clark Street.
Jan Baxter ran Landmark of Andersonville from the Clark Street storefront and was known as one of the business owners most responsible for the neighborhood's emergence as a nationally renowned local shopping hub.
Jan Baxter retired in 2014. After that, Andersonville Antiques, which rented in the basement of the building, moved to take over the main storefront, where it has remained since, Valerio and Angle said.
The building has been listed for sale for two years, a move the family made when they thought Andersonville Antiques' owners might retire, Jennifer Baxter said. The family did not want to risk owning a building that lost its anchor tenant, she said.
Multiple offers fell through due to financing issues, Jennifer Baxter said. The deal left standing was the one from Khatau and it was not revealed until later that he planned a Taco Bell, she said.
With more big business landlords buying properties on Clark Street and more national brands moving in, Jennifer Baxter said her family was in a position to sell but could not dictate the larger terms of the market.
"I never set out to sell to a chain," she said. "Had I not taken Taco Bell, my neighbor would have and I would have been without a sale."
Andersonville Antiques' owners said they were not considering retirement and they were not approached about renewing their lease.
The business will move across the street to the former home of Brownstone Antiques. Moving along with them is the antiques dealers currently stationed in Andersonville Antiques' basement.
Store owners have been telling customers of the planned move recently as more have been asking about the rumored Taco Bell, Angle said. Some have seen "stop Taco Bell" fliers that have been posted around the neighborhood and shared on social media.
"We had people thinking we were going out of business," Angle said. "They were worried."
The "stop Taco Bell" campaign was started by Andersonville resident Lesley Ames and another neighbor "because we were tired of watching chains creep into our neighborhood and Taco Bell does not fit in," Ames said.
The petition, addressed to Alds. Harry Osterman (48th) and Andre Vasquez (40th), asks city leaders to consider ways to regulate chain stores opening in neighborhoods. San Francisco, for example, requires certain chains obtain a special permit before opening in neighborhood business districts.
"Small local businesses are what make this neighborhood special," Ames said in an email. "Other cities have tackled this problem, and we want a solution too."
Listen to "It's All Good: A Block Club Chicago Podcast":