RIVER WEST — An updated proposal for Chicago's first casino has cut plans for a 1,000 seat outdoor music venue, replacing it with a riverfront park after residents spent months advocating against it.
Casino proposal updates were revealed at a two-and-a-half hour community meeting Monday night, held at the proposed site inside the Tribune Publishing Plant, which attracted a few hundred people eager for updates.
Replacing the outdoor music venue with a riverfront park met a big demand for the River North Residents Association, which delivered a 42-item "wishlist" of changes back in July.
In addition to more green space, updated plans now include more parking, a dog park and a decrease in the site's density.
Casino executives credited the changes to input from the community and the Casino Community Advisory Council, which is made up of 20 neighborhood representatives and experts.
But many of residents' questions on traffic went unanswered as a traffic study on the casino site has yet to be completed.
Traffic consultant Tim Doron shared some data Monday night related to rush hour traffic. He said it shows the casino will attract less traffic during peak hours compared to the previously approved zoning of proposed site.
The plan includes entrances to underground parking on Halsted to help intersect traffic, Doron said.
But without official results from a traffic study, residents doubted Doron's claims. A city spokesperson said the results of the study could be released this week.
"… We want to know the truth, what are we dealing with?" a president of a nearby condo association asked.
Others asked Bally's and the city to consider installing additional CTA bus priority lanes, protected bike lanes, updated traffic lights and shuttle services for employees and guests from transit stops to the casino to minimize traffic.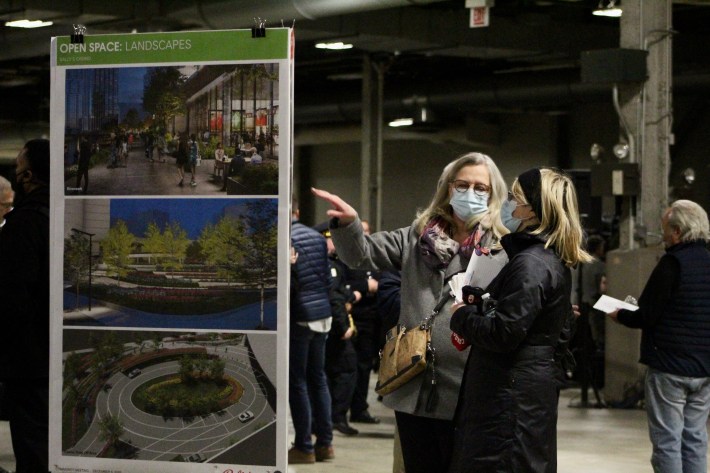 Gia Biagi, commissioner for the Chicago Department of Transportation, said the city is exploring expanding its bus priority lanes near the casino.
Casino executives are also considering shuttle services for employees, and is testing the use of a temporary 700-spot parking lot for employees.
In May, Bally's announced it would invest $75 million in 30 projects to improve traffic flow surrounding the permanent casino site at the Tribune Freedom Center. On Monday, company officials said the first phase of improvements will include new traffic signals on Jefferson Street at Chicago Avenue and Grand Avenue and potential new road connections between Halsted Street, Jefferson Street and Huron Street. The riverwalk will also be extended.
Two Divvy bike stations and a water taxi stop will also be added, officials said.
Bally's updated proposal is scheduled to be considered by the Chicago Plan Commission on Dec. 12.