EDGEWATER — Steep Theatre's plans to overhaul its playhouse in Edgewater are getting a big boost from the city two years after the theater company lost its longtime home to a development.
The Edgewater-based company received a $2.98 million grant from the city to help fund the build-out of its new headquarters at 1044 W. Berwyn Ave. The grant is part of a $40 million community development initiative spearheaded by the city to spur economic activity after the pandemic. The latest round of grant winners were announced last week.
In fall 2020, Steep was forced to move out of 1115 W. Berwyn Ave., which had housed the company since 2008. A developer bought the building with plans to replace it with a 77-unit apartment complex.
Steep conducted a citywide search for its new home and settled on a building two blocks away that used to operate as a Christian Science Reading Room.
The theater company debuted in the new building in June, converting the former reading room into a makeshift theater while planning a larger redevelopment of the site.
With the grant, work on the $5 million overhaul of the building will begin next year, artistic director Peter Moore said.
"We recognize that this is an investment not only in our company, but in our Edgewater community and our theater community, which has been hit so hard these last two years by the pandemic," Moore said in a statement. "We take those responsibilities very much to heart."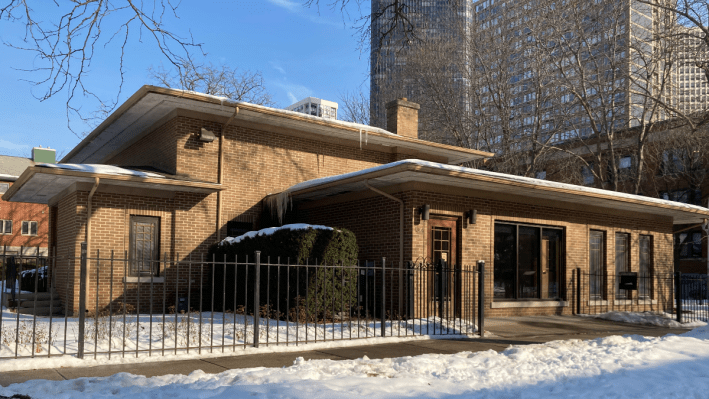 Plans for Steep's new headquarters include a 70-seat flexible performance space, a lobby with a bar, outdoor patio space and a parking lot that can also host outdoor activities, according to its website.
Renderings show an addition on the building's Berwyn-facing facade, plus fencing that acts as a theater sign. Steep is still in the design phase of the project, Moore said.
A capital campaign is trying to raise $3 million for the overhaul. That money will cover the rest of the build-out, with remaining money dedicated to the company's long-term sustainability in Edgewater.
The goal is for Steep to debut in the renovated space in 2024, Moore said.
In the meantime, Steep is hosting performances of "Our Dear Dead Drug Lord" in the yet-to-be-renovated space. Steep will likely host one or two productions off-site while work on the building is underway next year, Moore said.
"Chicago isn't Chicago without its theatre, and we're proud that our city recognizes theatre as both an indispensable cultural asset and an undeniable economic catalyst," Moore said.
Listen to "It's All Good: A Block Club Chicago Podcast":