SOUTH SHORE — Imani Muhammad will remember your name and order by the second time you walk into Imani's Original Bean Pies on 75th Street.
Chances are a tune by Tame Impala, Arctic Monkeys or Mac Demarco might be playing over the speakers. But over the bass, Muhammad guarantees "everybody that walks through that door will feel special," she said. 
For nearly 20 years, Muhammad has sold a collection of iconic bean pies sweetened with cane sugar and spiced with cinnamon and nutmeg at local grocery stores. Now, she owns her first store at 2423 E. 75th St., where she can greet the customers who have helped keep her signature dish alive. She works alongside her daughter and two young men she's known since they were kids, all of whom helped grow her vision.
Muhammad has created a legacy for her children and "food for the soul," she said. Food can be healthy and a little sweet, too, she said. 
"We talk about soul food, and people think it's a specific thing, but soul food to me is love," Muhammad said. "No matter what it is, it's something that someone took the time to make. That's what we do here. We make food for the soul."
'We Can Make And Manufacture Our Own Products'
Imani's Original Bean Pies can be traced back to 2005 in a kitchen at a West Englewood home day care.
Muhammad homeschooled her children and ran the day care simultaneously, she said. In a lesson about Elijah Muhammad, a leader in the Nation of Islam, Muhammad taught her children about the historical importance of the Navy bean. 
"We learned how [the bean] received its name from the U.S. Army, and [about] its health benefits," Muhammad said. "I also wanted to teach why we eat so much bean soup and its biblical context." 
Most teachings were paired with a cooking lesson so children "could have fun with it," Muhammad said.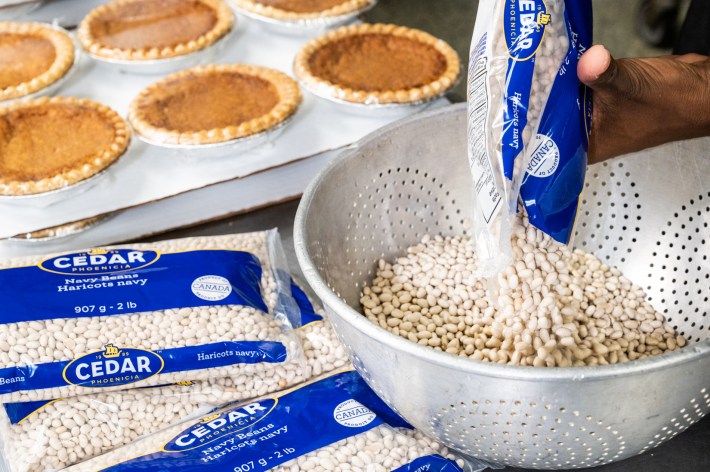 Together, they made a Navy bean soup, salad and pie, Muhammad said. The pie was a little rough, but it had potential, she said.
"The pie was good, but it had a few whole beans because we used a hand mixer," Muhammad said. "Now and again, you would choke down a bean or two." 
Despite the fumble, Muhammad's husband and the day care parents unanimously agreed the pies were delicious, Muhammad said.
"My husband said we could start a business with the pies," Muhammad said. "I was doubtful, but I made more for a fundraiser soon after, and they did well. People kept coming back asking if I had more. I realized the business could be something that would show our youth that we can make and manufacture our own products." 
Muhammad started selling her pies in stores in 2007, she said.
Muhammad traded in her hand mixer and started making up to 300 pies a day in collaborative spaces such as Kitchen Chicago, she said. 
The first pie Muhammad baked with her children was an original bean pie with eggs, milk, butter, spices and no toppings, she said. 
In stores, Muhammad added blueberry, apple, peach and vegan bean pies to the mix, she said. The cream cheese bean pie, a customer favorite, started with her children and those in her day care — like most of her foods, she said.
"At the day care, I came up with an idea to no longer serve birthday cake," Muhammad said. "It was cruel, but we decided to make cute mixed fruit. The problem was that we always ate mixed fruit and it was boring. After the project, they asked if we could have a bean pie for the next birthday. My sister told me to use a cream cheese recipe. It was a hit. They decorated it with fruit."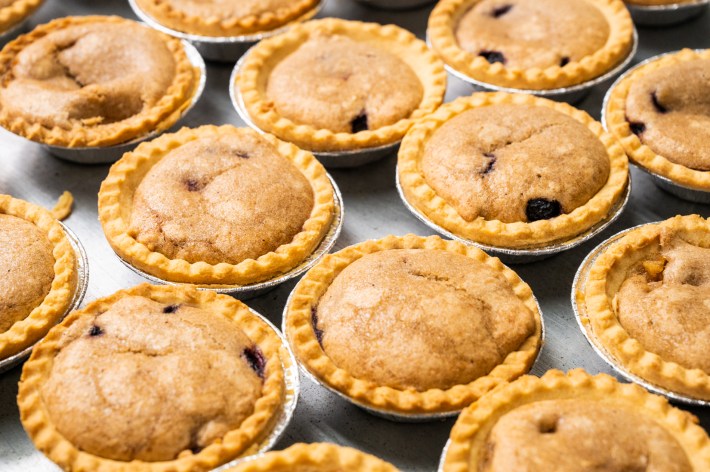 Muhammad started selling her pies in small health stores on the South Side. Soon, she expanded to grocers such as Fairplay Foods, Pete's Market, Whole Foods and the now-closed Ultra Foods after friends and friends of friends spread the word, she said. You could even find Imani's Original Bean Pies in New York and Philadelphia, she said. 
Muhammad's only mistake was "putting the cart before the horse and starting a business with no plan," she said. 
Before starting the pie enterprise, Muhammad had never worked in distribution, she said. She didn't know what a universal product code was and her business label was a homemade print-out, she said.
Muhammad's children, nieces and nephews would deliver the pies to grocers and arrange them on the shelves, confusing managers, Muhammad said. Every moment was a learning experience, she said.
"It's been a joy ride," Muhammad said. "There's been a lot of ups and downs, a lot of learning curves and a lot of mistakes made. But we're still here."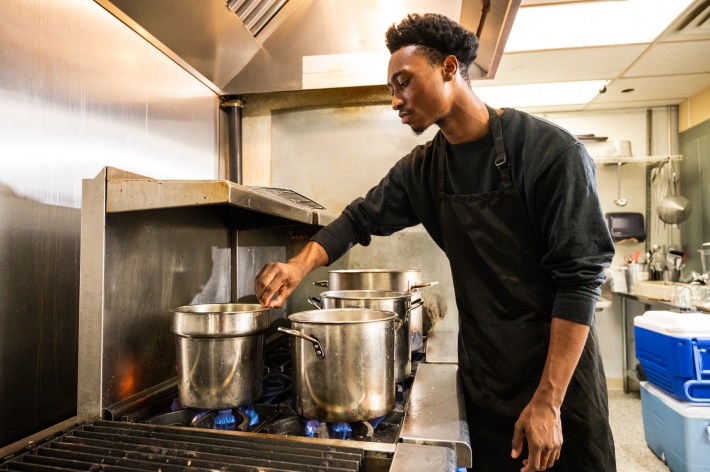 Years in the game gave Muhammad a better grip on her business, she said. 
Muhammad pulled her pies from large retailers and focused on local health food markets where customers quickly scooped up the pies, she said. She sees her products for sale steps away from her home in Englewood at the Go Green Community Fresh Market. 
Muhammad met with a consultant more than a year ago to work on a balance sheet, she said. When he asked her what she dreamt of doing next, she said she knew it was opening a store. 
Muhammad opened Imani's Original Bean Pies this summer. The store is dedicated to her mother, Mama T, who died in May, she said.
Muhammad started her business with the help of her children and the youth at her day care. Their enthusiasm pushed her to sell her pies citywide, she said. They helped her distribute her pies and helped bake them as they grew older.
It was only fitting Muhammad continued that tradition of keeping youth at the heart of the business inside her new store, she said.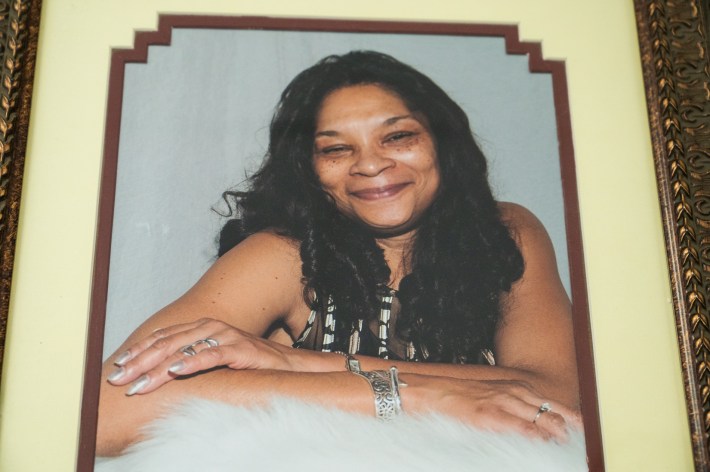 Muhammad's daughter, Hadiyah, manages the cash register and finances. Jihad Muhammad and Ibrahim Muhammad, men she's known since their youth, do some of the cooking and baking. Jihad Muhammad makes the soups, she said. 
The journey has always been about creating and building a legacy for generations to come — and making something sweet along the way, she said.
"I hope my pies are remembered as a delicious, delightful, homemade dessert like grandma and grandpa used to make," Muhammad said. "We make homemade desserts that you can't leave out on the table for weeks. Around here, we eat dessert first."
The store is open 11 a.m.-5 p.m. daily.
Listen to "It's All Good: A Block Club Chicago Podcast":