EDGEWATER — A curb-protected bike lane and pedestrian upgrades are coming to a portion of Clark Street in Edgewater after neighbors and commuters complained about the original bike lane's safety and layout.
Crews began work last week on an overhaul of the bike and other public infrastructure on Clark Street between Devon and Hollywood avenues, Chicago Department of Transportation officials said.
Work is starting with the southbound bike lane, which will be separated from car traffic by a concrete curb. Crews should wrap up work on that bike lane by mid-December, Ald. Andre Vasquez (40th) shared in a tweet.
The southbound bike lane is closed near the construction with a detour route on nearby Glenwood Avenue, according to Vasquez.
The rest of the project, including pedestrian refuges, bus boarding stations and a bus-only lane, will be completed next year, transportation department spokesperson Erica Schroeder said.
The upgrades are coming to a Clark Street bike lane installed in summer 2021 as part of a massive expansion of protected bike lanes in Chicago.
The lane's configuration included "paint-and-post installation" that uses plastic dividers or parked cars to separate bicyclists from drivers. But cars were still able to drive into the bike lane, causing frequent blockages.
Bicyclists and neighbors said the improvements were unsafe, with the problem spurring the Twitter account Clark Street Bike Lane dedicated to highlighting the lane's issues.
In response, Vasquez and the city announced late last year that improvements would come to the bike lane and surrounding public infrastructure.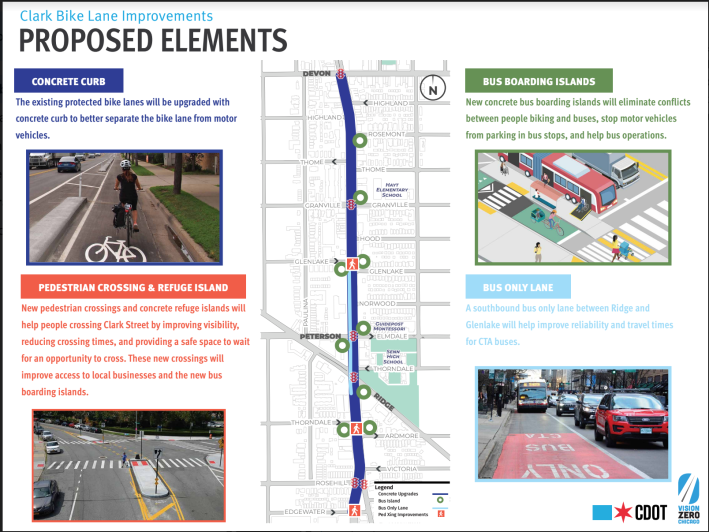 Concrete-protected bike lanes will run on both sides of Clark Street from roughly Hollywood Avenue to Devon Avenue.
A southbound bus-only lane will be installed between Ridge and Glenlake avenues that will help "improve reliability and travel times for CTA buses," according to a city presentation on the planned upgrades.
Nine bus-boarding islands installed along Clark Street will allow riders to exit and enter without standing in the bike lane. Four Clark Street intersections will get new pedestrian crossings and refuge islands that allow pedestrians to wait for traffic to clear, city officials said.
The bulk of the work is scheduled to start and wrap in the spring, city officials said.
Listen to "It's All Good: A Block Club Chicago Podcast":