WEST TOWN — A long-anticipated recreational pot dispensary co-owned by a former alderperson plans to open by March in West Town.
Okay Cannabis, 1914 W. Chicago Ave., is under construction next door to West Town Bakery.
Owners of the business include former 47th Ward Ald. Ameya Pawar and Scott Weiner, co-owner of the Fifty/50 group, which operates West Town Bakery, Roots Pizza and other local restaurants. Pawar served two terms in City Council 2011-2019 and unsuccessfully ran for city treasurer in 2019.
Other partners include George Chiampas, medical director for the Chicago Marathon; Nikki Hayes, former president of the Laborers International Union of North America, Local 1001; Northwestern professor Charlesnika Evans and political consultant Hanah Jubeh.
The group presented plans for the project to neighbors in 2019. The dispensary's opening was held up by a series of lawsuits that delayed the issuing of almost 200 social equity licenses across Illinois.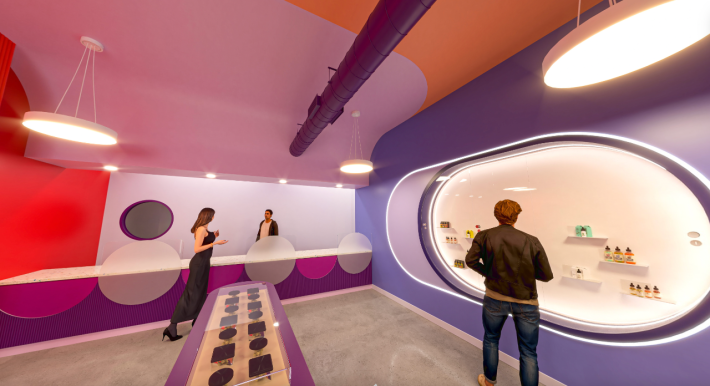 The state finally began awarding conditional licenses in July and August, with the first two social equity dispensaries opening in November in Bucktown and River North.
Pawar said Okay Cannabis' West Town location has received all necessary permits to open, including approval in August from the city's Zoning Board of Appeals, a necessary step for any dispensary hoping to operate in Chicago. The team plans to apply for final inspections in late February or early March, he said.
Originally pitched to include a full wellness spa, Okay Cannabis' West Town location will now focus on just the dispensary. Pawar said that's because of pressures related to the pandemic and a tight timeline requiring social equity applicants open within a year of getting a state license.
"The combination of COVID, plus the fact that a spa would require an 18- to 24-month build out, just didn't make sense anymore." said Pawar, who is opening two other dispensaries in the suburbs, including one in Wheeling in January.
While there's not a restaurant attached to Okay Cannabis, owners hope customers will take advantage of the neighboring West Town Bakery and Roots Pizza, which could be sites for potential collaborations with the dispensary down the line, Pawar said.
"We want you to come grab a coffee at West Town Bakery, grab a pastry or grab a pizza. Come check out Okay Cannabis on your way in, on the way out. We see this as a destination, that it's not just to come in and have a transactional experience," he said.
"There's a lot of opportunity here because the Fifty/50 restaurant group controls the block. So there's a lot of opportunities to kind of be really nimble and creative and try different things."
Okay Cannabis is also partnering with a local organization to "develop a pipeline for justice-involved talent" through jobs and other opportunities, with more details being announced ahead of the opening, Pawar said.
"Our focus has always been to open up a dispensary that is social equity in ownership, social equity in employment, is inclusive by design, but also creates real pathways to wealth," Pawar said in April.
Okay Cannabis will offer products found in all major dispensaries, including flower and edibles. The owners hope to eventually launch an Okay Cannabis-branded edible line, as well as partnerships with craft growers, Pawar said.
More 3D renderings of the dispensary are here.
"It's three years in the making, and we're really excited," Pawar said. "I think it's going to be great for the neighborhood."