DOWNTOWN — A Foodie Lovers tour promised to take visitors to see some of Downtown's most famous sites and to try its iconic foods — if they'd pay more than $500.
The hitch: The "all-inclusive" tour's stops were all free to enter. And the food it would provide isn't exactly $500 fare.
The tour was set to take visitors to the Wrigley Building, Tribune Tower and Buckingham Fountain, and it'd include a Portillo's hot dog, a small Garrett's popcorn, a 6-inch Al's Italian beef sandwich, a slice of deep-dish pizza and a Do-Rite Donut. Oh, and bottled water.
The price tag: $532.50 per guest.
Naturally, Chicagoans objected.
"We can take you to all these places for just $5," the CTA wrote on its Twitter.
The tour went viral after sportswriter Matt Lindner shared a screenshot of it and wrote, "Don't." Hundreds replied or shared Lindner's tweet with their own outrage.
"I get that ripping off tourists is as much a part of Chicago as cold in the wintertime, but this is such a naked cash-grab, it's just awful," Lindner told Block Club. "It's a foodie tour of a bunch of chain restaurants Downtown. And then they're like, 'Here's a bottle of water.'"
Night Train Veeck wrote about the offer in a thread, sharing "back-of-the-napkin math" for what he figured the tour would cost if you did it yourself: $88.83.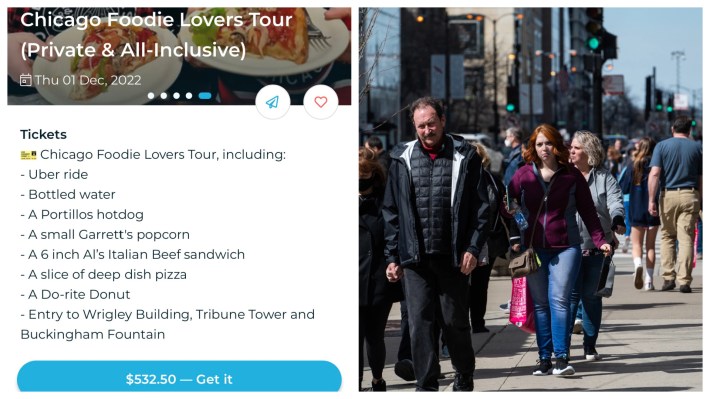 "This is our town, and these are our places and they're great, but something's not adding up," Veeck told Block Club.
Veeck, the grandson of White Sox owner Bill Veeck, said the offer brought him "at first laughter, and then unreasonable fury."
The tour that got shared on social media was listed on FeverUp, which sells entertainment tickets around the globe. It was gone by Friday morning.
A spokesperson for FeverUp redirected requests for comment to Viator, another online marketplace for tours.
Viator spokesperson Andie Natale said the tour's steep cost was due to a technical "glitch" that didn't lower the per-guest price when more people were added to a reservation on FeverUp. The $532.50 price on FeverUp represents a private tour for just one person, Natale said.
Nobody booked the tour, Natale said.
The tour has now been reposted on Viator, where it still lists a price of $532.27 for one person — just 23 cents less than the original price. Or, you can pay $638 total for two people.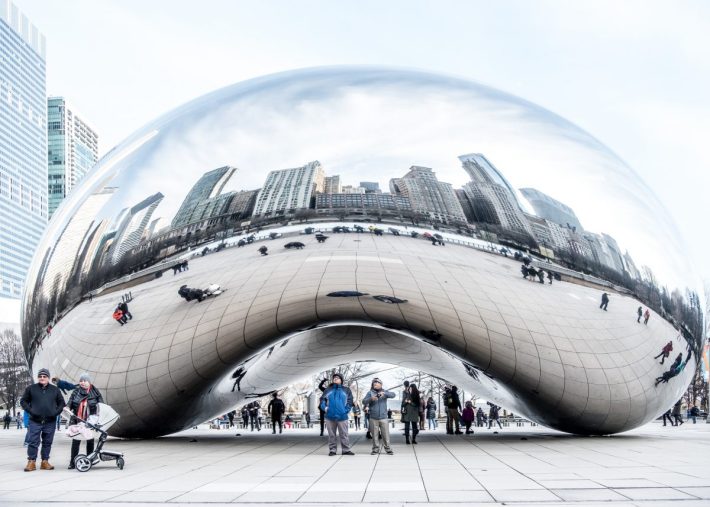 Foodie Lovers is organized by tour operator ForeverVacation, which sets the itinerary, Natale said.
ForeverVacation is based in Indonesia, according to its website. Its own listing for its Foodie Lovers tour prices it at $239 per person.
The inflated cost for Foodie Lovers on other sites "seems to be a third party that is reselling our tour," representatives for ForeverVacation said over email. They did not respond to further requests for comment.
In comparison, a private helicopter tour of Downtown is listed on Viator for $239, Lindner said.
"But if you want a real food tour, I suggest starting [on the South Side] for tavern-style pizza at Vito & Nick's, then a taco crawl in Pilsen, go to Harold's and then work your way up Downtown for the tourist staples," Lindner said. "That's when you can get your bag of Garrett's popcorn and bottle of water."
Veeck suggests visitors skip big websites, which have mountains of listings for tours that cost more than $200, and book a tour from local providers. Among the offerings: a Chicago Architecture Center tour, Mike McMains' ugly buildings and city rats tours and Mahogany Tours from local historian Shermann "Dilla" Thomas.
Lindner said he doesn't get why the Foodie Lovers tour would offer a chance to see the Buckingham Fountain in December, "when the water is already off."
"All this just struck a chord with Chicagoans," Lindner said. "There are too many tourists that come and won't venture far beyond Michigan Avenue. If you're doing a foodie tour and just offering chain restaurants Downtown, you're doing people a disservice."
Listen to "It's All Good: A Block Club Chicago Podcast":