CHICAGO — The first fake DoorDash order at Brown Sugar Bakery was two slices of cake and a cupcake; the second was three cupcakes.
For weeks, customers would come to the Chatham bakery at 328 E. 75th St. with a receipt from the online food delivery platform, saying they'd paid for orders, owner Stephanie Hart said. Her employees would serve the desserts, not thinking anything of a receipt from a "legit company" such as DoorDash, she said. 
But Brown Sugar Bakery isn't on DoorDash — or any food delivery platform, Hart said. The owner had even disabled orders on her own website to fulfill the Thanksgiving demand.
Hart realized the problem when an employee asked her to look at what appeared to be a DoorDash order amid the holiday rush, she said.
"My chief of staff looked it up and found the fake page," Hart said. "As she started looking at the page, she recognized that it was spam because it wasn't exactly right. They had the wrong prices for cupcakes and little details that were off."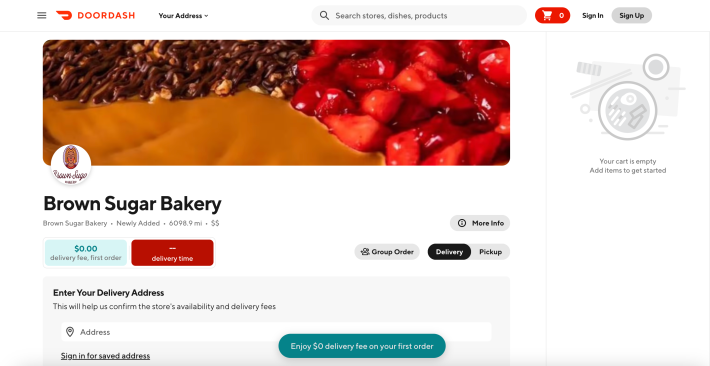 The owners of Brown Sugar Bakery and Smoque BBQ, 3800 N. Pulaski Road in Old Irving Park, recently warned patrons this week about the fake DoorDash profiles that are duping customers and staff.
Hart has two Brown Sugar Bakery locations — another is at Navy Pier — but only her South Side location was targeted, she said. 
Smoque does have a DoorDash account, but its real page was taken down without Smoque knowing and someone created a fake account earlier this week, co-owner Mike McDermott said. Owners learned of the problem when they fielded four or five orders from DoorDash drivers that didn't come through the restaurant, McDermott said.
This was the second time in recent months someone created a fake DoorDash account for Smoque, McDermott said.
Both business owners said they sent emails to DoorDash, but company officials did not immediately deactivate the fake accounts. DoorDash only took down the fake page for Smoque on Wednesday after the owner posted about the problems on social media and asked customers not to use the platform. The fake Brown Sugar Bakery page was removed Thursday after Block Club contacted the company.
A DoorDash representative said it is investigating the fake accounts, and Smoque's owners and customers will get their money back. But the representative said no orders for Brown Sugar Bakery were submitted or paid for through the fake page.
But Brown Sugar Bakery definitely lost money, Hart said. Mianca Strode, the bakery's manager, said staff gave out about $150 worth of food to folks who showed receipts from the fake DoorDash page before they realized it was a scam.
A DoorDash representative said the company is "actively looking into" reimbursing the bakery.
"Being a minority-owned business, this has been tough," Hart said. "If the wrong person isn't satisfied, we are deemed unprofessional."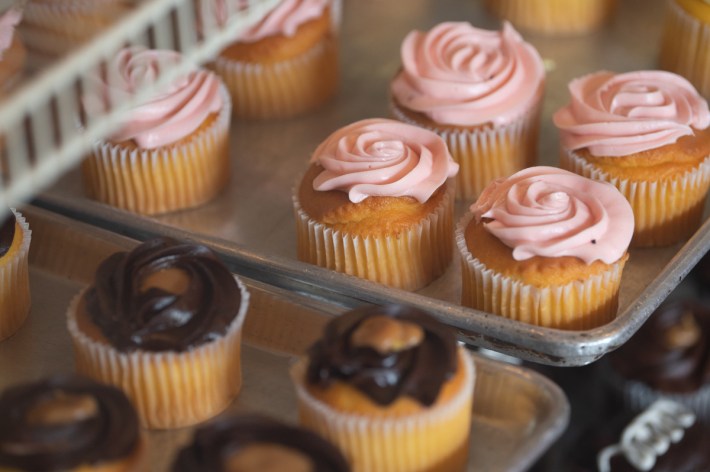 'When We Explain It's A Spam Page, They're Not Accepting Of The Answer'
Orders for Brown Sugar's desserts had started to pick up by the time Strode learned about the fake DoorDash page, Strode said.
"For weeks, we had five to 10 DoorDashers a day coming in and showing us different people's receipts where they had paid and thought they had an order when they didn't," Strode said. "Their money was going through, and it looked legitimate. It just wasn't us."
Employees would tell the delivery drivers to cancel the orders, Strode said. But paying customers picking up orders were rightfully upset, Strode said.
"I had one woman who called me [Tuesday] upset because she thought she placed an order with Brown Sugar when she really didn't," Strode said.
Hart had to turn away a disgruntled customer after reviewing their DoorDash receipt, she said. The customer said because the fake page had the bakery's name, the staff should "stick by the order," but losing more money wasn't an option, Hart said. 
"The customer felt like they already paid, but they didn't pay us," Hart said. "We're not in the habit of trying to piss our customers off. If you come to Brown Sugar, and you show me a paid receipt for something, I'm going to give it to you. This wasn't that."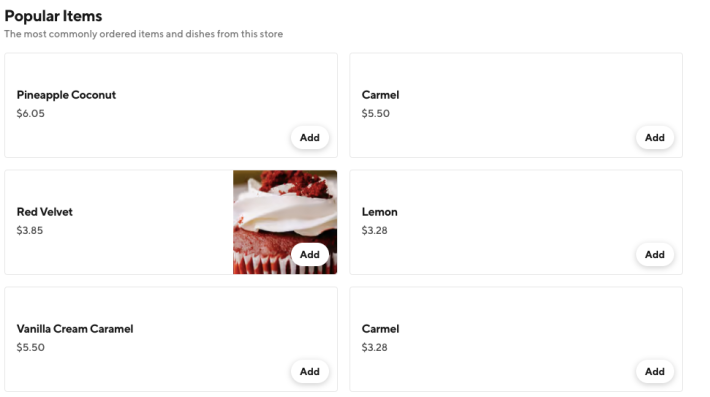 Customers continued to enter and call the bakery with DoorDash receipts, Hart said. She had to turn them away, and almost everyone was angry, she said.
"When we explain it's a spam page, they're not accepting of the answer," Hart said. "It seems legit to them, and they paid their money. I tell them they have to contact DoorDash for that." 
Hart tried for days to reach DoorDash to get the page removed; no one replied to her, she said. On Wednesday, Hart posted a video to Instagram calling on her social media followers to help her get the page down. 
"After several attempts and customer complaints, they are not taking it down," Hart said in the video. DoorDash took the spam page down Thursday after Block Club reached out.
Once Smoque's owners realized what was going on, they sent several emails to DoorDash to get the issue resolved and alerted customers on social media not to order through DoorDash until the problem was fixed, McDermott said.
It wasn't until Smoque posted about the issues on social media that DoorDash took down the fake page, McDermott said. 
"Within a day, they took care of it," McDermott said. "They are looking into it … but it's not totally clear how they were able to have our storefront taken down."
The popular barbecue joint decided to make up the missing orders and didn't lose that much money from the mix-up, McDermott said.
But the issue has perplexed its owners because it's the second time a fake Smoque account has been made on the delivery platform, McDermott said. 
Someone also made a duplicate DoorDash Smoque account in October and copied its menu, McDermott said. That caused customers to order from two sites, though only one was connected to the real Smoque, McDermott said. 
"We were getting drivers showing up for orders we did not have," McDermott said. "And then this last time, the difference was that this new storefront was up and ours was gone."
It took about a week for DoorDash to fix the duplicate issue from October, he said.
The restaurant's real DoorDash page has been fixed, but the owners will now be more vigilant about orders coming in from the app, McDermott said.
A DoorDash spokesperson said the company worked with Smoque BBQ and Brown Sugar Bakery "to understand their situations and reach appropriate resolutions in both instances." 
New DoorDash merchants are required to give their tax ID number, basic business information such as name, address, an owner's name and their ID to prove legitimacy, at times, the spokesperson said.
"We regret these incidents, and if any member of our community identifies unusual activity with their account, we strongly encourage them to reach out to DoorDash support immediately," the spokesperson said in a statement.
DoorDash will reimburse Smoque customers who placed orders from the fraudulent page and the company for orders it fulfilled while the fake storefront was active, company officials said.
DoorDash determined no payments were actually processed between Brown Sugar customers and whoever was operating the scam page, officials said.
Third-Party Apps 'Rule The Delivery World' 
Smoque, which opened in 2006, resisted using delivery platforms as the trend gained steam a few years ago because of the services fees and high commissions, but the team eventually decided to use UberEats and DoorDash to reach customers in new ways, McDermott said. 
"It's just sort of the way people eat now and during the pandemic, that's all we had," McDermott said. 
As small business owners struggle to recover from the pandemic and compete with corporate restaurants, some restaurateurs have urged people to order directly from them, as it brings in more revenue and offers a more reliable service. But owners also realize third-party apps "rule the delivery world," said Mike Bancroft, owner of Sauce and Bread Kitchen in Edgewater at 6338-40 N. Clark St.
The kitchen, a combination of businesses Co-op Sauce and Crumb Chicago, has also experienced trouble with third-party delivery pages in recent years.
DoorDash previously would add restaurants to the app at no charge — but not always with the owners' consent, a company representative said. DoorDash considered the move a trial run on the platform, and restaurants could opt out anytime, the spokesperson said.
DoorDash listed Sauce and Bread Kitchen without Bancroft's consent and added old or incorrect menu items, confusing customers and employees, he said. The restaurant is no longer on DoorDash.
"They are unavoidable to work with," Bancroft said of delivery apps. "Your margins are slow to begin with. Supply chain is one thing, but the people who take a piece [like email, payment and delivery services] … it becomes harder and harder to imagine a mom and pop being real."
DoorDash stopped adding restaurants without their consent in November 2020, the spokesperson said. As of last month, all restaurants on the app have a definitive partnership agreement to use its services, the spokesperson said. 
It's not clear where the money from the fake Smoque page has gone. McDermott said he hopes DoorDash resolves its issues to stop fake pages. Hart wants the platform to enforce stricter rules so growing businesses and paying customers don't fall prey to the scam again, she said.
"They need to do something where they identify where the scammers are using their platform and put an end to it," Hart said. "We caught it, but all I want is for them to make sure it doesn't continue to happen."
Listen to "It's All Good: A Block Club Chicago Podcast":