ANDERSONVILLE — PlayMakers Laboratory nearly closed during the pandemic despite its more than two decades of teaching theater and creative writing to Chicago kids.
Its board voted to close due to lost opportunities to partner with schools and parks on programs. But after its staff and volunteers rallied to save the organization, PlayMakers will return to the stage Monday for two special 25th anniversary shows.
PlayMakers Laboratory's "25 Years Of Students' Stories" is 6:30 and 8:30 p.m. Monday at the Neo-Futurists Theater, 5153 N. Ashland Ave.
The show will be a take on PlayMakers' flagship production, "That's Weird, Grandma," a live sketch show in which professional actors put on plays written by kids. For tickets ($25), click here.
The new show comes nearly a year after PlayMakers' board voted to dissolve.
The pandemic has been especially brutal for PlayMakers, which receives funding through in-person instruction in schools and live performances, which were restricted during pandemic shutdowns. With its revenue streams gone, the board early this year decided to pull the plug, staff said at the time.
In response, staff members and supporters worked to form a new board for the group and organize an emergency fundraiser to keep the lights on. It worked, with PlayMakers raising more than $60,000 last spring, said Brandon Cloyd, executive artistic director at PlayMakers.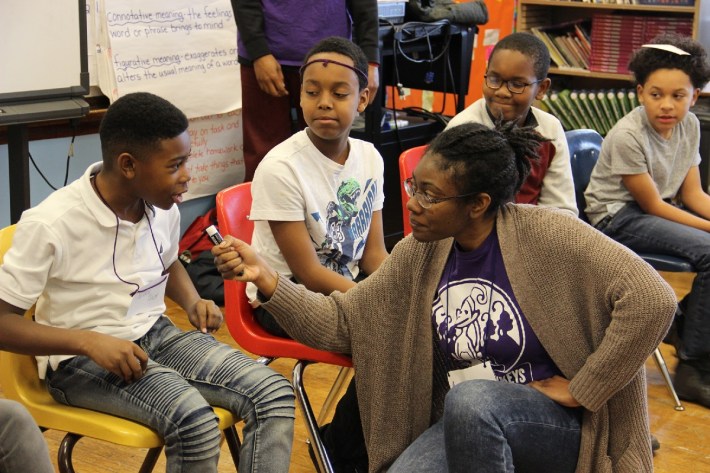 With the money, PlayMakers was able to return to in-school and park field house programs.
The organization held art camps at Park District cultural centers this summer. In November, it wrapped up a residency at Pottowatomie Park in Rogers Park after getting a grant from the city's ward-level community funding initiative.
Now, the group is returning to its longtime Andersonville shared theater to celebrate its 25th anniversary.
"We're delighted this happened in our 25th year," Cloyd said. "We had a challenging year, but we came out on top. We're really proud to have kept the work going."
PlayMakers Laboratory started in 1997 — with the name Barrel of Monkeys — as a nonprofit organization dedicated to arts education. Founders Erica Halverson and Halena Kays began by teaching kids creative writing and artistic expression, and the program was offered at 60 Chicago public schools. Its name was changed in 2019.
It expanded to include live performances, hosting "That's Weird, Grandma" weekly from the Neo-Futurist's Andersonville theater. The show ran for 20 years — before the pandemic changed everything.
PlayMakers has scaled back after its near-closure. It laid off two directors and an assistant and has moved out of its Uptown offices to have save money.
The organization isn't planning an imminent return of "That's Weird, Grandma" or other public performances. It will instead focus on its bread-and-butter: teaching arts to kids.
"Our programing is already what got us through," Cloyd said. "We want to maintain the focus on the work we do with schools."
Listen to "It's All Good: A Block Club Chicago Podcast":