LINCOLN PARK — Former Lincoln Park Ald. Michele Smith endorsed public affairs consultant Wendi Taylor Nations in the six-way race to lead the 43rd Ward.
The endorsement, which Smith announced in an email newsletter, comes two months after Ald. Timmy Knudsen (43rd) was appointed by Mayor Lori Lightfoot to fill the remainder of Smith's term. Smith stepped down from the role in August, citing deepening personal obligations.
Taylor Nations is a public affairs consultant who previously worked as chief marketing officer of World Business Chicago. She's lived in Lincoln Park for 27 years and has been a member of the RANCH Triangle Association for 20 years, according to her campaign website.
"The threat of overdevelopment of our neighborhood continues while we want to encourage development in other communities," Smith said. "Wendi's experienced leadership capabilities and lived experience make her the best candidate to tackle these issues and fight for us and our city."
Smith did not mention Knudsen in her endorsement, but she appeared to draw a contrast between Taylor Nations and the freshly appointed alderperson by praising Taylor Nations' independence from politicians and their interests. Knudsen was a campaign contributor and fundraiser for Lightfoot during her campaign for mayor and was appointed chair of the Zoning Board of Appeals before he became alderperson.
"Wendi can be trusted to maintain our ward's reputation for political independence," Smith said. "No matter whom the mayor, our ward has demanded that our alderman be accountable to us, the residents. We can be sure that Wendi will not be beholden to any mayor or political interest group."
Taylor Nations said the endorsement from Smith "means everything" and she plans to continue the former alderperson's dedication to bringing more green space to the ward.
"Michele did a great job with this ward, and I think continuing her focus on green space and parks, especially the North Branch Park Preserve, is so important to everyone in this neighborhood," Taylor Nations said
Taylor Nations said improving the ward's parks would combat another key issue: crime.
"Green space is really important, not just to quality of life, but also to public safety," Taylor Nations said. "When people gather, they gather with eyes and ears, and they see what's going on in the neighborhood."
The ward also needs more beat cops to prevent crime, Taylor Nations said.
"The city is over 2,000 cops down, and … we need beat cops who know us, our business owners, when schools are in and out and when the churches are in session," Taylor Nations said. "Beat cops know our neighborhood on a block-by-block case. I think we're missing that and the rising crime shows that."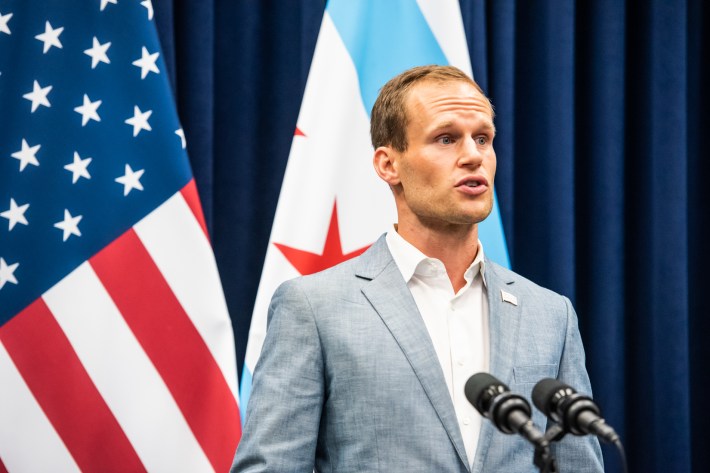 Knudsen said Nov. 21 he was feeling confident after being the first to file petition signatures to get on the February ballot, securing him the coveted spot of being listed first.
"I'm so grateful to all of the friends, family and supporters who have stood by my side and gathered four times the required number of signatures to ensure I'm on the ballot in February," Knudsen said. "The energy I've seen on the streets and at the doors is beyond encouraging, and I look forward to channeling it into a successful campaign."
Other candidates to fill the 43rd Ward alderman seat are Brian Comer, president of the Sheffield Neighborhood Association; Rebecca Janowitz; Steve McClellan, who ran against Smith in 2019; and resident Steve Botsford.
Listen to "It's All Good: A Block Club Chicago Podcast":