SOUTH LOOP — Some residents want to block a plan to open a Black-owned dispensary in the South Loop, saying the business would exacerbate crime and traffic.
Family Roots is proposing a $650,000 project to convert an old Potbelly's into a dispensary at 1147 S. Wabash Ave. The proposal received key zoning approval in September but requires signoff from the Zoning Board of Appeals before it's a done deal.
The project would create 30-50 construction jobs and 30-45 permanent positions, Family Roots CEO Matt Brewer has said. It would be one of the few Black-owned dispensaries in the city and the first in the South Loop. Another Black-owned dispensary, Ivy Hall, opened in November in Bucktown.
Brewer, a South Side native and Harvard Business grad, is working on the project with a team that includes Daniel Farrell, managing partner of Silver Star Protection Group. Farrell will oversee a security plan for the dispensary, which includes extensive camera surveillance and security guards.
But most residents attending a Tuesday community meeting were not impressed.
Residents from a neighboring building said the shop would only worsen traffic and safety issues that have plagued the area for years, from double-parking Trader Joe's shoppers to delivery drivers clogging up the alley behind the building.
"There are times when I can't get in that alley [to shop at Trader Joe's] because of trucks. I've been appalled when I've gone to Trader Joe's because there's a line of six to seven cars double-parked on the left side of the street, which disrupts all the traffic," said Rosemary Garrett, a longtime Near South Side resident.
Neighbor Winnie Dollear started a petition to create an ordinance that would create a "restricted cannabis zone," banning dispensaries from setting up shop in predominantly residential areas. She also launched a petition opposing Family Roots. Altogether, she's gotten 100 signatures for the petitions, she said.
The retired nurse told Brewer she supports his desire to open a dispensary — just not on her block. She said the idea of armed guards worries her.
"We don't need that there. I'd like to see a clinic dedicated to helping the homeless population in the area. That would be a much better use for that space," Dollear told Block Club.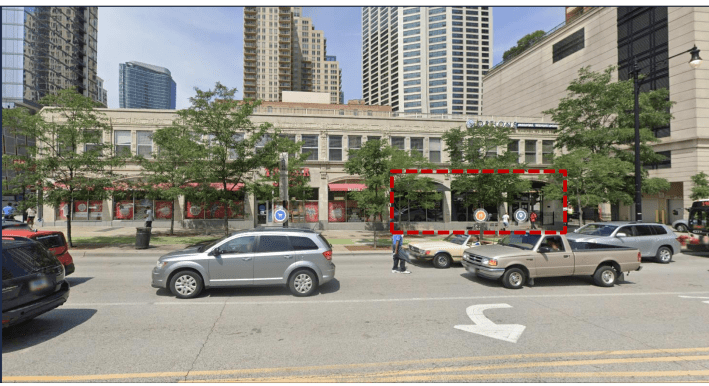 Farrell assured residents the security plan for the dispensary would benefit neighbors.
Farrell's team would create "concentric circles of protection" that would keep employees and customers safe, he said. Lighting outside the shop would be sufficient to identify faces and license plate numbers. Cameras capable of facial recognition would be installed around the dispensary's perimeter, Farrell said.
"Every inch of the facility has a camera angle on it except for the bathrooms," Farrell said.
Customers would be greeted by a security guard and a dispensary employee who will scan their driver's license or state I.D. to make sure they are 21 or older. They'll be able to smell and see products for sale, but they won't be able to touch them, Farrell said. Once they make a decision, customers will walk over to the register, where they'll once again show their identification.
The employee will then head to the vault in the restricted access area — where an "agent in charge" and another employee will be stationed for theft prevention — to retrieve the product, which is placed in a sealed bag upon payment to discourage post-purchase loitering, Farrell said. The customer will exit from a different door, making it easier for security to watch them as they leave.
Workers with restricted area access will have undergone review from the Illinois Department of Professional Regulation, which requires fingerprinting and background checks, Farrell said.
"Inventory checks will be done in the morning and evening using the state's Biotrack system, which follows product from seed to sale. Any plant put in the ground at a cultivation center is given an RFID tag. That tag goes from the cultivation center to harvesting to packaging. The product is tracked through every phase of delivery and sale," Farrell said.
Farrell said that another part of the security plan is forming a partnership with the Police Department and receiving input from commanders and desk sergeants on best practices.
Despite pushback from some neighbors, Brewer said he remains hopeful he'll be able to come to an agreement with residents.
"We do have a lot of support, but not a lot of people can show up on a rainy Tuesday night. There was clearly a misunderstanding here with respect to how we'd use the alley and whether we would block their parking, but I'm confident we wouldn't," Brewer said. "We can work with the community and figure it out.
Listen to "It's All Good: A Block Club Chicago Podcast":