LOGAN SQUARE — Another independently-owned business has joined Logan Square's Armitage Avenue — this one geared toward local music lovers.
Shuga Records opened Friday at 3306 W. Armitage Ave., selling thousands of new and used vinyl records out of a renovated store most recently occupied by nonprofit offices.
It's the second outpost of Shuga Records and will serve as a retail shop and the company's warehouse. Shuga's original store opened in Wicker Park in 2015.
This week, the Logan Square shop is open 11 a.m.-7 Tuesday and Wednesday and closed on Thanksgiving. Starting Black Friday, which is also Record Store Day, the store will be open 10 a.m.-7 p.m. daily, owner Adam Rosen said.
RELATED: Shuga Records Opening In Logan Square As Wicker Park Record Store Expands
Wicker Park has become a destination for vinyl in recent years, a movement started by local institution Reckless Records and advanced by newer shops like Shuga Records. Out-of-towners flock to the neighborhood to thumb through record crates.
While Logan Square is home to many musicians and artists, the neighborhood doesn't have a vinyl scene of its own.
Rosen said he wants Shuga's Logan Square store to be neighborhood-focused, a spot where locals can wander in and pick up their favorite records or discover something new.
As a Logan Square resident himself, Rosen said in August the area "needs more things that are attractive to all of the people moving there."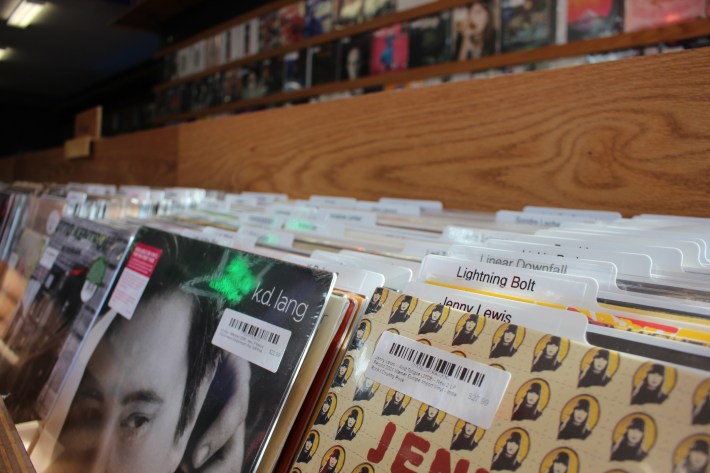 Rosen has spent the last several months renovating the Logan Square shop, giving the walls fresh coats of purple paint, hanging neon lights and installing custom-built shelving.
The shop's doors are open, but the buildout is far from complete, Rosen said.
Rosen said he still needs to bring in more inventory and fill out the shelves, a process that could take months. He also plans to install an interactive display near the store's entrance that will allow customers to flip through a catalog of Shuga's rare art collection.
The shop has a memorabilia room filled with notable paintings and posters Rosen has amassed over the years, including artwork by Andy Warhol and Keith Haring. Customers will be able to shop the collection in the coming months, Rosen said.
It could take a year to finish renovating the Logan Square store, which is about how long it took to get the Wicker Park shop up and running, Rosen said.
Like in Wicker Park, Shuga Logan Square will also eventually host signings and live shows, Rosen said.
Shuga's new warehouse, located in back of the Armitage Avenue shop, is filled with about 600,000 records that were previously being stored in a Lawndale facility before Rosen leased the Logan Square building.
Rosen said he's considering taking over the vacant apartments above the Logan Square shop if things go as planned. Shuga's Wicker Park store expanded after just a year of business.
Across from Shuga is a collection of newer businesses, including Haru Sushi, Doll Heads salon, Tacos Loteria and Wish Me Luck Tattoo, along with staples Damn Fine Coffee and vegan restaurant Ground Control.
Listen to "It's All Good: A Block Club Chicago Podcast":