Want to support Block Club's gift guides and our other local journalism? Subscribe here or click here to gift a subscription. If you do it today, you'll get a free 16-by-20-inch Chicago neighborhood print of your choice!
AUSTIN — The West Side has plenty of art, culture and commerce for people seeking unique gift ideas this holiday season. 
There's a diverse range of options, from Ida Nelson's popular artisan ice cream to Shaquita Thorpe's holistic massages.
Here's what you can buy:
Austin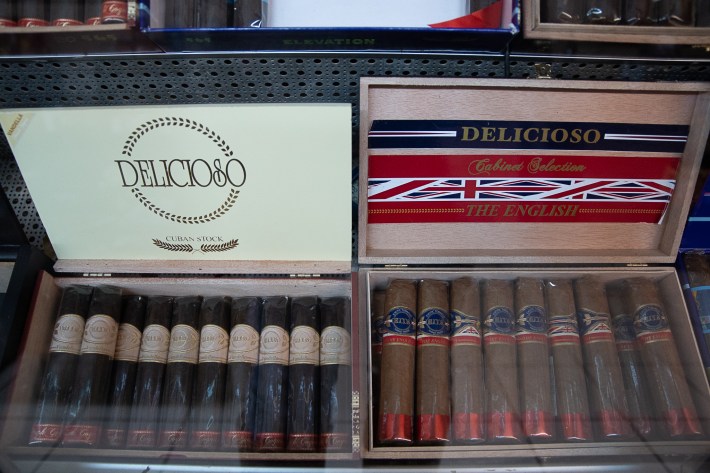 The Roasted Leaf Cigar & Coffee Shop, 5925 W. Chicago Ave. Website.
To paraphrase a famous actor, some people meditate; others smoke cigars. At the Roasted Leaf's calming and spacious lounge, you can do both.
The Black-owned business, which opened in 2020, has a range of flavors and brands. You can try the popular Blue Mountain Crown Royal Peach ($13.58 each), the Acid Blondie Belicoso ($11.58) or the French Cognac ($13.58).
Open 11 a.m.-9 p.m. Tuesday-Thursday, 11 a.m.-10 p.m. Friday-Saturday and noon-5 p.m. Sundays. 773-413-7853. Instagram.
A Natural Mind and Body, 1921 N. Harlem Ave., suite S-106. Website.
If you want to give the gift of stress relief this year, Shaquita Thorpe's A Natural Mind and Body offers a variety of holistic services and therapies. 
Thorpe's 60-minute AromaParadise Massage ($130) is a relaxing Swedish treatment that allows you to choose which aroma oil you want to be massaged in. For the expectant mom in the family, there's a 90-minute My Mommy and Me PreNatal Massage ($160) that focuses on the mother's needs. 
Book an appointment online. 708-634-8837.
North Lawndale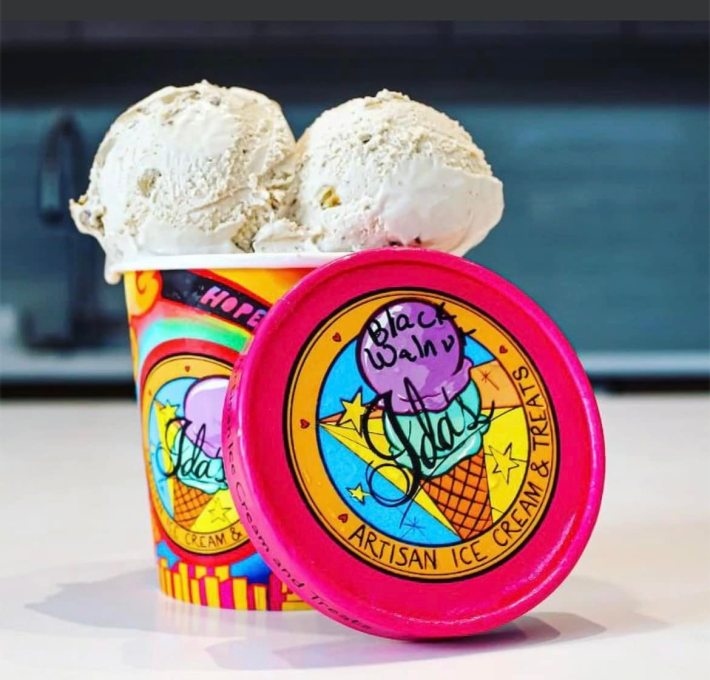 Ida's Artisan Ice Cream & Treats, online. Website. 
Who said you can't enjoy ice cream in winter? North Lawndale native Ida Nelson's innovative ice creams are popular year-round. 
Pints are $12 and half-pints are $8. And with more than a dozen flavors, there's plenty of room to experiment. Try the Mexican Hot Chocolate, Peach Cobbler or Red Velvet Cheesecake for starters. There are also vegan and non-dairy options. 
Order online. 773-956-3353. Instagram. Facebook.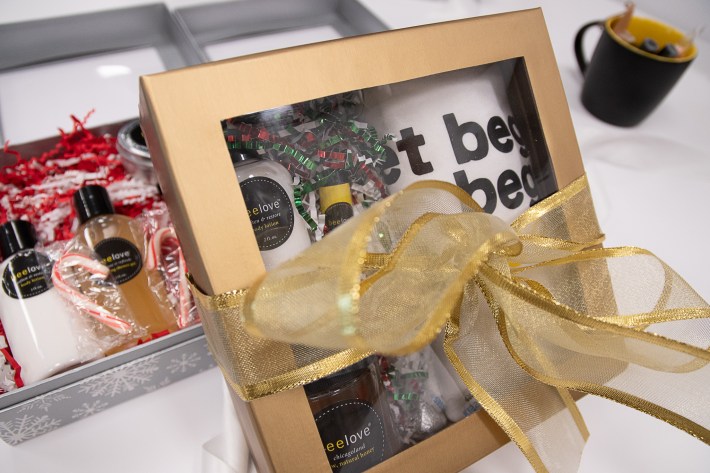 Sweet Beginnings, online. Website. 
Sweet Beginnings, a wholly-owned subsidiary of the nonprofit North Lawndale Employment Network, offers full-time green jobs to residents returning from incarceration. 
The company's employees manage bee farms across the city that produce honey, which gets infused into the company's popular beeloveTM natural skin care products. 
The Winter Sweet Holiday Box Set ($65) includes beeloveTM sugar scrub, body lotion, raw honey and shower gel, among other ingredients, for the perfect spa day. The beeloveTM Pure Necessities Collection ($17) includes shower gel, lotion and lip balm. Of course, you can also buy the honey itself ($15 for a 12-ounce jar). 
Order online. 773-638-1825. Instagram.
Garfield Park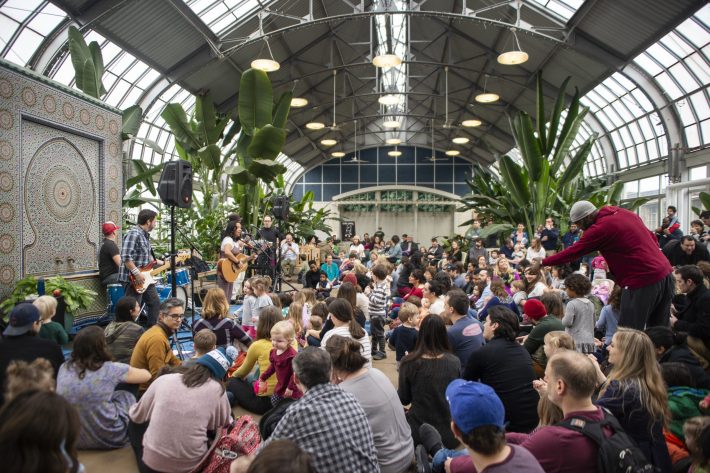 The Garfield Park Conservatory, 300 N. Central Park. Website.
Winter and construction might be Chicago's only two seasons, but the famous saying doesn't apply at the Garfield Park Conservatory. 
Step out of the cold and into a tropical landscape at the conservatory, which has more than 70 palm trees, lush ferns, an indoor lagoon and cacti — to name just some of what it has to offer. 
For the naturalists in the family, gift a year-long membership that offers free admission for exhibits in the Artist's Garden, pre-sale ticket access for select special events, discounts at the gift shop and on classes and more. Membership is $60 per person, $84 for two people and $120 for a family of four. 
Buy a membership online. The Garfield Park Conservatory is open 10 a.m.-6 p.m. Wednesdays and 10 a.m.-4:30 p.m. Thursday-Sunday. 773-638-1766. Instagram.
Two Sisters Catering, online. Website. 
Give the cook in your family a break this holiday season by treating your loved ones to the savory dishes of Two Sisters Catering. 
Owner Veah Larde started the catering company in 2012 before moving to a brick-and-mortar spot in Austin. Earlier this year, she closed the Austin location and now cooks her catered dishes at The Hatchery, the Garfield Park food incubator. 
The menu is expansive, featuring everything from salmon croquettes, cheesy grits (salt or sugar is up to you) and buttermilk biscuits to pot roast, collard greens and fried fish. Pricing depends on the size and variety of the order. 
Order online. 312-869-2527.
West Humboldt Park
Tasa Coffee Roasters, 4136 W. North Ave. Website.
One of the first café and roasters in the area, Tasa Coffee opened in September from husband-and-wife team Pierre and Jackie Marquez.
Tasa strives to give fair compensation to the farmers who produce its coffee. For the coffee lover in your life, there's the ASMUCAFE Colombia Women's Co-op blend, a medium, single-origin coffee with notes of caramel and toffee grown by women farm holders and growers in the Cauca region of Colombia ($14.99-$17.99 per bag); or the Luna Espresso Blend, which combines Central American, South American and South Asian premium coffees ($14.99-$17.99 per bag).
Tasa also sells a mug ($11.99-$13.99) and gift cards.
Open 8 a.m.-4 p.m. Tuesday-Friday and 8 a.m.-3 p.m. Saturday-Sunday. Instagram. 872-205-9767.
Previous guides:
• 2021
• 2020
Do you own a shop or want to boost a local business during the holidays? Submit its information here and we'll add it to a reader gift guide! It'll come out in early December.
Listen to "It's All Good: A Block Club Chicago Podcast":