Want to support Block Club's gift guides and our other local journalism? Subscribe here or click here to gift a subscription. If you do it today, you'll get a free 16-by-20-inch Chicago neighborhood print of your choice!
LOGAN SQUARE — Shopping local in Logan Square, Humboldt Park and Avondale has never been easier — or more fun.
Block Club rounded up neighborhood staples, including An Orange Moon in Humboldt Park and Bric-a-Brac Records & Collectibles, which recently moved from Logan Square to Avondale, plus new shops that have popped up over the past few years.
Unique gifts abound at each shop, from obscure vinyl records and house plants to vintage trinkets and handmade jewelry.
Featured below are a few places to shop this holiday season:
Logan Square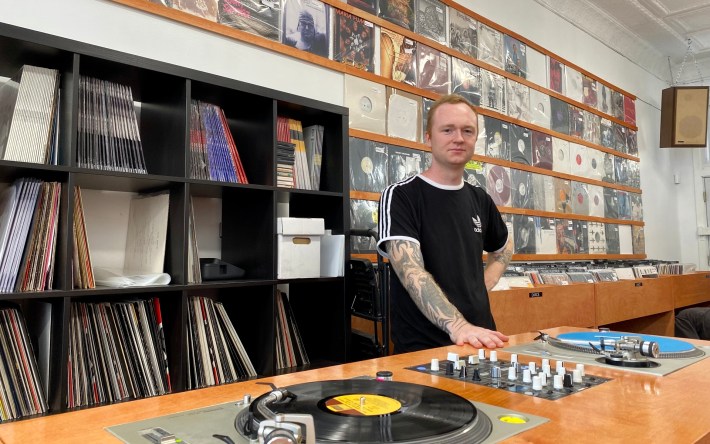 Signal Records, 2845 N. Milwaukee Ave. Instagram.
You can impress music-loving friends and family members with vinyl from Signal Records, a new record shop at the Logan Square and Avondale border run by Blake Karlson, a longtime member of Chicago's punk and hardcore scene and the founder of the label Chicago Research.
Signal stocks hundreds of thousands of LPs, but it specializes in rare post-punk, experimental, global and industrial music. Standouts include "Strategies Against Architecture" by German experimental group Einstürzende Neubauten ($29.99) and "Great Punk Hits" ($149.99), a compilation of Japan's quintessential hardcore and punk music.
Hours are noon-7 p.m. daily. 773-654-3781.
Pixie & The Boy, 2605 N. Milwaukee Ave. Website.
Selling handmade jewelry, plant pots and "things to make you smile," Pixie & The Boy has become a go-to spot in Logan Square for hostess and birthday gifts since opening on the square last year.
The bright shop is also chock-full of holiday gifts, including a 12-inch record cutting/serving board ($25), a Logan Square candle by Chicago Wick Stop ($32) and Desert Fleur perfume by Bohemian Rêves ($48), plus accessories made by owner Trish Carnevale.
Open noon-6 p.m. Wednesday-Friday, 11 a.m.-6 p.m. Saturdays, 11 a.m.-5 p.m. Sundays. The shop is closed Monday-Tuesday. 773-687-9233.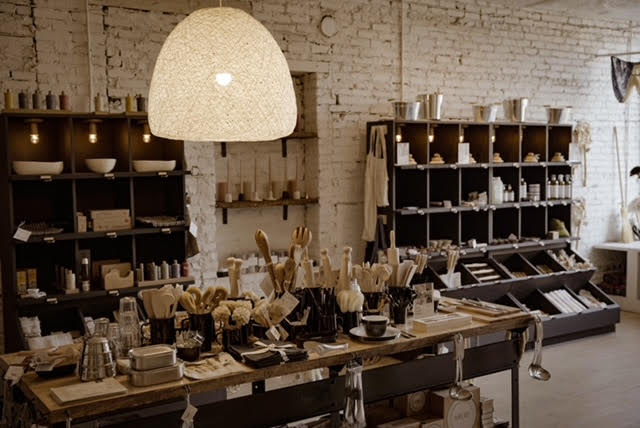 Logan Mercantile, 3505 W. Fullerton Ave. Website.
Logan Mercantile opened last year with a mission of elevating everyday home goods such as brushes and brooms. The shop is run by Kitty Izzo, who also owns the bar next door, Park & Field, with husband Dave Nalezny.
Everything in Logan Mercantile is begging to be carefully wrapped in holiday paper and placed under a lit tree. Izzo uses her background in high-end merchandising to pick the shop's offerings, which include a phonograph record brush ($27), a screwdriver with six bits made by a cabinet maker in England ($42) and a twin-pack of natural glass and rubber baby bottles ($55).
Hours are noon-7 p.m. Wednesday-Friday, 11 a.m.-5 p.m. Saturday-Sunday. The shop is closed Monday-Tuesday. 312-776-2987.
Humboldt Park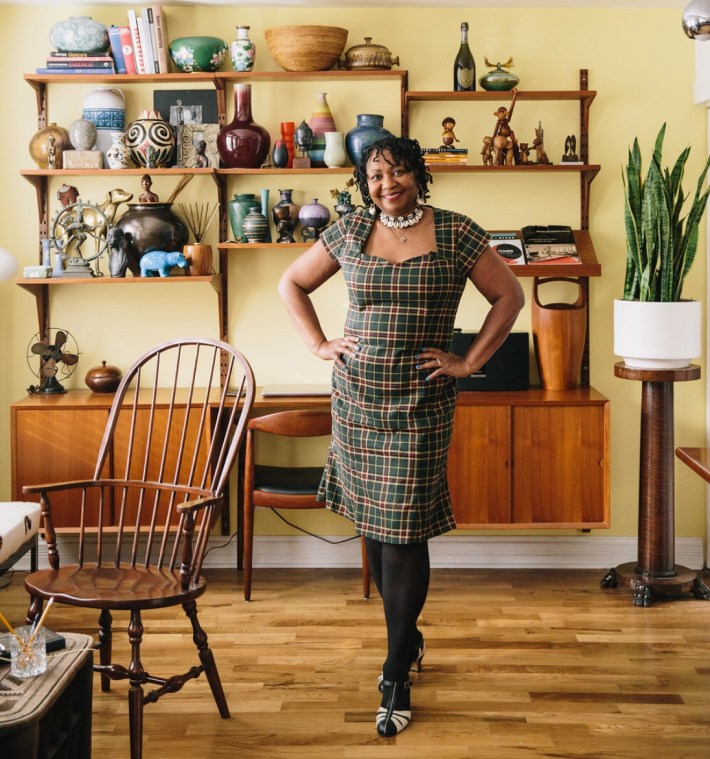 An Orange Moon, 2418 W. North Ave. Website.
A Humboldt Park fixture since 2011, An Orange Moon is filled with one-of-a-kind vintage pieces that make stellar holiday gifts, such as a Van Briggle vase ($125) and an oil painting of Chicago by local artist Melvin King ($795).
Looking for big gifts that won't fit under the tree? The shop also sells stylish mid-century modern furniture, including chairs, couches and shelving units — all selected by husband-and-wife owners Lynne and Ty McDaniel.
An Orange Moon is open by appointment noon-7 p.m. Friday-Saturday and noon-5 p.m. Sundays. 773-276-6726.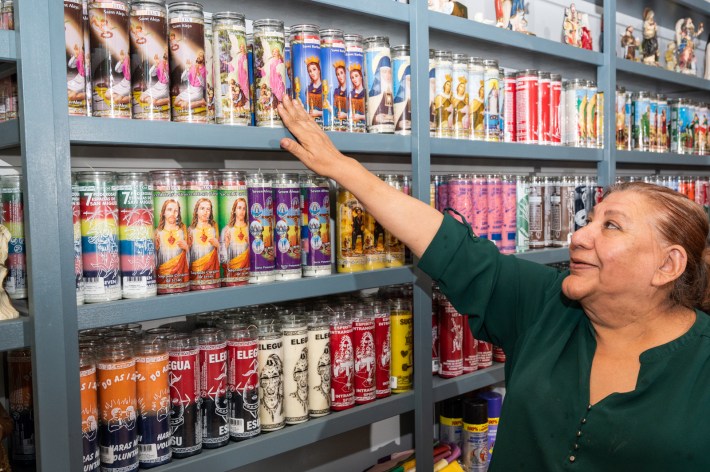 Botanica Victoria, 2510 W. Division St. Instagram.
Humboldt Park staple Botanica Victoria sells an array of crystals, herbal remedies and natural home goods with healing properties. Consider agate plates ($5-25) or a naturally scented candle with a reusable cauldron ($18). The candles promote calmness, love and attraction and spiritual purification.
Botanica Victoria was closed for two years during the pandemic. During that time, longtime owner Rosalinda Taufique almost died from COVID-19. When Taufique recovered, her family stepped in to revive the 30-year-old shop so Taufique could get back to doing what she loves: running her neighborhood botánica.
"I don't treat my customers just like customers; I treat them like family," Taufique said earlier this year.
Hours are 11 a.m.-7 p.m. Monday-Saturday and 12:30-4 p.m. Sundays. 773-252-0682.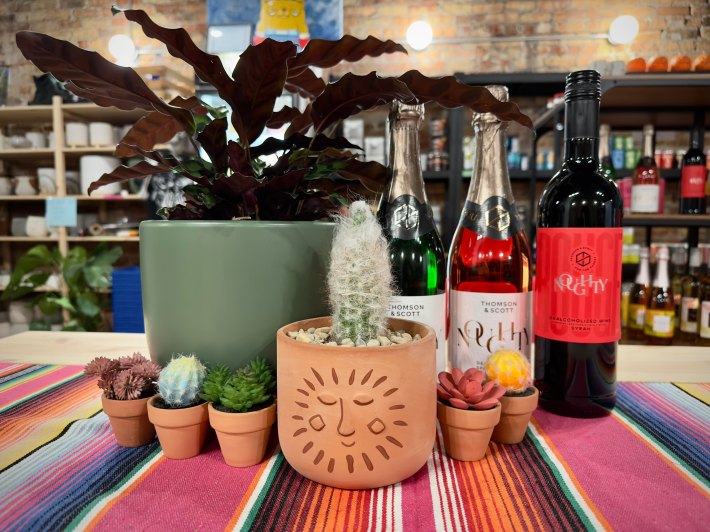 The Succulent City and Bendición Dry Bar, 2540 W. Division St. Website.
We could all use some more greenery in our lives, especially during gray and dreary Chicago winters. Luckily, there's Marcus Kirby, a house plant aficionado whose new Humboldt Park shop is brimming with cacti, succulents and tropical plants.
Shoppers will also find non-alcoholic drinks at the store, courtesy of new partner Cristina Torres, founder of Bendición Dry Bar. Kirby and Torres recently joined forces after realizing they shared a similar mission of bringing the community together around plants and sober fun.
For holiday gifts, you can nab a calathea plant in a P&P pot ($45), an old man cactus in a sun pot ($20) and Noughty wine (each $28). Plants and pots can be ordered online for pickup or delivery.
Hours are 1-6 p.m. Wednesday-Friday and 11 a.m.-5 p.m. Saturday-Sunday.
Avondale
The Horror House, 2911 W. Belmont Ave. Website.
Avondale has become a destination for horror-themed shops and businesses in recent years. One of the newest additions to the neighborhood scene is The Horror House, a horror-themed collectibles shop from owners Vinny Malave, Moses Gibson and Aaron Gaston.
Among the shop's offerings are the Fanny Devito fanny pack ($34.99), a Harebrained pin ($11.99) and a Creepy Co. blanket ($39.99), all of which could make for fun gifts.
Hours are 11 a.m.-8 p.m. Tuesday-Thursday, 11 a.m.-7 p.m. Friday-Saturday and noon-6 p.m. Sundays. The shop is closed Mondays. 773-942-6755.
Bric-a-Brac Records & Collectibles, 2845 N. Milwaukee Ave. Website.
Last year, neighborhood favorite Bric-a-Brac left its Logan Square home for a larger space on Milwaukee Avenue in Avondale. The new shop is loaded with even more records, collectibles and curiosities that can delight any pop culture fanatics on your holiday list.
Possible gifts include a limited-edition Gang of Four boxset with never-before-released music and an 100-page book ($175), deadstock Star Wars ceramics ($15-$35) and vintage Brazilian Masters of the Universe skateboards ($35).
After shopping at Bric-a-Brac, pop by The Brewed, a horror-themed coffee shop the owners opened earlier this year in conjunction with the record and collectible store. In addition to coffee and snacks, the coffee shop sells branded T-shirts with spooky motifs.
Hours are noon-7 p.m. daily. 773-654-3915.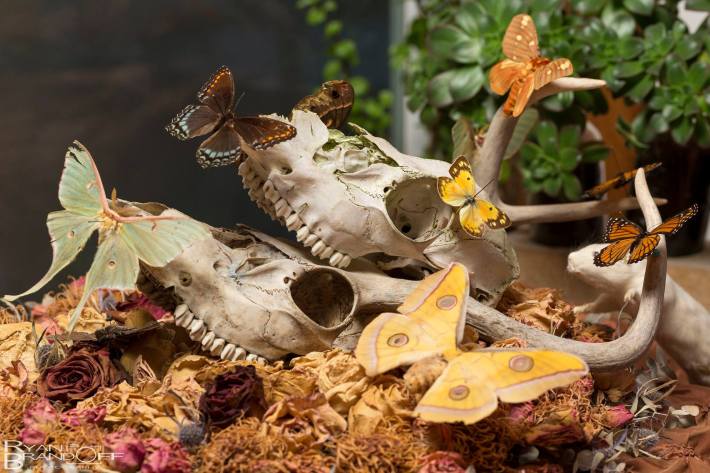 The Insect Asylum, 2870 N. Milwaukee Ave. Website.
Arguably the most unique business in Avondale is The Insect Asylum, an insect museum and community center run by lifelong nature lover Nina Salem. The museum is home to more than 2,500 insects, taxidermy and other specimen.
For your insect-loving nephew or cousin, The Insect Asylum offers an array of classes around beetle and butterfly pinning, wet specimen and owl pellet dissection (starting at $45). The museum also sells butterfly and insect resin jewelry (starting at $15).
More adventurous types should consider the shop's holiday mystery box ($100), which includes a class pass, resin jewelry and other oddities.
For hours of operation, go here. 312-961-7219.
Previous guides:
• 2021
• 2020
Do you own a shop or want to boost a local business during the holidays? Submit its information here and we'll add it to a reader gift guide! It'll come out in early December.
Listen to "It's All Good: A Block Club Chicago Podcast":