Want to support Block Club's gift guides and our other local journalism? Subscribe here or click here to gift a subscription. If you do it today, you'll get a free 16-by-20-inch Chicago neighborhood print of your choice!
SOUTH SHORE — South lakefront neighborhoods are home to a wealth of holiday gifts.
You can grab comic books and book subscriptions in Hyde Park, sweet treats and handmade crocheted fashion in Woodlawn, pre-loved women's clothes in South Shore and flowers in South Chicago.
Block Club rounded up several businesses in the community to help residents shop local.
Here's what you can buy:
Hyde Park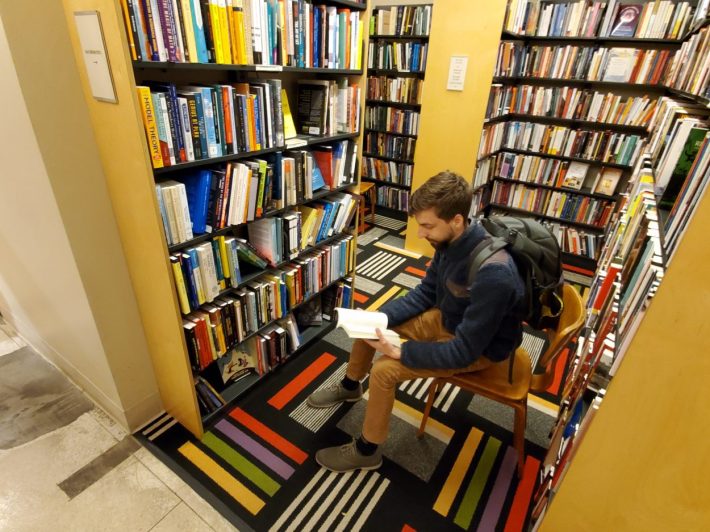 Seminary Co-Op Bookstore, 5751 S. Woodlawn Ave. Website.
The Seminary Co-Op Bookstore is a Hyde Park stalwart, selling books such as "Black Writing from Chicago: In the World, Not of It?" ($19.95), a compilation of local Black writers' works from 1861 to the 21st century; "Viral Justice" ($29.95), a reflection on the COVID-19 pandemic that is expansive and intimate; and "Dilla Time" ($30), an in-depth biography of Detroit composer and producer J Dilla.
The Front Table subscription service (starting at $150 for paperbacks) sends at least six books over the course of a year. Depending on the subscription level, its recipient will be surprised every other month with recent releases in literature, history, arts and criticism, books by University of Chicago faculty and more.
The Seminary Co-Op and its sibling shop, 57th Street Books, moved on from their cooperative roots to become a nonprofit in 2019.
Open 11 a.m.-7 p.m. Monday-Friday and 10 a.m.-5 p.m. Saturday-Sunday. Instagram.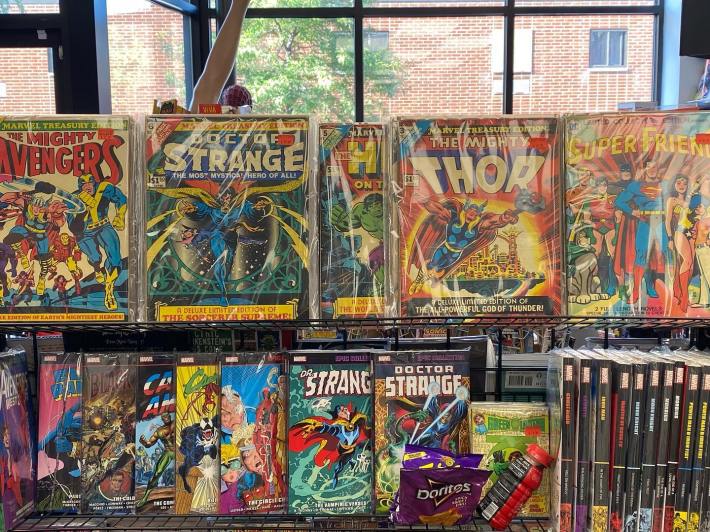 First Aid Comics, 1617 E. 55th St. Website.
As Hyde Park's go-to for comic books, First Aid offers new releases every Wednesday, beloved classics, major franchises from Marvel and DC and stories from independent publishers. You can also pick up gift cards from $10-$100 to let your loved one choose their own favorites.
Gems like "Drafted: One Hundred Days" ($10.99), in which former President Barack Obama leads an effort to rebuild Chicago following an alien attack and a brutal winter, are available through First Aid's online store.
First Aid hosts weekly sessions for Dungeons and Dragons, Magic the Gathering and the Final Fantasy trading card game.
Open 11 a.m.-7 p.m. Monday-Tuesday and Thursday-Saturday, 11 a.m.-8 p.m. Wednesdays and noon-5 p.m. Sundays. Instagram.
Silver Room, 1506 E. 53rd St. Website.
The Silver Room is a Block Club gift guide staple for good reason — it's hard to walk out of the place without buying something for yourself or someone you love.
We're loving their South Side candle series ($25 each), all natural, essential oil-based candles representing South Shore, Chatham, Bronzeville, Woodlawn, Washington Park, Pilsen and Pullman.
You'll also find jewelry, tote bags, t-shirts and more.
Open 11 a.m.-8 p.m. Monday-Friday, 10 a.m.-8 p.m. Saturdays and 10 a.m.-6 p.m. Sundays. Instagram.
Woodlawn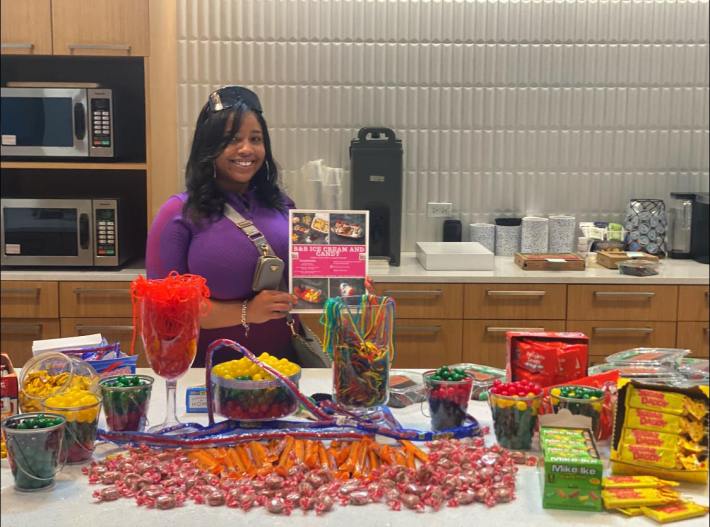 B&B Ice Cream and Candy, 1516 E. 63rd St. Website.
Hyde Park Academy High School students are lucky; they can walk around the block after school and stop into B&B whenever they wish. In case the kids-at-heart in your life don't have such easy access, consider picking up sweets and snacks from the Woodlawn shop for the holidays.
Giant turtles ($6.50) and chocolate-covered nuts ($18 per pound) make great stocking stuffers, or you can gift your loved one a trip to the shop to pick up an Italian ice smoothie ($6) or a funnel cake sundae ($4).
The sweets shop opened in 2020, aiming to become a community pillar and safe space for young people much like its flagship Auburn Gresham location.
Open noon-8 p.m. Monday-Friday, noon-5 p.m. Saturdays and noon-4 p.m. Sundays. Instagram.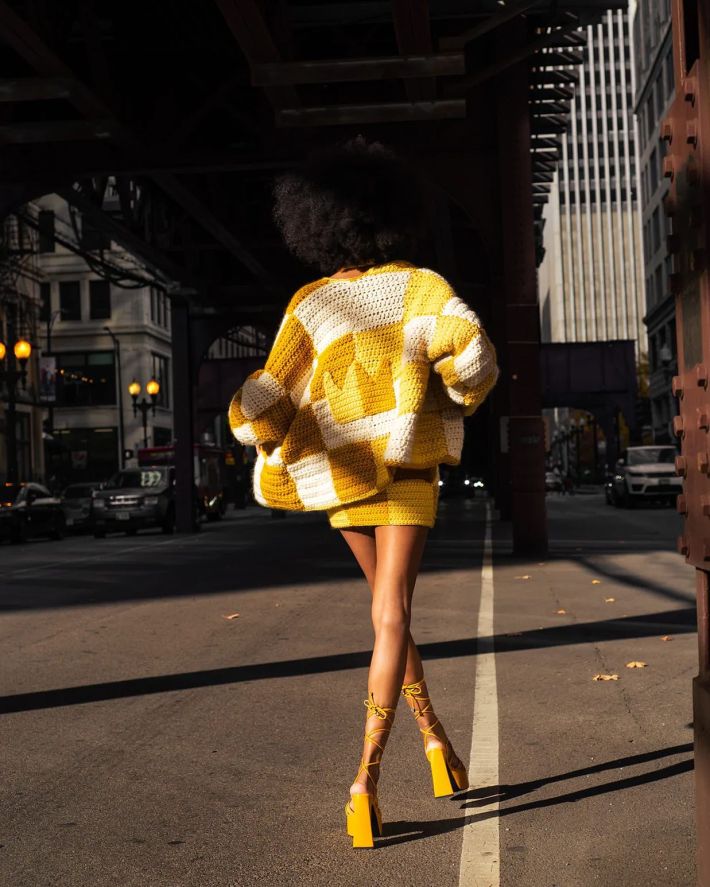 T'Kor Couture, online. Website.
This Woodlawn-based luxury fashion brand specializes in crocheted clothes and accessories. Designer Dinah T'Kor Clottey creates bucket hats ($60), beanies ($60), halter tops ($120) and super scarves ($195) in a variety of colors.
The shop's top-shelf offering is an oversized cardigan in purple or yellow ($365), which — like the rest of Clottey's creations — is made of pure merino wool. All pieces are made-to-order and require up to 4 weeks to ship.
T'Kor Couture won fifth place at this year's South Side Pitch competition, receiving $1,000 for materials, digital marketing and website upgrades.
Order online. Instagram.
South Shore
With You In Mind Resale Shoppe, 2232 E. 71st St. Website.
With You in Mind is home to all things fashionable and thrifty, from tops and dresses to bottoms, shoes and accessories. More than 200 items are in stock at the South Shore shop, including a jeweled heel by Betsey Johnson ($60), a magenta and nude lace dress by Roz & Ali ($12) and a quilted wristlet clutch by Vera Bradley ($30).
If your loved one likes to let a stylist take the reins, you can gift a virtual shopping session with personalized assistance ($50 for 30 minutes, of which $25 is applied toward the purchase).
The resale store also offers an in-home "closet cleanout" service, offering advice on clothes to ditch and styling tips for the clothes that remain ($75 per hour, two-hour minimum).
Open noon-7 p.m. Friday-Saturday and noon-6 p.m. Sundays. Instagram.
South Chicago
Samantha's Flowers, 8911 S. Commercial Ave. Website.
Samantha's sells fine flowers and offers friendly, flexible service out of its South Chicago home base. It's a year-round hot spot for complex arrangements and indoor plants, with plentiful floral gifts for the holidays.
Poinsettias ($75) are a Christmas tradition for many who celebrate, while the store also offers a Kwanzaa bouquet ($65) with jade roses, red mini carnations, a red candle and more. For Hanukkah, you can choose a designer's special ($60) where the florist selects their favorite white and blue blooms.
Samantha's offers same-day delivery and delivers to communities on the South Side, in the south suburbs and in northwest Indiana.
Open 10 a.m.-7 p.m. Monday-Saturday and 11 a.m.-4 p.m. Sundays. Instagram.
Previous guides:
• 2021
• 2020
Do you own a shop or want to boost a local business during the holidays? Submit its information here and we'll add it to a reader gift guide! It'll come out in early December.
Listen to "It's All Good: A Block Club Chicago Podcast":