Want to support Block Club's gift guides and our other local journalism? Subscribe here or click here to gift a subscription. If you do it today, you'll get a free 16-by-20-inch Chicago neighborhood print of your choice!
BRONZEVILLE — From leafy plants to funky bongs, small businesses in Bronzeville and the South Loop have you covered for holiday gifts.
Block Club Chicago rounded up a few neighborhood options to help residents shop local.
Here's where you can shop:
Bronzeville
Absolutely Anything Essential, 3521 S. King Drive. Website.
Owner Kenya Renee has sold her collection of soaps, scrubs and deodorants from her Bronzeville outpost since 2016. She also carries products from other local vendors, from Remree's Bling's & Thing's to Rhon's Way Books and Journals.
Need a pick-me-up? Check out the Mix and Mingle Essential Soap Box ($10-$18), candles with scents such as Unlimited Mimosas and Jamaica Me Crazy ($9-$15) or — for the beard enthusiast in your life — Beard Balm ($12).
Open 3-6 p.m. Fridays and noon-6 p.m. Saturday-Sunday. Instagram. 312-238-9447
CBQ Facial Beauty Bar, 4458 S. Cottage Grove Ave. Website.
Sticking with the self-care theme, nothing says "I love me" like a good facial. CBQ's Express Facials can have you glowing in 30-45 minutes and you don't even have to change clothes.
You can treat the special someone in your life to the service of their choice with an e-gift card or give them products to take home, such as the Lavender Martini Face Cream ($25), African Black Gel Face Cleanser ($30) or Face Glow Oil ($25).
Open 10 a.m.-5p.m. Wednesdays, 10 a.m.-6 p.m. Thursday-Friday and 10 a.m.-5 p.m. Saturdays. 773-800-9433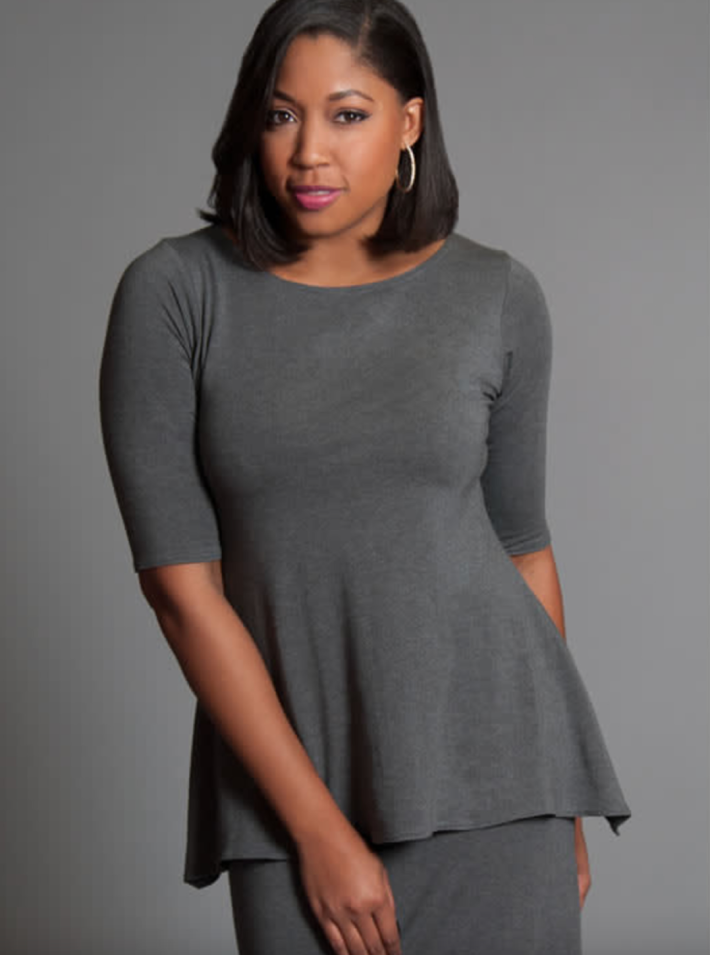 Sarah Kuenyefu Collection, 4412 S. Cottage Grove Ave. Website.
A good wardrobe refresh is the gift that keeps on giving, and this Bronzeville boutique has what you need to be fly for the holiday season and beyond.
Be flirty (and workplace appropriate) in a W shirt with mid-length sleeves and a scoop neckline ($115), two-piece skirt and pocket top set ($265) or — if you're in need of a snazzy accessory — a pair of Adinkra earrings (various styles, $24.95). Be sure to make an appointment first.
Sarah Kuenyefu is open noon-6 p.m. Tuesday-Saturday. 773-324-6858
South Loop
Decadent Dessert Bar & Bistro, 1355 S. Michigan Ave. Website.
For those interested in a tastier gift, the recently opened Decadent Dessert Bar has what you need. The restaurant is accepting pre-orders for cakes, pies and cupcakes.
Choose from Biscoff cheesecake ($120), chocolate creme cake ($100) or cupcakes, including salted caramel with a Twix topping ($5) and pumpkin spice ($4.50).
Decadent Dessert Bar & Bar is open 8 a.m.-8 p.m. Tuesday-Thursday, 8 a.m.-10 p.m. Fridays and 10 a.m.-10 p.m. Saturdays. 312-624-9101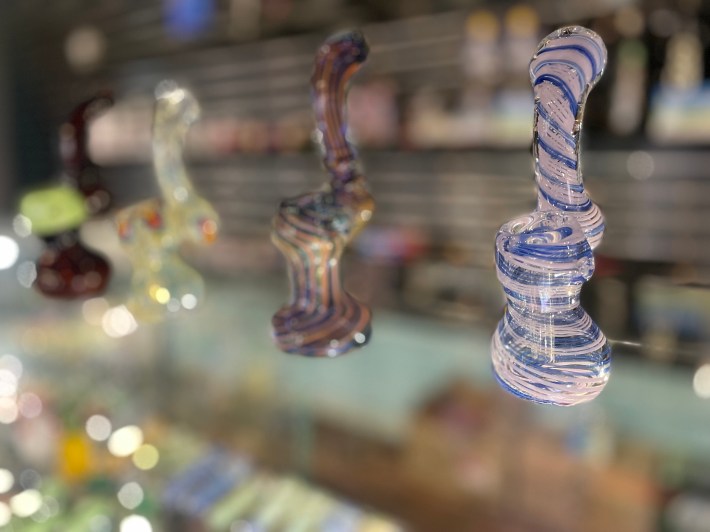 Smoke Valley, 1319 S. Michigan Ave. Website.
For the smoker in your life, South Loop's Smoke Valley has the goods to keep them mellow through a stressful holiday season (or election season, if necessary).
Twist slim pens ($22) come in an array of fun colors, from Ruby Red to Rasta.
For the Star Wars fan, there's the silicon Yoda bong ($40). In need of something a little prettier? Check out the shop's assortment of smaller glass bongs ($45). 
Smoke Valley is open 10 a.m.-10 p.m. Saturday-Wednesday, 10 a.m.-9:30 p.m. Thursday-Friday. 312-291-8644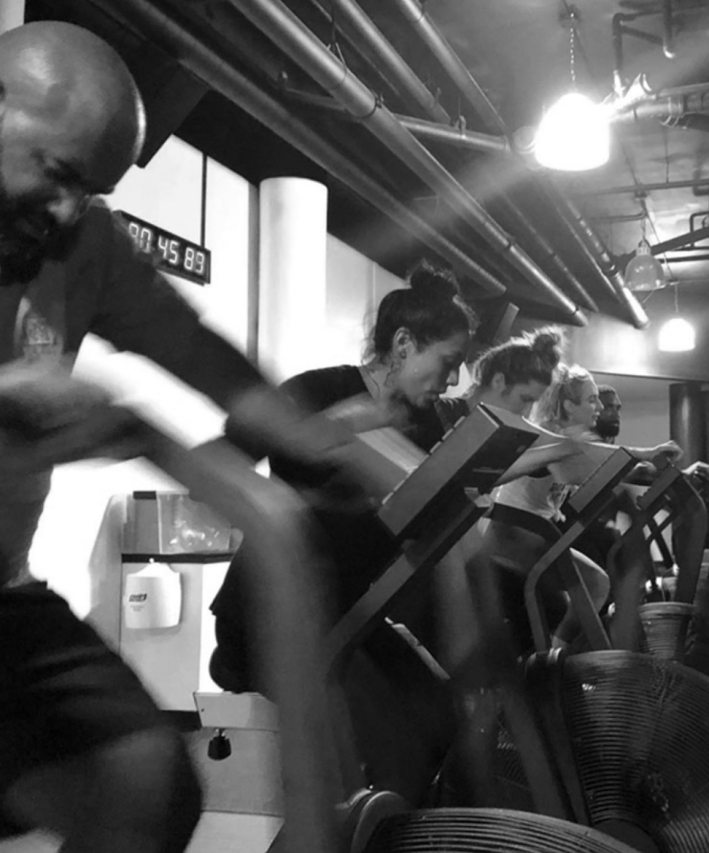 RSTR, 1325 S. Michigan Ave. Website.
A class package from RSTR could be the perfect gift. It offers 30-minute strength and endurance HiiT sessions, Sweat Social (where you work out at a new offsite location every Sunday) and Sound Therapy, in which a sound bath cleanses your cells while providing relaxation for the mind, body and soul.
Classes start at $30. There's a monthly membership special for $159 that comes with fitness and nutrition coaching. Not entirely sold? You get to try two classes for free before you buy.
RSTR is open 6:30 a.m.-10 p.m. Monday-Friday. 312-374-8924
Washington Park
Black Plant Lovers, 330 E. 51st St., No. 2. Website.
Stop by this leafy Boxville store to check out its rotation of gorgeous plants, or shop for gifts on their site.
A "Black Like Baldwin" ceramic planter ($32) could be perfect for the James Baldwin fan/plant enthusiast (totes and T-shirts are also available), and a large Celfie planter ($22) would add flair to any living room. The shop also carries a variety of mugs, bags and masks.
Black Plant Lovers is open 3-5 p.m. Wednesdays. You can also find it 11 a.m.-6 p.m. Friday-Sunday at the State Street Holiday Market, 35 S. State St.
Previous guide:
• 2021
Do you own a shop or want to boost a local business during the holidays? Submit its information here and we'll add it to a reader gift guide! It'll come out in early December.
Listen to "It's All Good: A Block Club Chicago Podcast":