Want to support Block Club's gift guides and our other local journalism? Subscribe here or click here to gift a subscription. If you do it today, you'll get a free 16-by-20-inch Chicago neighborhood print of your choice!
CHINATOWN — Local businesses are looking for Chicagoans' support this holiday season.
If you want to help, you can grab a pink box of puffy pastries and tea in Chinatown. Bridgeport offers local books and souvenirs with a side of coffee. McKinley Park has one of the last video stores in the Midwest.
Block Club Chicago rounded up a few neighborhood gift options to help residents shop local.
Here's what you can buy:
Chinatown
Chiu Quon Bakery & Dim Sum, 2253 S. Wentworth Ave. Website.
Chinatown's oldest and most recognized bakery offers more than just a quick bite for people on the go.
Chiu Quon specializes in Hong Kong style-pastries and has walls adorned with photos of Barack Obama, Jackie Chan and other big names. The sweet shop was founded in 1986 and pumps out 10,000 bao per week, according to Eater.
For a gift that's a true taste of the neighborhood, Chiu Quon has full cake rolls — including honeydew, Swiss, lemon, coffee and chocolate — for $7 each. Wrapped bags of laughing sesame or phoenix cookies are $4.25.
Assorted dim sum, freshly baked every day, are less than $3 each and can come in Chiu Quon's signature pink box. There are also Portuguese egg tarts ($1.85).
Chiu Quon Bakery is open 7 a.m.-10 p.m. Friday-Saturday and 7 a.m.-9 p.m. Sunday-Thursday. 312-225-6608. Instagram.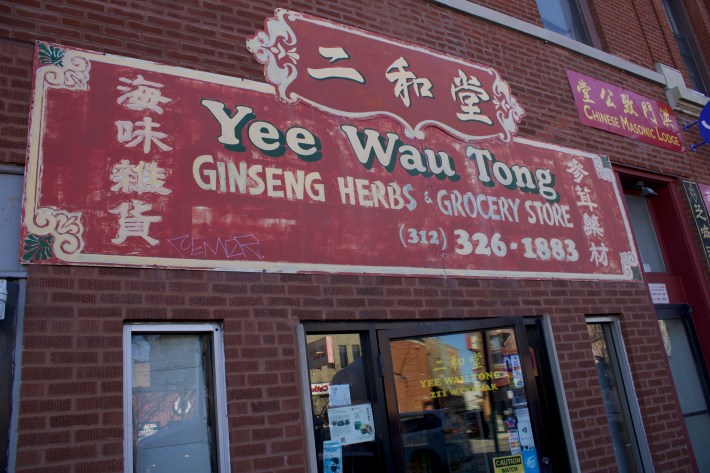 Yee Wau Tong (二和堂), 211 W. Cermak Road
This shop has been selling all types of teas for over 30 years, with herbal teas designed to target specific ailments.
There's ginger honey tea for stomach pain ($8.95) and ginseng tea to "give you energy before the gym," said Regine Tam, who runs the shop with her husband.
"Chinese medicine is slower than a prescription. It works gradually," Tam said. "Tea is about healing."
Yee Wau Tong also sells Chinese soaps ($1.65) and incenses (99 cents). Black teas come in ornate packaging with earthy colors.
For big spenders, a swallow birds' nest, an edible delicacy from Southeast Asia, costs about $300.
Yee Wau Tong is open 9 a.m.-6 p.m. Monday-Saturday and 9 a.m.-5 p.m. Sundays. 312-326-1883.
Bridgeport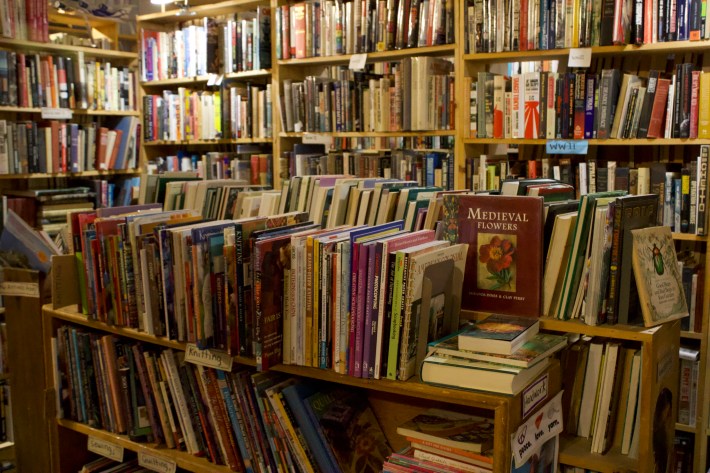 Tangible Books, 3324 S. Halsted St. Website.
Shop owner Joe Judd calls his bookstore "a snapshot of the mind of the neighborhood."
Judd and his wife, Lisa, are the former owners of the famous Myopic Books in Wicker Park and set up their shop in Bridgeport last year.
Used books, largely brought into the shop by neighbors, cost about $3.50-$15.
Those contributions have grown Tangible Books' architecture section — with offerings about influential Chicago School architects such as Louis Sullivan and Frank Lloyd Wright — from two shelves to seven, Judd said.
Tangible Books carries works by local authors near the register, with all proceeds going back to the author, Judd said.
"There's many different types of people and interests in this neighborhood. It's neat to watch in what directions the shop has grown," Judd said. "It doesn't get any more local than this."
The book shop is open 10 a.m.-7 p.m. daily. 773-565-4088.
Jackalope Coffee & Tea House, 755 W. 32nd St. Website.
The colorful coffee shop also sells "funky little knickknacks you wouldn't think would be here," barista Leigh Cotherman said.
You can grab a matcha latte and pick up gifts all in one fell swoop at Jackalope, which has a gift shop called Bitten Hand inside.
The shop includes eccentric and spooky pins ($8.99), Jackalope mugs ($12), cheetah-print pillows ($19.99), super soft hoodies ($35) and colored shades ($9.99), "which makes for a lot of fun watching customers try them on," Cotherman said.
"We're a small local business, and the gift shop always changes to reflect and support the community," barista Noah Riggenbach said.
The coffee shop and its gift store is open 7 a.m.-7 p.m. daily. 312-888-3468. Instagram.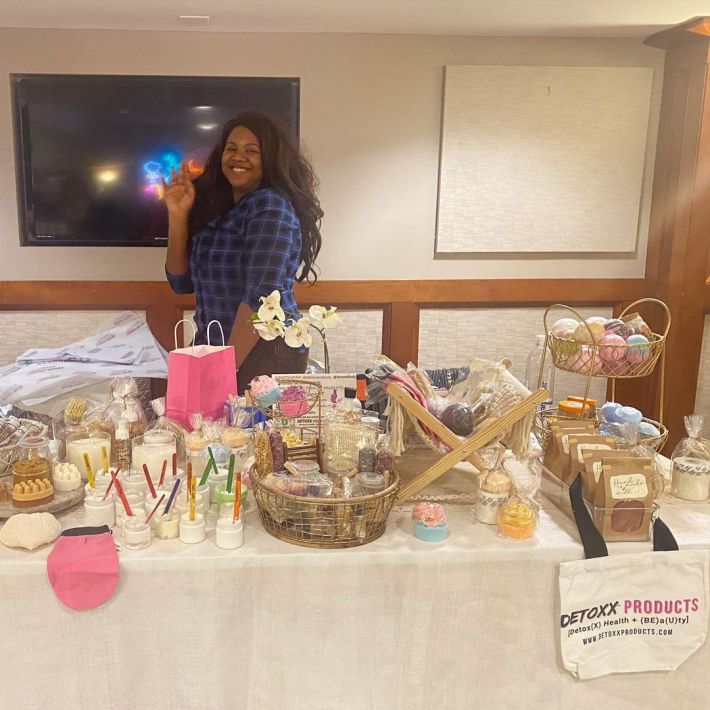 Detoxx Life Products, online shop. Website.
The one-woman business by Bridgeport resident Anjie Moore specializes in colorful cleaning products and has a fan in Gov. JB Pritzker.
The online shop includes cupcake bath bombs ($7.25), brown sugar scrub ($15.50), shea body butter ($13.50) and beaded waist bands ($7).
Detoxx Life Products are sold online and 7-10 p.m. every third Friday of the month at the Bridgeport Art Center, 1200 W. 35th St. 773-887-6644.
McKinley Park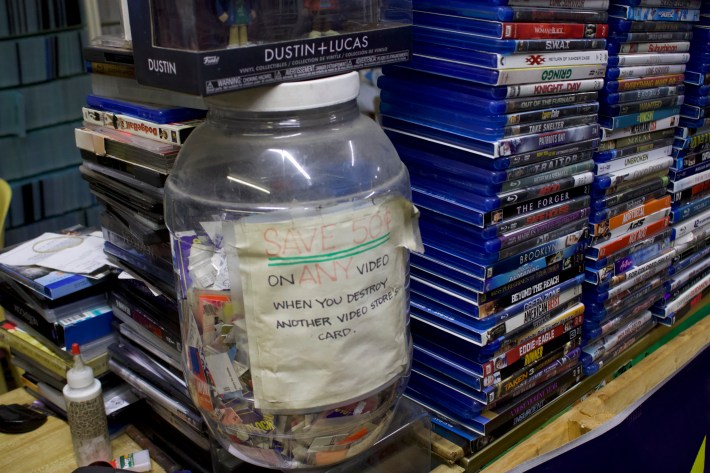 Video Strip: Movie and Game Rentals, 3307 S. Archer Ave.
Want to get your parents a copy of their favorite childhood TV show? Video Strip owner Joe Trutin will find it for you.
Trutin's DVD shop has more than 25,000 classic titles, including many that don't wind up on streaming services.
"We have about 75 years of watching, no bathroom breaks," Trutin said.
The Video Strip is one of the last video stores left in the Midwest, Trutin said. He's been in business 27 years.
Gift certificates are available, and monthly video rentals are $3.99. Unlimited monthly movie rentals start at $12.99. Trutin will work out prices with customers who want him to find specific titles, he said.
In the spirit of the holidays, The Video Strip has rare holiday movies such as "Silent Night, Deadly Night" and "ThanksKilling."
"There's a part 1 and a part 3 but no part 2 to 'ThanksKilling,'" Trutin said. "That's a crucial part of the plot."
The video store is open 1-10 p.m. Sunday-Thursday and 1-11 p.m. Friday-Saturday. 773-927-4307. Facebook.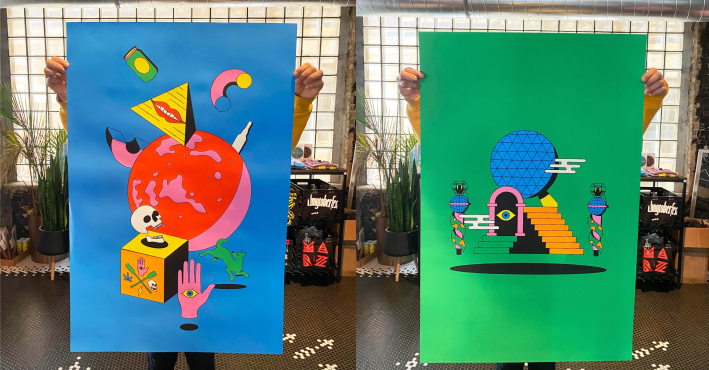 Marz Community Brewing Company, 3630 S. Iron St. Website.
The 15-barrel brewhouse has gifts that are as crafty as its beers.
Marz Brewing started in 2013 by friends hanging out in Bridgeport, who picked a location in McKinley Park in 2018 and opened "on the premise that the art, culture, food, and liquid we were drinking and enjoying would also be enjoyed by others," according to its website.
The brewhouse sells limited-edition prints by artist Nana Nozaki ($60) that are also on display at its Life on Marz community club.
Other gift ideas include Marz mini-puzzles ($15), "Drink Marz" newsprint poster sets ($10), T-shirts ($20-25) and a bundle box ($75).
The brewery and community space is open 4-11 p.m. Tuesday-Thursday, 4 p.m.-midnight Fridays, noon-midnight Saturdays and noon-8 p.m. Sundays. Orders can be placed online or in-person. 773-579-1935. Instagram.
Previous guide:
• 2021
Do you own a shop or want to boost a local business during the holidays? Submit its information here and we'll add it to a reader gift guide! It'll come out in early December.
Listen to "It's All Good: A Block Club Chicago Podcast":