WOODLAWN — Several bus stops along Stony Island Avenue, which are closed indefinitely due to "unsafe" boarding conditions as the Obama Presidential Center is built in Jackson Park, are still being used by some bus drivers and riders.
Northbound bus stops on Stony Island Avenue at 60th-63rd and 65th streets are closed, while the 64th Street stop was moved slightly north to better accommodate passengers from 63rd Street. Route #6, #15 and #28 are affected by the closures.
"Recent nearby project work has created some instances of unsafe boarding [and] alighting conditions for [Chicago Transit Authority] customers, resulting in unplanned, temporary bus stop changes," spokespeople for the transit authority said in a statement.
"Every effort is being made so that no two consecutive stops in a given direction are temporarily discontinued, but certain circumstances are beyond CTA's control," the spokespeople said.
There's no timeframe for when regular service will resume near the Obama Center site, officials said.
Despite the closures, a driver dropped off one passenger at 65th Street, dropped off another at 63rd Street and picked up two riders at 61st Street during one Monday afternoon trip.
Two other drivers picked up riders at the closed 63rd Street stop later that afternoon, while another driver picked up a passenger at 65th Street.
The riders boarded and got off along Stony Island in gaps between cones or concrete barriers, just steps from oncoming traffic. Several closed stops feature uneven terrain caused by gravel and construction debris.
Drivers and riders still use the shuttered stops often, said Destiny, a regular rider of routes #6 and #15 who was waiting at 63rd Street for a southbound bus Monday. She declined to give her last name.
Destiny has also seen riders walk behind the barriers and cones, using the construction area as a makeshift sidewalk, she said.
"It's not safe. They should do [construction] on certain parts [of the road] at a time," Destiny said. "They just need to hurry up."
Neighbors have voiced safety concerns and complaints about bus service along Stony Island in recent months as Obama Center-related road work has impacted the avenue.
The northbound stops pose a risk for riders, said Tommy, who was waiting for a southbound bus at 64th Street. He declined to give his last name.
Tommy doesn't regularly ride the routes along Stony Island, but it was clear Monday that no one should be using the closed stops, he said.
"It's construction. You can fall off over here," he said.
Route change notices were not visible at several stops along Stony Island Monday afternoon, though a flyer was posted at 65th Street, which features a shelter.
"As it does with any planned [or] unplanned service impact, CTA will post an alert on its website, as well as posting physical alerts at the affected bus stops as quickly as possible," agency officials said Thursday.
The stop closures in place this week had changed since closures were first announced Oct. 26.
As of Nov. 11, the 59th Street stop was closed, the 60th and 64th street stops remained open and service on route #2 was affected, the Hyde Park Herald reported at the time — none of which remained true as of Monday.
"Some temporary re-routes and bus stop relocations will occur to accommodate construction activities and to ensure the safety of area residents, visitors, and commuters," said Erica Schroeder, spokesperson for the transportation department.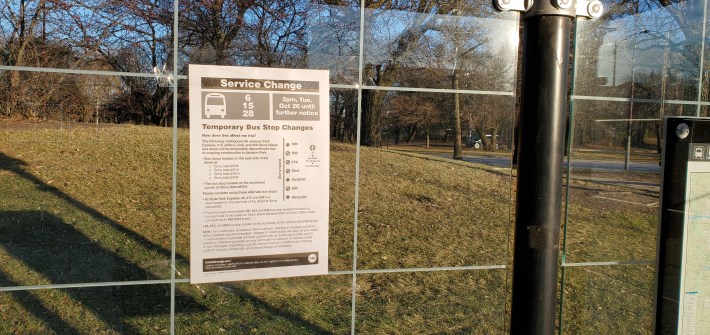 The transit authority and the transportation department are working "to ensure unrestricted access and [Americans with Disabilities Act] accessibility for all open bus stops near the Obama Center site," officials said.
Neither agency clarified whether all stops currently open along Stony Island were accessible as of Monday.
Once the Obama Center's construction is complete, some bus stops will be relocated to the far side of intersections with traffic signals, and bump-outs for safer boarding will be installed at some stops, officials said.
For more information on Obama Center-related road work, visit the project's website.
Listen to "It's All Good: A Block Club Chicago Podcast":