PULLMAN — A program teaching preservation and restoration skills to people in and around Pullman is receiving financial support through a new grant.
Pullman Tech Workshop, which teaches historical trades and welcomed its first group of students this summer with partner Revolution Workshop, is the newest recipient of the Landmarks Illinois Timuel D. Black Jr. Grant Fund for Chicago's South Side. The Pullman group received $2,500.
The nonprofit's leaders will use the matching grant to boost preservation efforts at its headquarters at 11314 S. Front Ave., the former home of Schlitz Brewery Stable and Argus Brewery, according to a news release. 
"We're going to build a resource library, a place where trainees can go … if they have a question about something, or even [if] we want to go and find a book that helps answer some questions," said Megan Lydon, Pullman Tech Workshop Board chair and independent historic preservation consultant. "We'll have that library built up and some other tools for teaching."
Another future project is a material library where community and cohort members will visit to see materials used in preservation work.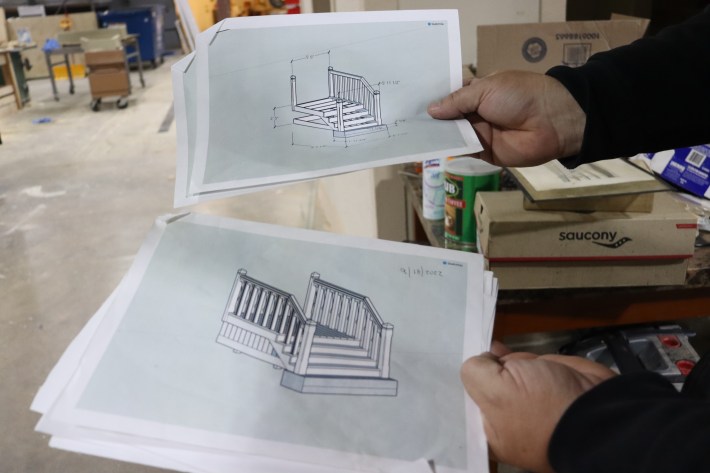 The first students at Pullman Tech Workshop completed porch-build projects and worked on restoring previously unused rooms on the second floor of Greenstone United Methodist Church, 11211 S. St Lawrence Ave. The rooms, which had been unused for decades, will be rented out to shared space partners, Executive Director Nick Lubovich said. 
The grant money will be especially helpful as Pullman Tech Workshop prepares for its second cohort in early December, Lydon said. Students will have access to large architectural plans for building projects, as opposed to smaller print-outs that were used for the first group of trainees, Lubovich said.
"Things like the porch project and the large-scale [plans], we didn't realize [we needed] that until after we built the first porch," Lubovich said. "We would not know that we need that, until we realized that, 'Hey, there's eight of us trying to look at one little plan. Let's blow it up and let's allow people to take it in.'"
The next group of students will also have more time for field projects and to work at the Pullman Tech Workshop headquarters, Lubovich said. The organization also is working on seminars and workshops for neighbors who are not part of the cohort, he said.
The Timuel Black grant program supports organizations and individuals preserving history, culture architecture in the South Side, where the legendary civil rights leader lived and promoted Black history until his death last year, according to the release.
Applications for grants are accepted year-round, and recipients can receive $500-$2,500.
Applications for the next round of grants are open until Jan. 1. Funds are given based on need and require a one-to-one match, according to a news release. Applications are here.
Spots for the winter pre-apprenticeship cohort, which begins Dec. 5, are also open. Those interested can apply online.
As Pullman Tech Workshop continues, programs will remain simple and accessible for youth interested in preservation, restoration and trades including masonry, plaster, window restoration, window milling and more, Lydon said. 
"In Chicago, there's 500,000 buildings — of that, 63 percent were built before 1945," Lydon said. "So we're trying to focus on not just fancy landmark buildings, but the buildings [that] are important to these people [and] to their community."
Listen to "It's All Good: A Block Club Chicago Podcast":