WOODLAWN — Angela Thompson helps Woodlawn neighbors safely cross 61st Street and Cottage Grove Avenue every weekday morning and afternoon.
Thompson's bubbly, outgoing demeanor can draw a big grin out of kids and grown people on any given day. But a project of hers has made neighborhood kids smile even brighter on one special day per year for nearly two decades: a Christmas toy giveaway.
Kids who cross Thompson's intersection on the last day of school before winter break receive age-appropriate gifts, from board games and Nerf sets to dolls and educational toys for preschoolers.
"My passion is children," Thompson said. She started the effort more than 15 years ago as a crossing guard for Emmett Till Math and Science Academy and has continued since moving to Fiske Elementary. "They are our future. The biggest thing for me is to put a smile on a kid's face."
Thompson recruited a Santa to hand out presents and pose for free pictures last year, which marked a "huge success" as the drive returned from a pandemic hiatus in 2020, she said.
The Santa will return for this year's giveaway, handing out gifts alongside her granddaughter, Ja-Nya Rogers, 8, who is an elf for the day.
"I want to help because I just like helping," Rogers said.
Neighbors can mail gifts to Angela Thompson, PO Box 378264, Chicago, Illinois 60637. Donated gifts should cost less than $20 each, Thompson said.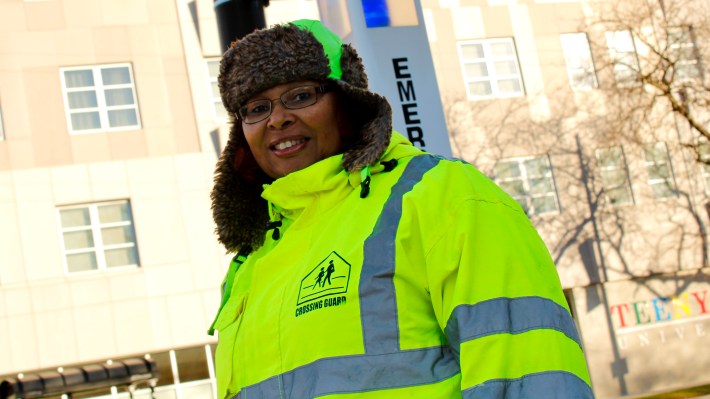 The toy drive started in the mid-2000s when Thompson was working for Emmett Till elementary school. Thompson overheard a young mother's conversation "about how she couldn't afford to do anything for her kids for Christmas," she said.
"I saw her again the following week and said, 'Hey, when school gets out for Christmas break, just come and see me," Thompson said. "It was just the joy — the tears, the happiness in seeing her give her children the gifts — that motivated me to continue."
Thompson's latest post at 61st and Cottage Grove is a hot spot for children, with Fiske Elementary School down the street and the MetroSquash facility and Teeny Tiny University day care on the intersection.
MetroSquash plans to host a donation box for Thompson's giveaway at the front desk for the first time this year, and it will help publicize the toy drive.
"I see the care that she expresses when she's interacting with students — and parents, for that matter," said Mary Sillah, MetroSquash's facility and community affairs director.
Thompson has never sought the spotlight for her giveaways. Sillah has worked at the intersection for years and only recently found out about the donation drive's existence, she said.
"People would always say, 'Somebody needs to call the news,'" Thompson said. "I've been doing it for so many years, but I never talked to them."
For eight years, Woodlawn resident Natalie Young has crossed Cottage Grove Avenue with Thompson's assistance to go work at the University of Chicago.
When Thompson moved to 61st and Cottage, "I changed the way I walked to work so I could still talk to her," Young said. "She's just like a ray of sunshine."
Even so, Young only found out about the toy drive a couple of years ago, when Thompson asked people to donate. The crossing guard and neighborhood pillar "deserves some recognition for what she does," Young said.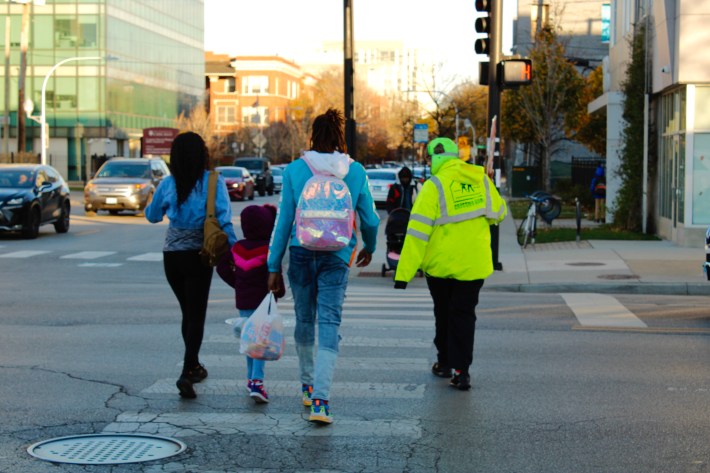 Thompson doesn't limit her generosity to the Christmas season. She'll give birthday gifts to kids she knows personally, said one mother who crossed the street Friday with her family.
Thompson also hands out pencils on the first day of school, sweet treats on Valentine's Day, freeze pops on hot days and candy on Halloween, she said. As she organizes this year's toy drive, she's stocking 50 donated backpacks with essentials and toiletries to give to people experiencing homelessness.
Thompson credits her father, former 4th District Police Cmdr. Lamont Thompson, for instilling her with her sense of hospitality.
"I had friends that were in need a lot, so my house was always the house to come to," Thompson said. "You could get a meal or something like that. [Even today,] if somebody's hungry, you come to my door and say, 'I'm hungry' — I'm gonna feed you.
"Even if I don't have money, I always manage to find a way to do something. It's by God's grace that I'm able to do any of it."
That spirit has been passed down to younger generations, said her daughter, Asia Thompson. Asia Thompson has done "behind the scenes" work for her mom's Christmas giveaways, such as donating presents and taking photos, from the beginning.
The family experiences led Asia Thompson to seek out local service efforts as she attended Jackson State University in Mississippi, and in part inspired her to take a job with Cook County's housing authority that "involves giving back," she said.
"My mom is a giver; she taught us to be givers," Asia Thompson said.
"I help out, and I'm not really looking to get something back in return," said Janyth Williams, Angela Thompson's daughter, who wraps the presents and labels them by age group.
Between Angela Thompson's large family, a few dozen classmates from her Dunbar High School graduating class and other donors, the annual Christmas toy drive involves about 75 volunteers, she said.
It's an impressive roster for a long-lasting project that started with the generosity of one woman to another.
"I'm always observing things," Angela Thompson said. "When I see someone struggling, I say, 'Hmm, how can I help? How can I be a part of the solution?' You never know when you may be in that same position."
Listen to "It's All Good: A Block Club Chicago Podcast":