LOGAN SQUARE — A Logan Square art studio that for several years provided small yet affordable spaces to local artists and creatives trying to grow their businesses is shutting down.
Building owner Mark Fishman, the most well-known property investor in Logan Square, recently gave Startwork Studios' remaining tenants 30 days to vacate the premises, effectively shutting down the low-cost artist hub at 3323 W. Diversey Ave.
The shutdown has left some artists and makers scrambling to find work space heading into the busy holiday season. Others moved out months ago after property management failed to properly address building issues, they said.
Current and former tenants said Fishman's company, M. Fishman Co., didn't give renters enough time to move out and find new spaces. Startwork was one of the few remaining affordable artist studios in the area, offering rents of $300-$700 per month.
It was not immediately clear why the studios are closing. Fishman and his property manager didn't respond to multiple requests for comment.
"It's sad that there are not a lot of places for artists that are affordable," said Nors Beatriz, who's being forced to move out of Startwork at the end of November after six years. Beatriz makes jewelry and sells crystals under the moniker Mojo Owl.
"In the middle of Logan Square that was a nice space, and it could've been really great if they had kept the space up, but artists are just being pushed and pushed more and more," Beatriz said.
Fishman owns dozens of buildings in gentrifying Logan Square and has faced widespread criticism over the years for hiking up the rent and forcing out renters and business owners.
But Startwork, which opened sometime after Fishman bought the corner building in 2010, was unlike his other real estate projects in that it was geared toward budding artists who otherwise couldn't afford work space.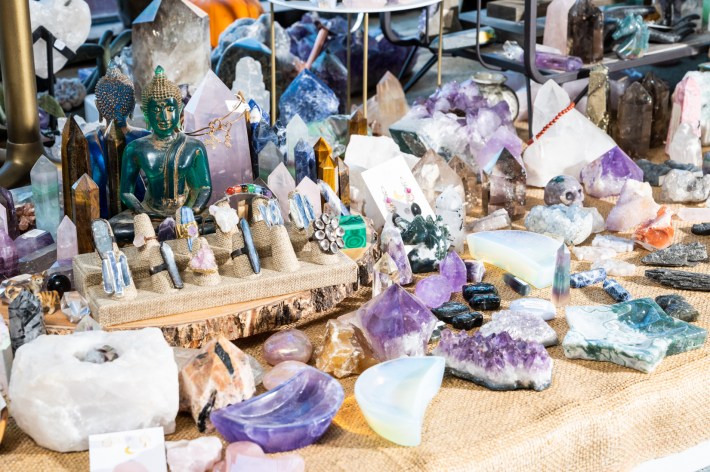 Along with Mojo Owl, the studio was home to an array of burgeoning makers, including paper goods brand Hello Paper, vintage clothing dealer Prèmos Chicago and interior design firm Sarah Montgomery Design.
The lofted spaces were small, with some tenants renting just 175 square feet of Diversey Avenue window frontage. Utilities were included in the rent prices.
Beatriz, who's also a reflexology healer, rents two spaces for a total of $300 per month, using them as a workshop during the week. Her studio, filled with crystals and handmade jewelry, is open to shoppers on the weekends.
Earlier this month, Beatriz received a call from M. Fishman's property manager, who said she had to be out within 30 days, Beatriz said. Beatriz's lease isn't up until March.
The property manager also said Beatriz owes M. Fishman $1,300, but Beatriz said she's paid her rent in full, and she doesn't know where that figure came from.
"I was like, 'You're not even giving me much notice. You're not giving me 90 days notice,'" she said. "It's basically the start of the holiday season and I'm booking shows. I was really looking forward to selling out of this space during the holidays. She was like, 'Sorry, we got to close this space.'"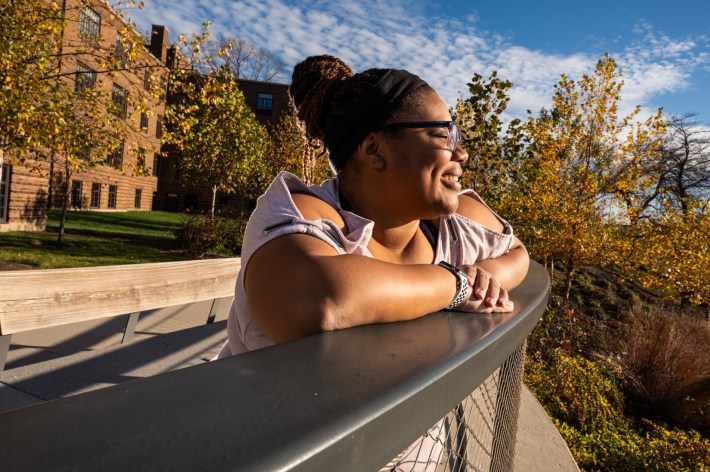 Franchester Williams, who runs a photography studio and media company specializing in headshots and family photo shoots, also recently received 30 days' notice to leave after two years in the Logan Square building, she said.
Williams said it was difficult to leave her $300-per-month studio, which was affordable and served as a positive refuge in her life as she navigated personal hardships.
Williams packed up her photography equipment and moved out Halloween weekend, just a couple days after receiving word from M. Fishman's property manager the studio was closing as she was gearing up for a busy holiday season of photo shoots.
"I'm really going to miss my space. It's real inconvenient," Williams said.
Williams is doing photo shoots on-location until she can find another comparably priced work space, she said.
"It's already hard as a small business owner, but then to get uprooted, it sucks," Williams said. "If the building got bought out, that's fine, life happens. It would've been great if they gave us more time. I rushed my stuff out of there that weekend but other people weren't that fortunate, and I do feel bad for them."
Building ownership hasn't changed since 2010, when Fishman's company bought the property, according to Cook County property records.

Startwork is one small part of the massive building, which sits at the corner of Milwaukee, Kimball and Diversey avenues and is occupied by shops and businesses such as vintage furniture store Dial M For Modern, Boulevard Bikes and hair salon Good Beauty.
Exactly how many artists rented out of Startwork is unclear, but current and former tenants said the studio's occupancy fell short of expectations over the years and some spaces sat empty for more than a year.
Some tenants said they left months ago due to issues in the building that went unaddressed by management.
Over the past two years, the building flooded twice and part of the ceiling collapsed, damaging renters' furniture and personal belongings, current and former tenants said.
Beatriz said she spent a couple hundreds dollars fixing up her space after her desk and vintage cowhide rug were destroyed by falling debris. Fishman rejected requests for reimbursement, she said.
Sarah Montgomery, of the interior design firm Sarah Montgomery Design, said two of her rugs were ruined in one of the floods and the landlord refused to pay for the damage. Montgomery moved out shortly afterward.
"I was ready to move on and move up, so it all worked out. But when the ceiling collapsed, I felt like, 'I gotta get out of here,'" Montgomery said.
"For Rent" signs have gone up at Startwork in recent months, an indication new businesses could replace the artist studio. Fishman and M. Fishman officials didn't respond to questions about what's next for the Diversey Avenue building.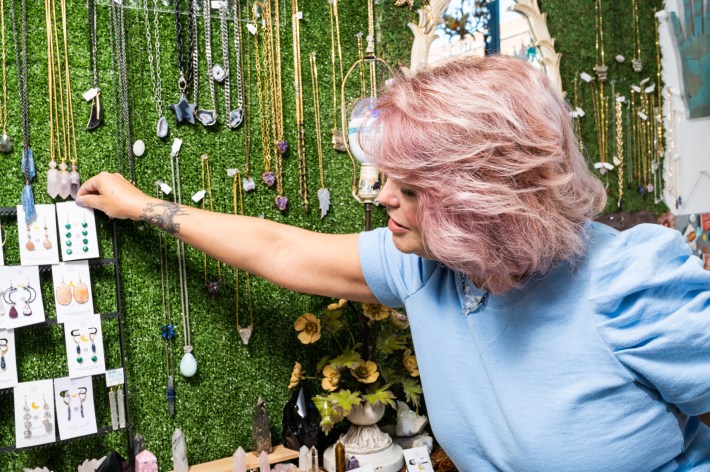 For current and former tenants, the closure is yet another symbol of gentrification in Logan Square, a force that has made it harder for artists and creatives to thrive in the neighborhood.
"It's kicking out the little people who made the neighborhood what it was," Williams said.
Resigned to her fate, Beatriz is hosting weekend sales through the end of the month to clear out inventory and make the move easier. She said a couple people have offered her temporary work space since she posted about the eviction on social media.
"I'm hopeful. You just kinda have to pivot. I guess this is a pivot," Beatriz said. "Maybe it's a blessing to finally get away from Fishman. I didn't think they were as terrible as people said, but when push comes to shove, they really don't give you much notice."
Listen to "It's All Good: A Block Club Chicago Podcast":