WOODLAWN — A free, weekly market offering food staples to South Side neighbors will wind down 2022 with two holiday markets in the coming weeks.
The Free Food Market is held 10 a.m.-noon Thursdays at First Presbyterian Church's Knox Hall, 6400 S. Kimbark Ave. in Woodlawn. The market serves 120-150 people every week and limits waste by allowing recipients to pick up items they'll actually enjoy, said market Director Gail Robinson.
Canned vegetables and fruit; eggs; milk, cheese and other dairy products; fresh produce; chicken and a choice of beef, pork or turkey; hot or cold cereals; and canned protein such as tuna, salmon, chicken or beef are available to visitors, Robinson said.
"If you just hand people a bag of food and you don't know what they like, most of it they could just throw in the trash can," Robinson said. "But what they get to choose themselves, more than likely they will eat."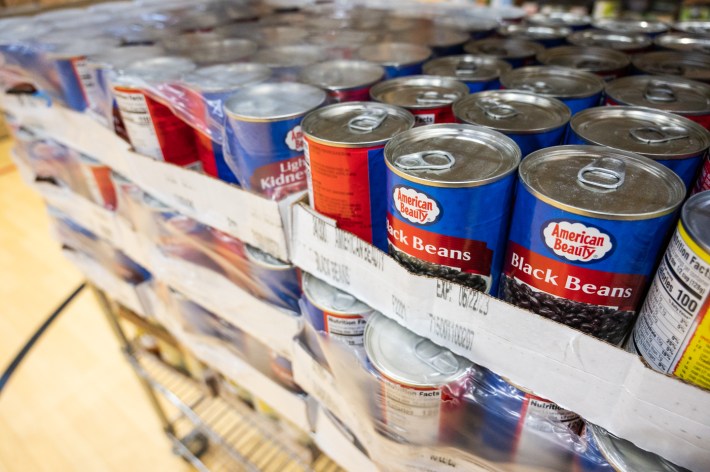 The Free Food Market is supported by the Greater Chicago Food Depository and two programs under the Feeding America umbrella. It's sponsored by First Presbyterian Church, which also hosts the Market Box mutual aid program.
The market is open to "any and everyone," and volunteers will sign up visitors for a card that can be used to receive food from any Greater Chicago Food Depository pantry, Robinson said.
The market accepts food donations "as long as it's not expired, not opened, not damaged, [and is] in its original packaging," Robinson said.
Neighbors can drop off eligible food 9 a.m.-noon Wednesdays as volunteers set up the market for the following day.
About two dozen volunteers organize the market by unloading deliveries, registering and tending to visitors, setting up displays and more.
Groups of sophomores from nearby Mount Carmel High School also assist with setup on Wednesdays and market days Thursdays, Robinson said.
Neighbors interested in volunteering can email freefoodmarket6@gmail.com.
"We can always use their time," Robinson said.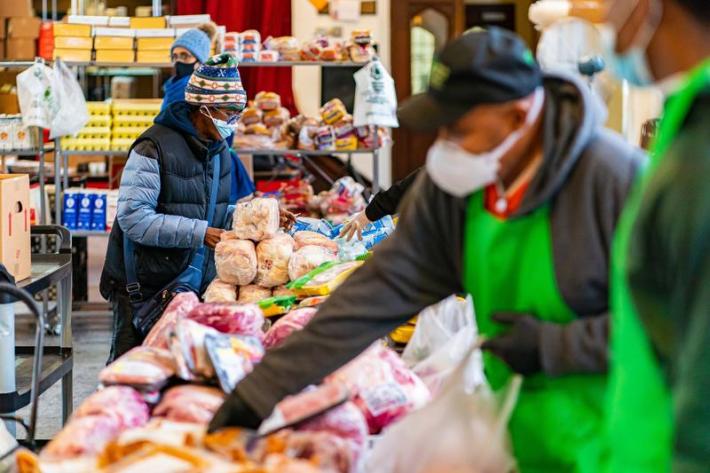 Organizers will partner with the Theta Omega chapter of the Alpha Kappa Alpha sorority for two holiday markets through the end of the year.
One is Nov. 21 for Thanksgiving, with a choice of turkey, ham and chicken and "all the trimmings that go along with it," Robinson said. Another is Dec. 19 for Christmas.
Former members of the closed Shrine of Christ the King congregation will supply about 150 pies for the Thanksgiving giveaway, and they regularly donate winter clothing to the annual Christmas markets, Robinson said.
The holiday events are held on Mondays, as the market will be closed Nov. 24, Dec. 22 and Dec. 29.
Listen to "It's All Good: A Block Club Chicago Podcast":