SOUTH SHORE — Jonathan Jackson will succeed longtime Rep. Bobby Rush in the 1st Congressional District, as the deep-blue territory comprising much of the South Side and south suburbs will have a new representative for the first time in three decades.
Jonathan Jackson, a 56-year-old activist and businessman, declared victory over Republican candidate Eric Carlson Tuesday at his watch party at the South Shore Cultural Center. He's the son of civil rights icon and activist the Rev. Jesse Jackson and brother of disgraced former U.S. Rep. Jesse Jackson Jr.
Jackson received 83.7 percent of the vote with 78 percent of precincts reporting, according to unofficial returns.
"People are proud to be Kennedys, and they should be. People are proud to be Daleys, and they should be. Some people are proud to be Bushes — if you want to be. But Chicago, you have made me proud to be a Jackson, and I thank you," Jonathan Jackson said, his famous father at his side. "All we do is win, win, win."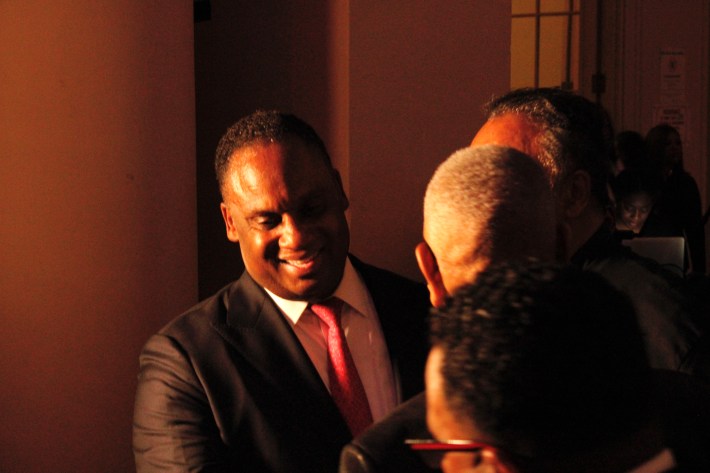 Carlson, who was found guilty in 1995 of criminal sexual assault and served nearly six years in prison, according to the Tribune, received 16.3 percent of the vote as of 10:45 p.m., according to unofficial returns.
A Republican has not held the 1st District seat since Oscar Stanton De Priest lost his reelection bid in 1934.
Jackson will advocate for Medicare for All, affordable housing, economic development, pandemic preparedness, training for Black doctors and mass transportation, he said in his victory speech.
"The 1st Congressional District is in pain," Jackson said. "… We need Medicare for All. I'm going to fight for healthcare for all. We can afford it; it's a function of the political will."
"Your access to education, your access to work, your access to other opportunities — that's why we have to fight for mass transit," he told Block Club. "We need to look at additional funding, and the city in turn — the states in turn — reap all the benefits from people [being] able to get to work."
Jackson advanced to the general election after beating 16 other Democratic hopefuls in the June primary.
His day-one priorities in office include taking "a real aggressive stance" toward gun violence, addressing the opioid crisis in the rural and suburban parts of the district and raising wages, he previously said.
"We've got so much more to do," Jackson told supporters Tuesday. "But I want to thank each and every one of you. You've come and given me your love and support, and I want to honor you, respect you and give you the best that I have."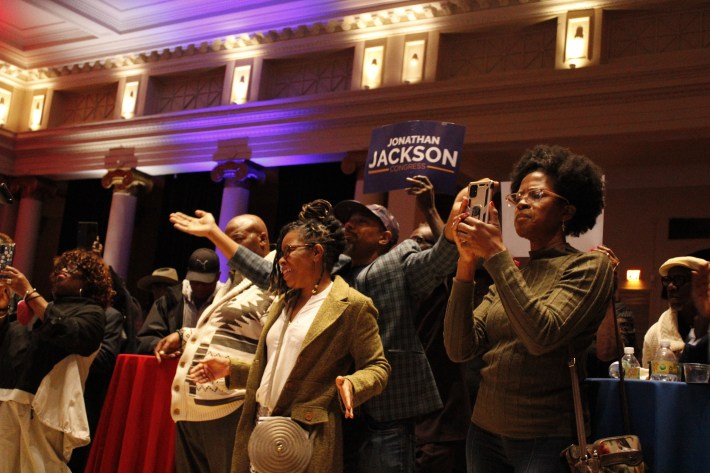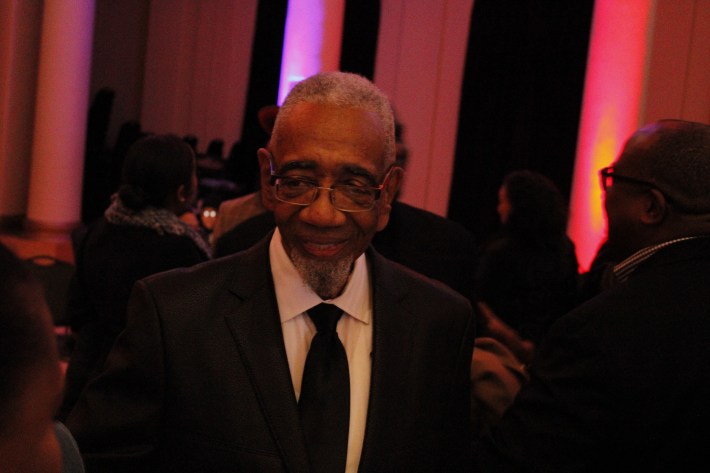 Jackson will take over in the House of Representatives for Rush, 75, who announced Jan. 4 he would step down when his 15th term ends next year. Rush endorsed challenger Karin Norington-Reaves, who placed third in the primary.
Jackson appeared to harbor no ill will over Rush's endorsement of his challenger. Jackson referred to the outgoing representative as "Uncle Bobby" in his victory speech, while Rush vowed to teach Jackson "everything that I know about Congress."
Rush passed Jackson an African statue to symbolize a passing of the torch during Tuesday's celebration.
"This is about togetherness; this is about community," Rush said.
Jackson is the latest Black man to represent the 1st District, continuing a streak that dates back nearly a century.
Others include De Priest, the first Black person elected to Congress in the 20th century; William Dawson, the first Black committee chair in the U.S. House; and Harold Washington, who resigned in 1983 after he was elected Chicago's first Black mayor.
Even as such illustrious names have held the office, Jackson "will be the best congressman that the 1st District has ever had," Rush said.
Listen to "It's All Good: A Block Club Chicago Podcast":