LOGAN SQUARE — State Rep. Delia Ramirez has made history as the first Midwestern Latina elected to United States Congress.
Ramirez emerged victorious Tuesday in the race to represent the new, Latino-heavy 3rd congressional district, winning about 66 of the vote, with almost all of the precincts reporting, according to unofficial returns. Republican challenger Justin Burau won about 34 percent.
Ramirez, a progressive, celebrated the results with a party at Vera Lounge in Belmont Cragin, where she's originally from.
Ramirez told a crowd of supporters: "We just made herstory tonight."
"If you had asked me sophomore year of high school, if we would be here today, a young woman struggling with depression, with insecurities who didn't feel she was worthy or enough, someone who didn't think she'd make it to junior year, that I'd be standing here as your congresswoman, the first Latina in the Midwest, I'd think you were crazy. I would've thought it was unimaginable," the congresswoman-elect said.
"That glass ceiling that for so many Latinas who looked like me that sophomore year, when I never saw a Latina who looked like me representing, fighting for me at these levels, that glass ceiling just broke. We just broke that tonight, y'all."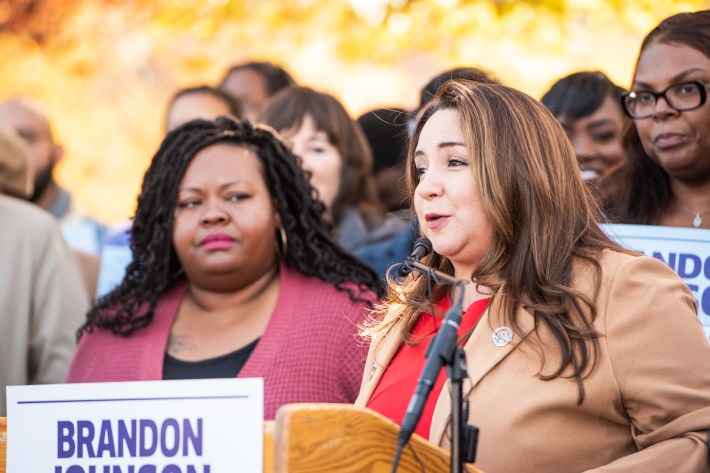 Ramirez is leveling up from the statehouse to oversee the country's 3rd congressional district, which was created by Illinois Democrats last year to reflect the Chicago area's growing Latino population.
The district spans from predominately Latino and progressive Chicago neighborhoods Belmont Cragin, Humboldt Park and Logan Square to western and southwestern suburbs such as Elgin and Wheaton.
Of the 3rd District's nearly 754,000 residents, about 47 percent are Hispanic, according to the Tribune, citing the Illinois Democratic Party.
The daughter of Guatemalan immigrants, Ramirez worked as a community organizer and social services director on the Northwest Side before she was elected to the Illinois House in 2018.
As state representative, Ramirez has advocated for an elected school board in Chicago and pushed to expand Medicaid coverage to older Illinois residents regardless of immigration status, aligning herself with progressive leaders across the country.
Ramirez cast herself as a grassroots candidate on the campaign trail, earning endorsements from progressive heavy hitters Rep. Jesus "Chuy" García, Sen. Bernie Sanders, Rep. Alexandria Ocasio-Cortez and Sen. Elizabeth Warren.
Ramirez, who is married to a recipient of the federal Deferred Action for Childhood Arrivals — or DACA — program, has said immigration reform will be one of her top priorities as congresswoman. She's also pledged to fight for universal health care, workers rights and against big money in politics.
Ramirez's strong commitment to lifting up immigrant communities and working-class families set her apart from challengers and from politicians of all stripes, her supporters said at the Belmont Cragin victory party.
"She represents the values of families like my own in my community," said Carl Camacho, a North Park father of two kids. "She's grounded, she's from a working-class background, so I know when she's making decisions she's thinking about real-life struggles, the issues people are dealing with on a day-to-day basis."
Ramirez's victory is especially meaningful because she's the first-ever Midwestern Latina to hold the congressional seat, supporters said.
"As a Latina myself, and having daughters and having mentees, they get to see themselves in her, they get to see that everything is possible," said Belmont Cragin native April Curtis-Rivera, who works as the chief strategy officer for the Aspira network of charter schools.
Ramirez's Belmont Cragin victory party doubled as a campaign event for five other Northwest Side progressives elected Tuesday: Lilian Jiménez won Ramirez's former statehouse seat; Anthony Joel Quezada took 8th District Cook County Commissioner; and incumbents State Rep. Will Guzzardi and State Sen. Cristina Pacione-Zayas kept their seats in the 39th District and 20th District, respectively.
Dozens of their supporters filled the Belmont Cragin venue Wednesday evening, enjoying plates of beans and rice as Puerto Rican and dance music blared from the speakers. Ramirez showed up late, around 10:30 p.m., after an initial campaign party in Warrenville, IL, which is part of the new 3rd District.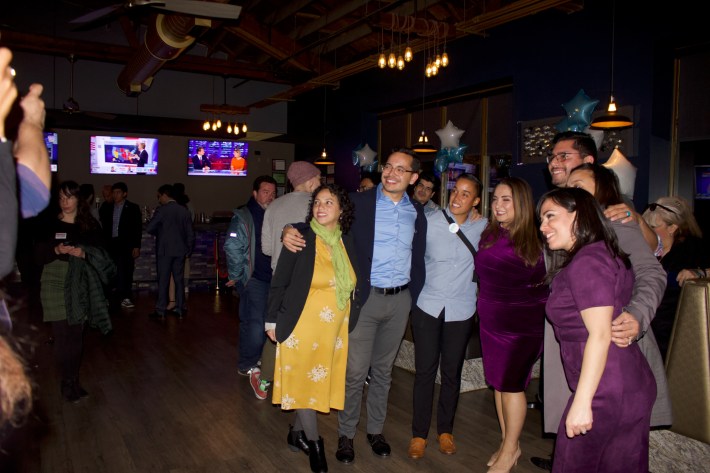 Ramirez beat Burau, a Republican and first-time political hopeful with a background in the real estate mortgage business.
Burau, of suburban Winfield, pledged to break free from traditional Republican labels and chart his own path if elected. He wanted to streamline the DACA process to make the pathway to citizenship easier for people who meet requirements, but also secure the border.
Tuesday's results come after Ramirez easily defeated Chicago Ald. Gilbert Villegas in the June primary, winning 67 percent of the vote to Villegas' 24 percent.
Primary voters went with Ramirez over the 36th Ward alderman, a moderate who touted his pragmatism as head of the City Council's Latino Caucus and Mayor Lori Lightfoot's floor leader.
Listen to "It's All Good: A Block Club Chicago Podcast":