CHICAGO — Community organizers said they'll do heavier lifting this election to help voters with language barriers cast ballots amid shakeups to the voting process.
Nearly half of Chicago voters will have a different polling place for the election Nov. 8 than they did in the June primary, said Max Bever, Chicago Board of Election Commissioners spokesman. There will also be 97 fewer polling places citywide, and the board has struggled to hire poll workers, especially those who are bilingual, he said.
Fluctuations in polling places can be particularly confusing for limited-English voters, according to community advocates.
Polling places prepared to help Filipino voters who speak Tagalog have dropped from 17 to just one: Prussing Elementary School, 4650 N. Menard Ave., in the 45th Ward, Bever said. There are no early voting sites with Tagalog-speaking officials, Bever said.
Tagalog is one of several languages that is represented in the city but falls into a gray area under federal law, which requires bilingual ballots and election judges only in precincts where 5 percent or more of voters speak a language. Filipino voters are spread out across the city, and many are older and will have trouble traveling to the 45th Ward, said Ryan Viloria, executive director of ​the Alliance of Filipinos for Immigrant Rights and Empowerment.
Gaps in election laws, teamed with consolidations of precincts, can disenfranchise voters, Viloria said.
"It's going to be harder to vote this time around, especially when it comes to language access and transportation," Viloria said. "We're hearing from folks that it used to be easier to get to the polls and understand how to vote."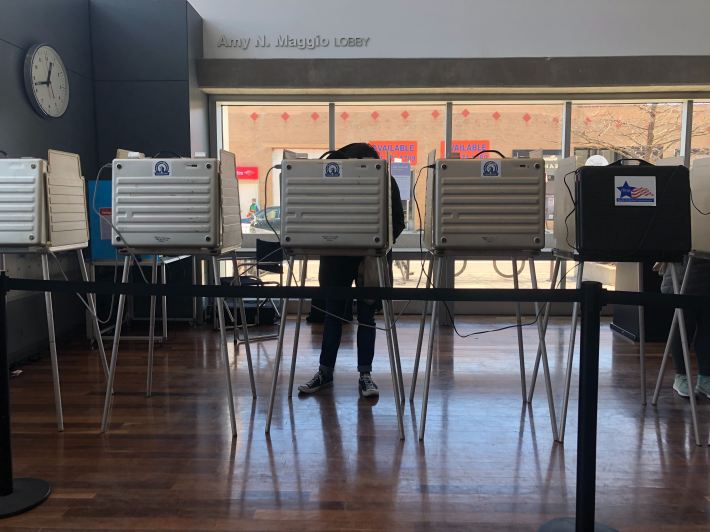 All precincts will have a touchscreen voting machine and audio ballots in 12 languages: English, Spanish, Mandarin Chinese, Hindi, Korean, Tagalog, Polish, Gujarati, Urdu, Ukrainian, Arabic and Russian, Bever said. But finding bilingual election judges to assist people at polls has "been a big challenge," Bever said.
Early voting started last month, and the board is still recruiting judges, who make up to $230 for election day, Bever said.
"It's not a mandatory position like jury duty. And it's a long day of work," Bever said. "We rely on folks who have free time and are dedicated to democracy."
Vivian Zhang, a civic engagement coordinator at Coalition For A Better Chinese American Community, said she's had to explain election changes for Chinese-language speakers, particularly those who are older and might not receive a ballot in their preferred language because of gaps in the federal election laws.
Precincts around Chinatown in the 11th Ward shrunk from 38 to 23, Zhang and Bever said. The coalition organized bus rides in Chinatown for Friday to get people to the ward's early voting site, which has two bilingual election judges, Zhang said.
"We're really trying to take advantage of early voting this time around. Because I just know people are going to go to the wrong polling place last minute and things are going to be more hectic," Zhang said. "Non-English-speaking people have formed habits for voting, learned to go to the same place every time and rely on certain signals to get the job done. We don't want to disorient these folks, because voters are already fickle."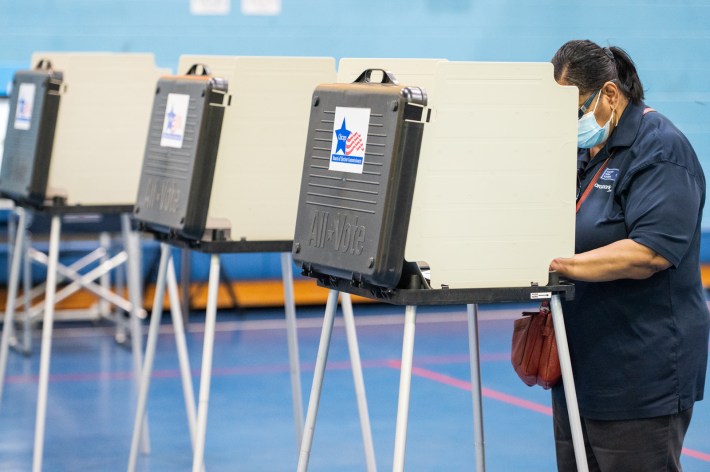 Griselda Vega Samuel, an attorney and Midwest counsel with the Mexican American Legal Defense and Educational Fund, said the group has pushed for the elections board to put up bilingual signs on all closed polling places to direct people to a nearby location.
Vega Samuel said the legal defense group monitors compliance with the federal mandate for bilingual judges and organizes "know your voting rights" presentations for grassroots organizers to help Spanish-speaking voters cast ballots.
The poll worker shortage, election consolidation and political environment have made for a "difficult" election cycle, Vega Samuel said.
"We're having to do the extra work so people have the right information. When I've done presentations, people are confused. There's a lot of good information out there, but there's also a lot of bad information they have to sort through," Vega Samuel said. "I'm hopeful that more groups are encouraging folks. That's what's going to get them to the polls."
Kim Leung, the voting rights legal fellow for Asian Americans Advancing Justice, said there was already a significant lack of staffing for non-English-speaking voters during the primary election, which has raised people's concerns about assistance for people this time around. People in need can bring a translator to the voting station, Leung said.
Asian Americans Advancing Justice will send poll watchers to voting sites to ensure messages are properly translated and voters are aware of bilingual services, Leung said. The volunteers will also help with translations.
"Our poll watchers work very collaboratively with poll workers to ensure the ballot is accessible for everyone," Leung siad.
But concerns remain.
Zhang said the bus she rented Friday could only fit 15 voters at a time.
"I tell them, 'People who speak English have no idea what they're doing either,'" Zhang said. "What I want to avoid is people having more barriers than already do."
Listen to "It's All Good: A Block Club Chicago Podcast":