CHICAGO — As Chicagoans head to the polls in Tuesday's election, finding out which sites are accessible for voters with disabilities can be confusing.
The Chicago Board of Elections site lists more than 1,000 polling places open across the city in Tuesday's election. Fifteen wards, most on the South and West sides, are listed as having zero accessible polling places. Many other wards list one or two accessible voting locations.
So does that mean voters in those neighborhoods who use a wheelchair or have other accessibility challenges won't be able to vote at those sites? Not necessarily, elections officials and disability advocates said.
While the polling sites listed as inaccessible are not 100 percent compliant with the latest ADA standards, many people with disabilities will still be able to vote at them, said Max Bever, Chicago Board of Elections spokesperson.
About 80 percent of sites do not require voters to use steps, Bever said.
Only about 4 percent of polling places have at least one stair to access the voting space, rendering them totally inaccessible, Bever said. About 150 sites, many of them schools, are still being surveyed, Bever said.
The Board of Elections is also keeping open 51 early voting sites, all of which are fully accessible, on Election Day. Residents can vote at any early voting site across the city before or on Tuesday, regardless of where they live.
There are also other options, such as curbside voting, for voters who are not able to access polling places Tuesday, Bever said.
"The majority of polling place locations are usable by most voters with disabilities," Bever said in an email last week.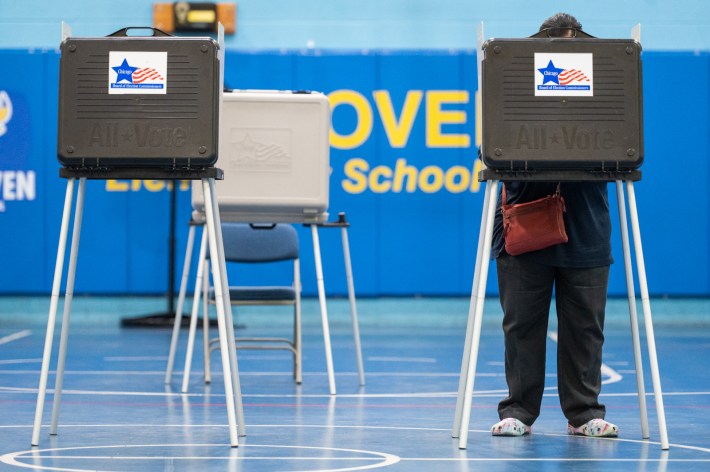 Polling Places Aren't ADA Compliant, But That Doesn't Mean They're Unusable
The confusion about whether a site is inaccessible stems from recent pushes to meet updated ADA standards.
In 2017, the Department of Justice announced a settlement requiring the Chicago Board of Elections ensure all of its polling places are fully accessible.
That process is ongoing, but the deadline has been pushed back, said Bebe Novich, an attorney with disability advocacy group Equip For Equality, which contracts with the Chicago Board of Elections to gauge accessibility at polling places.
The settlement requires the Board of Elections to evaluate voting sites by ADA rules released in 2010, Novich said. That means many polling places are labeled inaccessible, even if a majority of people with disabilities can still use them, Novich said.
"The way DOJ set it up for the settlement is that we would measure it against the ADA new construction standards, and any deviation of any kind, even half an inch off of a doorway or something, would render a polling place inaccessible," Novich said.
Many of those ADA violations that require a site to be listed as inaccessible under federal law "are temporarily fixed by the Board for Election Day," Bever said.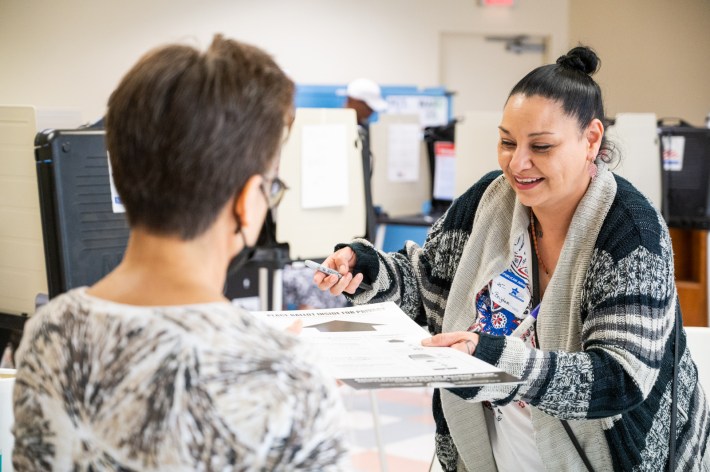 Other disability advocates agreed more nuance is needed to provide a fuller picture of what voters with disabilities may find at Chicago polling sites.
Charles Petrof, an attorney with Chicago disability rights group Access Living, said the way the data is reported versus the reality at polling places is "not completely in sync right now."
"The reason that a place is not accessible can be very important in terms of determining the real value of the location in terms of it being useful for a person with disability," Petrof said. "If you have to go up stairs to get to the polling place, Access Living would consider that an inaccessible polling place, completely, and people really need to be able to figure out if that's what their polling place is like before they show up to vote.
"However, if there is a broken sidewalk that might still be passable by your average person in a wheelchair … that's a very different level of accessibility challenge."
The elections board has worked to ensure almost no polling places Tuesday have steps, even through its website might not reflect that, Novich said.
Equip For Equality found 40 polling places, or about 4 percent of the total in Tuesday's election, have at least one stair leading into the voting room. That dropped to 39 after Dever Elementary School in Dunning moved its voting area to an accessible part of the school, Bever said.
Scroll to the bottom of the story to find a list of those 39 voting sites with stairs.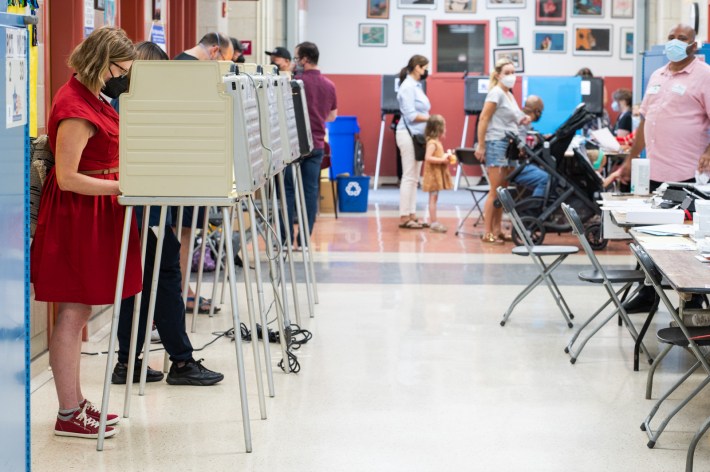 Finding An Accessible Polling Place
All voters can find their polling place and other voting information here.
For voters with disabilities who still encounter inaccessible voter places at their polling sites Tuesday, the Board of Elections provides a curbside voting service.
Voters with disabilities can request curbside voting in advance for their polling place on Election Day. That request must be filed by 5 p.m. Monday, but there is also an "emergency" curbside voting process where voters can receive the service on Election Day outside their voting site. More information can be found here.
Petrof said voters unsure about accessibility access should go to their polling places and report issues to the Board of Elections. Voters with disabilities should have a plan B, such as being prepared to head to one of the early voting sites that will still be open on Election Day.
"Voters should not be discouraged simply because their polling place is identified on the Chicago Board of Elections website as inaccessible. Because that may not mean that the polling place is inaccessible to them, and they need to individually investigate, to know for sure," he said. "However, it is a very good idea on Election Day to have a backup plan, just in case."
Equip For Equality operates an Election Day hotline for voters with disabilities who experience problems at polling places. The number to call is 800-537-2632. Voters who are deaf, hard of hearing or who have speech impairments can text 312-826-0049 or email voting@equipforequality.org.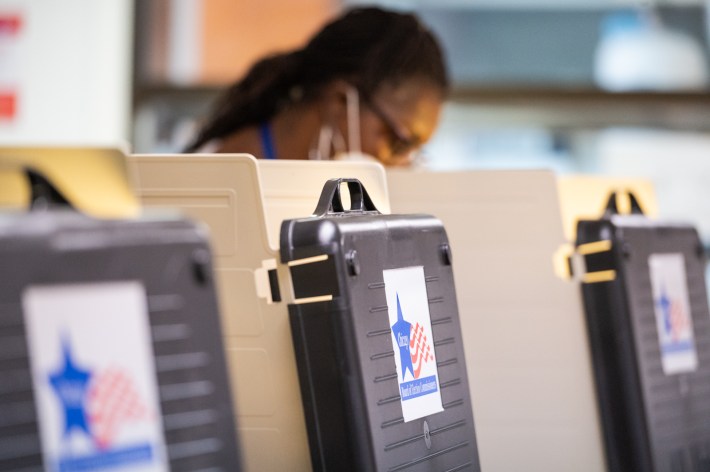 Working Toward 100 Percent Accessibility
The Chicago Board of Elections is working to change how it publicly reports accessibility information at precinct polling places ahead of the Feb. 28 election, where Chicagoans will vote for mayor, alderpeople and other city posts, Bever said.
The issue "basically boils down to the need for the board to improve how it communicates what polling places are 'usable' for voters with disabilities (i.e. what polling places have minor technical ADA violations that are temporarily fixed) and polling places that are completely inaccessible to voters with disabilities (i.e. have stairs)," Bever said.
Each polling place for the next election will be categorized in three "buckets," Bever said: fully ADA-compliant, usable for voters with disabilities or inaccessible to voters with disabilities.
"In terms of the February election, we're going to sort through the data and figure out a much more helpful way of presenting that information to the public," Novich said.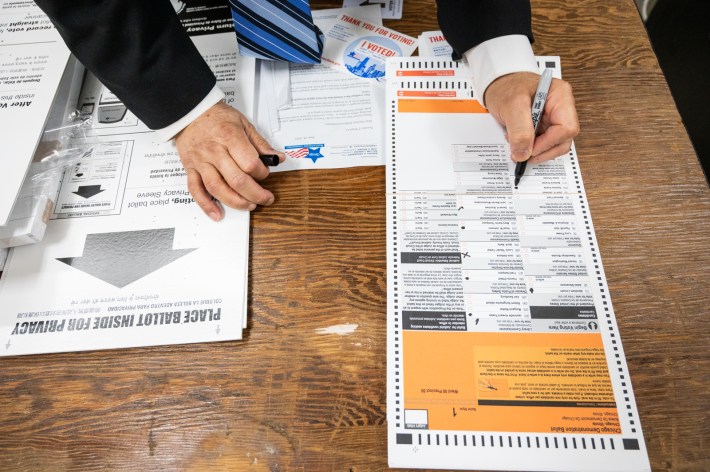 Access Living supports those preliminary measures to ensure as many people who want to vote can do so, Petrof said.
"At some point in time, all the polling places should be fully accessible under the 2010 standards, but Access Living recognizes that if we tried to do that, we're going to end up moving very slowly in terms of spreading accessibility that is most useful to most people," Petrof said. "And so we accept a view where we spread that accessibility that is most useful as quickly as possible. And then go back and work on other accessibility issues on the sites."
There is also construction to make more than 400 public buildings more accessible to voters during elections, Bever said. Because of that work, Novich said she is confident all Chicago polling places will be fully accessible in the next few years.
"I don't think there'll be a problem with getting full accessibility within the next couple years, because a lot of the renovations are going on now and they're going to take a little while to finish," she said.
The 39 voting sites that have at least on step or stair to enter the voting area in Tuesday's election, according to an Equip for Equality survey:
Anna R. Langford Community Academy, 6010 S. Throop St.
Austin College and Career Academy High School, 231 N. Pine Ave.
Avalon Park, 1215 E. 83rd St.
Perkins Bass Elementary School, 1140 W. 66th St.
James G. Blaine Elementary School, 1420 W. Grace St.
Carter School of Excellence, 5740 S. Michigan Ave.
Chopin Park, 3420 N. Long Ave.
Commonwealth Community Church, 140 W. 81st St.
Peter Cooper School, 1624 W. 19th St.
Corkery Elementary School, 2510 S. Kildare Ave.
Jose De Diego Community Academy, 1313 N. Claremont Ave.
Dunham Park, 4638 N. Melvina Ave.
Eberhart Elementary School, 3430 W. 65th Place
Emanuel Congregation, 5959 N. Sheridan Road
Excel Academy of South Shore, 7530 S. South Shore Drive
Foster Park Elementary School, 8530 S. Wood St.
Virgil Grissom Elementary School., 12810 S. Escanaba Ave.
Hamilton Elementary School, 1650 W. Cornelia Ave.
Patrick Henry Elementary School, 4250 N. St. Louis Ave.
Hurley Elementary School, 3849 W. 69th Place
Iglesia Bautista Misionera, 6715 S. Hamlin Ave.
Iglesia Santa Cruz, 6545 S. Springfield Ave.
Joplin Elementary School, 7931 S. Honore St.
Jungman STEM Magnet Elementary, 1746 S. Miller St.
Kelvyn Park High School, 4343 W. Wrightwood Ave.
Kozminski Community Academy, 936 E. 54th St.
LeClaire-Hearst Park, 5120 W. 44th St.
Mary McDowell Elementary School, 1419 E. 89th St.
The Montessori School of Englewood, 6936 S. Hermitage Ave.
Nicholson STEM Academy, 6006 S. Peoria St.
Palmer Elementary School, 5051 N Kenneth Ave.
Randolph Elementary School, 7316 S. Hoyne Ave.
Paul Revere Elementary School, 1010 E. 72nd St.
John Spry Community School, 2400 S. Marshall Blvd.
Taft High School, 6530 W. Bryn Mawr Ave.
Warren Elementary School, 9239 S. Jeffery Blvd.
Wendell Green Elementary School, 1150 W. 96th St.
West Lawn Branch Library, 4020 W. 63rd St.
Wolfe Park, 3325 E. 108th St.
Listen to "It's All Good: A Block Club Chicago Podcast":