SOUTH LOOP — Days after the removal of their controversial principal, Jones College Prep students took part in a schoolwide sit-in Monday to denounce hate speech and pressure leaders to put an end to a long history of bigotry at the school.
Principal Joseph Powers was removed from his post Friday after video surfaced of a student goose-stepping in a Nazi-like costume at the school's Halloween parade. Students said Powers initially downplayed the incident.
Groups of students dressed in black packed into the school's lobby and rafters as their classmates praised the decision to oust Powers. They also called for a harsher punishment for the male student, a senior with a reputation for engaging in offensive behavior, students told Block Club.
Student groups including the Black Student Union, the Jewish Student Connection, the Association of Latin American Students and the Asian American Club planned the event before Powers was removed.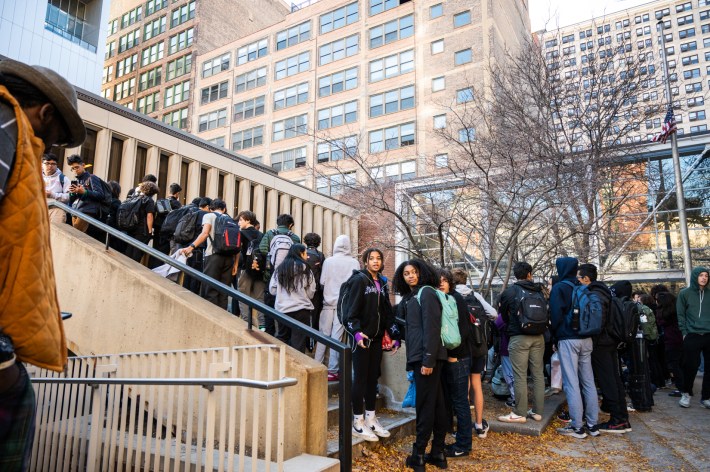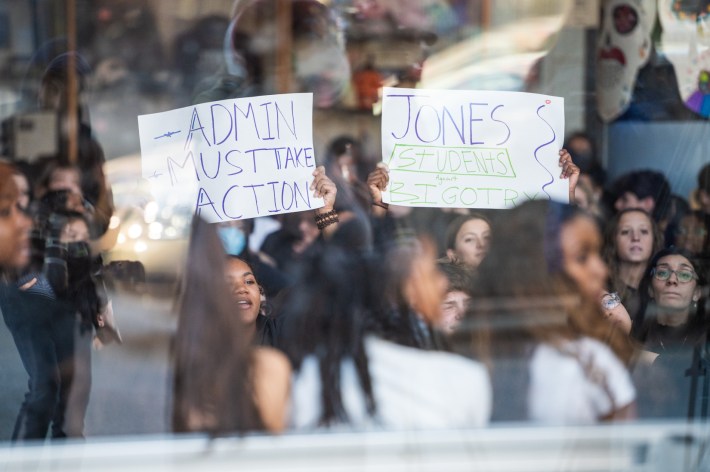 Senior Aden Zalesky, 17, said they were encouraged by the turnout. Their classmates were compelled to act after last week's incident, many also disappointed with the slow response from Chicago Public Schools.
Zalesky said there's much work to be done to repair relationships in the Jones community, which they believe starts with the remaining administrators interacting more with the student body.
"[Powers' removal] was a long time coming. I'd almost say it was 'too little, too late' because by that point, the harm had already been done, and the effects of the student's costume had been dismissed for a solid week. That led to a lot of simmering resentment from the student body," Zalesky said. "Hopefully this leads to a lot more oversight from CPS, and a greater connection between CPS and the Office of Student Protections."
Clips of the student marching in the parade made the rounds on social media last week. In one clip, he can be seen swinging his arm and leg in a march — a move largely associated with Nazi soldiers — to boos from the audience.
In an email to Jones faculty and staff hours after the event, Powers said the student's uniform was "an East German (communist era) border guard uniform probably from the 1980s," adding that he'd seen guards on the "other side of the wall dressed this way" during a visit to West Berlin around that time.
"I tried to explain the context and time period of the uniform to the students who spoke with me, but apparently the student who wore the uniform may have told people it was from the 1940s. I spoke with him this afternoon and explained the same thing to him and the inferences others may have drawn," Powers wrote.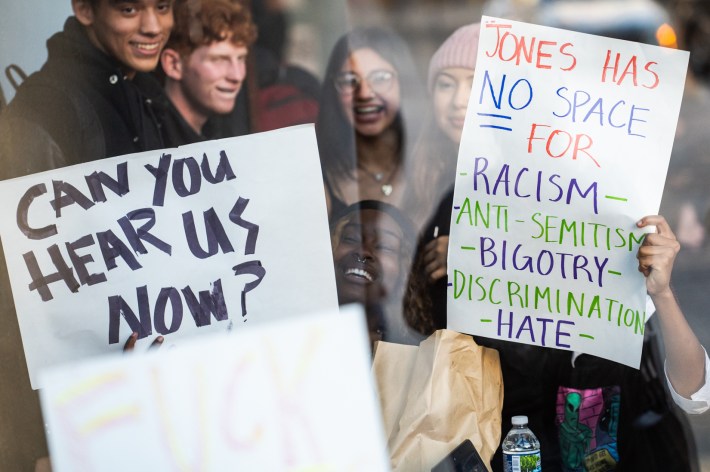 Former Jones Principal Arthur Slater has taken over Powers' role pending an investigation into the beleaguered administrator, CPS CEO Pedro Martinez told district families and staff in an email Friday.
"This incident caused harm to many students and staff, and it is completely inconsistent with our values as a school district. It also comes at a time when hateful speech and hateful attacks are on the rise, especially against Jewish Americans," Martinez wrote.
Powers has been criticized for being slow to respond to issues in the past. In 2021, students accused him of downplaying an incident involving a longtime theater teacher who made "offensive comments," the Sun-Times reported. The teacher was suspended after public outcry last fall.
A Change.org petition launched in 2020 also called for Powers' removal as principal, citing ongoing and pervasive racism and discrimination at the school. Three members of the school's Black Student Union told Block Club they signed the petition.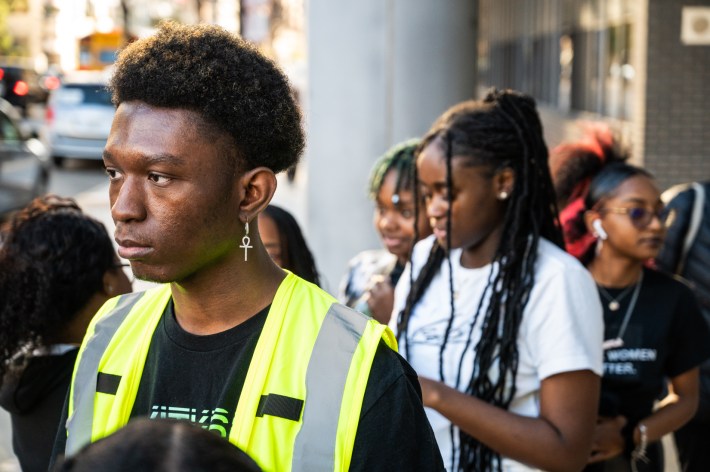 Juniors Jayla McCullum and Ariel Parsons and senior Tyler Russell said they were encouraged by the number of classmates who demonstrated. They believe that continuing to organize is the only way Jones will truly change.
Parsons said the student who wore the Nazi uniform has been engaging in racist, antisemitic and aggressive behavior with classmates for years — including herself — without intervention from Powers or the assistant principals.
Such incidents contribute to the culture of the school, Parsons said.
"If [school leaders] want to restore trust between students and administrators they have to start following through on past cases instead of new ones. If we see them working to actually move on and fix past things, we would definitely have more trust in Jones in the future," Parsons said.
Russell agreed, saying it's up to the school to use the curriculum to address offensive behavior, which 'starts at home and in the school."
"If it wasn't as widely accepted as it was it wouldn't be this big of a problem," said Parsons.
Other past and current students have described similar problems over the years. A sophomore told Block Club her classmates "felt unsafe and under-represented by the Powers' refusal to punish the student in the costume."
The student added that neither Powers or the other administrators are "in touch with students" and unable to interact with them constructively to create a supportive learning environment.
While the student feels the school is better off without Powers at the helm, she is still worried about the remaining administrators who she said are equally ineffective when it comes to disciplining students accused of offensive behavior.
Student leaders said if they don't see a change from school administrators, they're prepared to keep fighting.
"I'm personally prepared to take them all on. Getting Powers out was a good first move but we have to persist and make sure people understand where they're wrong," Parsons said. "Us telling them they're wrong is one thing but them actually knowing they're wrong is another."
Watch our "On The Block" TV show on The U, CW26 and MeTV.
Listen to "It's All Good: A Block Club Chicago Podcast":