EDGEWATER — Andriy Berezovchuk was leading a training camp in February for the Ukrainian soccer team FC Volchansk when he decided to give his players a break.
Fears of a Russian invasion began to spread throughout the country, and especially in Volchansk, about 2 miles from the border. As head coach, Berezovchuk told his players to go home to their families while the club determined a next move.
Days later, Volchansk had been overrun by Russian troops.
Berezovchuk and his family fled, having time only to pack three bags for two adults and three children. The family went to the capital city of Kyiv before realizing the full scale of Russian President Vladimir Putin's invasion. They kept moving west to Ukraine's border with Poland.
"I saw orange lights," Berezovchuk said. "I thought rain started or something. … When we heard the first bomb, we went and didn't stop."
After 18 years as a professional soccer player and eight years as a coach in Ukraine, Berezovchuk had his personal and professional life upended by the invasion. The family has now taken refuge in Chicago, where Berezovchuk is rebuilding his coaching career and has a local team on the brink of a city title.
"I've spent my whole life in soccer," said Berezovchuk, 41. "I cannot do anything else. I want to be in soccer, and I want to grow and get results here."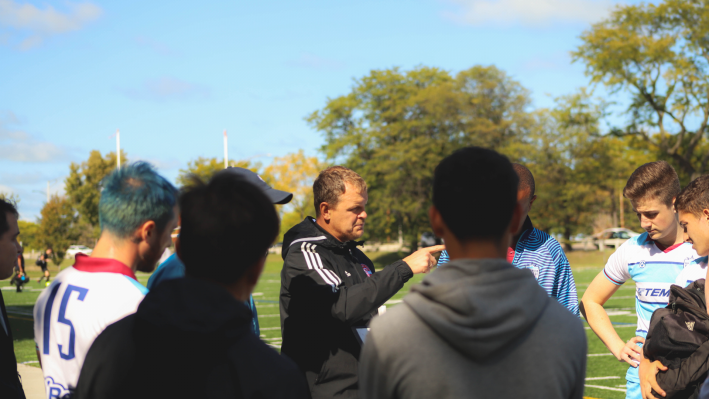 Berezovchuk is the head coach of Edgewater Castle Football Club, an amateur soccer team that formed in 2017.
The nonprofit club has grown over the years, playing its way up into the Midwest Premier League over the summer. But after disappointing results in the higher league, the club sought to make changes, General Manager Andrew Swanson said.
That included a change at coach, but Swanson never expected to land a manager with so much professional experience.
Berezovchuk was at a youth soccer event in suburban Evanston when he met Sami Ismat, Edgewater Castle's tech director. Ismat told Berezovchuk about Edgewater Castle and coordinated a sit-down between Berezovchuk and Swanson.
Berezovchuk scouted the team and liked what he saw. He signed on to coach Edgewater Castle, leading them in the National Soccer League, which plays in Chicago during the fall.
Berezovchuk is the first paid staff or player in club history, a fact that underscores his experience and skill set, Swanson said. Berezovchuk has also been hired as a coach for the Chicago Fire's youth program.
"It was very obvious that he was wildly qualified," Swanson said. "At the time, it was a pipe dream to think he'd coach for Edgewater. We're so fortunate he's willing to put the time in and the work."
After seven matches, Edgewater Castle is at the top of the league standings. With a win Sunday against AFC Roscoe Village, the club would secure its first league title in team history.
Players and the general manager chalk up much of that success to Berezovchuk, who has coached amateur and Ukraine Premier League teams and in major European tournaments.
The success is setting Edgewater Castle up for a rebound in the Midwest Premier League this summer, where the club hopes to make waves against professional teams.
"We have guys, once they go out, they give it their all," said Gabriel Masalu, who has played with Edgewater Castle since its inception. "They have respect for the coach and they listen to him. That's one of the reason we're getting wins."
Edgewater Castle will face AFC Roscoe Village 4 p.m. Sunday at Maradona Field, 141 W. Diversey Parkway in Lincoln Park.
The National Soccer League in Chicago is a far cry from Berezovchuk's heights in Ukrainian soccer.
After turning professional at 16, Berezovchuk retired from his playing career at 34 due to a knee injury. He began coaching, starting first with amateur clubs before moving up the ranks, from sports director of Metalist Kharkiv to head coach of FC Volcanshk.
Berezovchuk has also coached Ukrainian clubs in the Europa League, a tournament of European clubs that is one stage below the prestigious European tournament Champions League.
When Berezovchuk and his family was forced to flee Ukraine, the family settled on coming to Chicago. Berezovchuk had visited the United States a few times, including Chicago. He knew one person here, so it seemed as good a destination as any other, he said.
The family arrived March 7 and stayed in a hotel before moving in with their friend, Berezovchuk said. He met other Ukrainian refugees who suggested they find a cheap place to rent near good schools. The family ended up in suburban Buffalo Grove, from which Berezovchuk commutes to the city to coach soccer.
"Downtown is more close to my life in Ukraine than Buffalo Grove," he joked.
Berezovchuk is not sure how long his family will be in the United States. For now, he is signed up to coach Edgewater Castle in the Midwest Premier League this spring.
The decision will come down to what happens in Ukraine, where Russia is still engaged in a bloody invasion that has claimed the lives of thousands of civilians. Ukraine's forces have made gains in the conflict, including liberating Volchansk, where Berezovchuk was a coach.
"We don't know what will happen tomorrow in our country," he said. "Every day, we call our friends who stayed. It's just terrible.
"Everybody hopes we will win."
Watch our "On The Block" TV show on The U, CW26 and MeTV.
Listen to "It's All Good: A Block Club Chicago Podcast":