WEST LOOP — Local parks are under strain in West Loop and Fulton Market as residential developments continue to pack more people into the booming neighborhoods, local park leaders say.
Skinner and Mary Bartelme Park, which sit a half-mile away from each other on West Monroe Street, serve nearly 23,500 residents, according to the Trust for Public Land. They are the main parks in the 60607 ZIP code, which has nearly doubled from 15,552 people in 2000 to 30,306 in 2022, according to local and national data.
An influx of new residents mean more people are using the already crowded parks, which worries leaders of the parks' advisory councils, the volunteer-led nonprofits that serve as the liaison between the community and the Chicago Park District.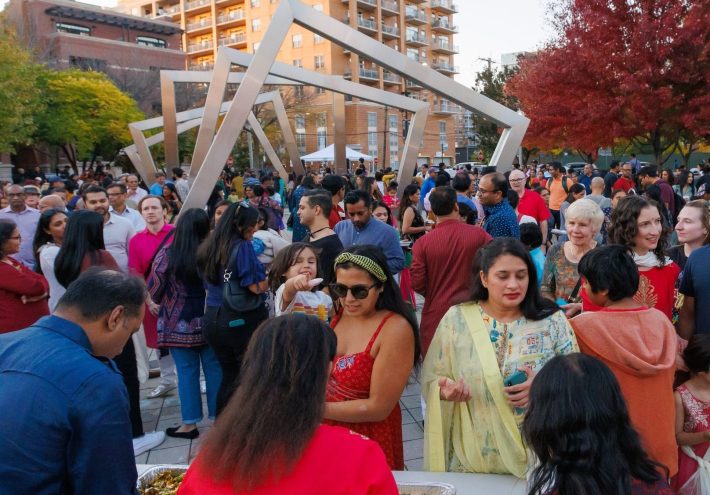 The councils organize community events such as movies in the parks and holiday events. They shoulder the cost for the free events and pay for things like updating or replacing playground equipment and planting flowers.
Each park gets an annual budget, but the bulk of the cash goes to staffing and general upkeep, advisory leaders said. Anything extra is often funded through private fundraising by the councils.
Nikki Kanter, vice president of the Mary Bartelme Park Advisory Board, and May Toy, president of the Skinner Park Advisory Council, ask developers looking to add new buildings to the West Loop to support park maintenance and capital improvement projects. But they are often turned away by developers or given one-time donations to be used for special events, they said.
"They do not contribute, they do not want to help us out," Kanter said.
Some prominent developers in the area told Block Club they have donated to the park councils. Others said they have not been approached with requests for contributions or have directed company money toward other neighborhood improvements, like CTA upgrades.
"It's rare that we get a developer who's willing to donate towards the playground or the garden or anything like construction-wise like that. And those are the most expensive projects," Toy said.
'The Reality Is That Taxpayer Dollars [Are] Not Going To Any Of This'
Skinner Park, one of the oldest parks in Chicago, is 5.4 acres and currently serves about 9,500 people. Mary Bartelme Park, completed in 2010, is 1.4 acres and serves about 14,000 people.
Much of the population growth is attributed to new residential construction, which continues to add to the neighborhood's density. In 2020, over a dozen new residential developments were mapped out by Curbed Chicago that are in various stages of completion near both parks.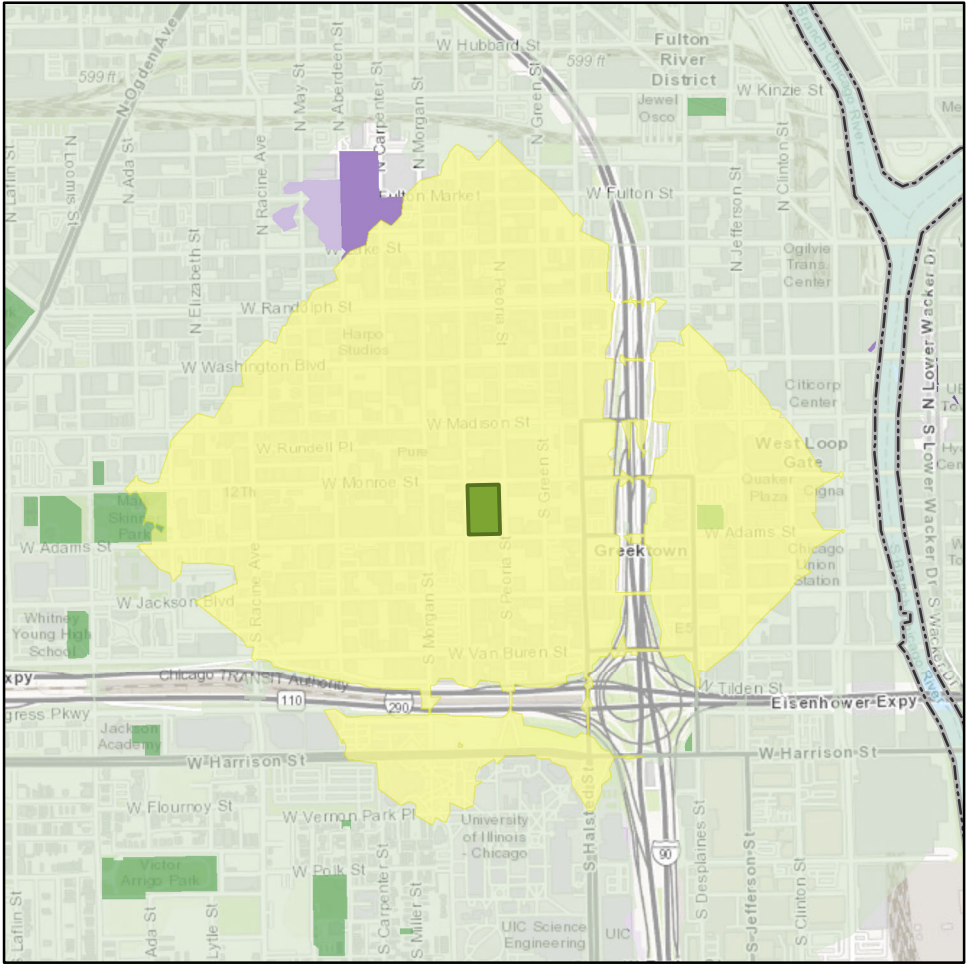 Toy has been involved with the park for more than 20 years. She spearheads volunteering, event planning and fundraising. The park advisory council spends thousands of dollars every year on special events, which have gotten more expensive over the years because of the growing population, Toy said.
This year, the council spent $8,000 on Pumpkinpalooza, one of the park's most attended free community events. The organization also spends several thousands of dollars on flowers and grass seed when they can afford it.
"We probably spent about like $12,000-$15,000 on special events. And then we spend another, depending on how much money we can raise, $8,000-$12,000 hours on park maintenance and lawn areas," Toy said. The council ended last year with about $74 in the bank, she said.
Mary Bartelme's park advisory board account balance teeters around $13,000, Kanter said. The board also has a separate Givebutter account of about $6,300, which funds the maintenance of Mary Bartelme's dog park, which includes a monthly power wash and poop pick up.
Most of Mary Bartelme's yearly sponsors are small businesses, all giving $500 or more, Kanter said. The contributors list includes Morgan Street Café, West Loop Vet, Basecamp Fitness and a few local realtors.
"The local realtor can give $1,500, but [developers] can't?" Kanter questioned.
Like Skinner Park, Mary Bartelme's advisory board's spending on special events has increased over the years. Each special event can easily attract 1,000 people, Kanter said.
Last year, the council spent $9,000 for the Mary Bartelme's Christmas tree lighting, which included decorations, a DJ and a visit from Santa.
"The assumption is that the tax dollars are covering all of this," Kanter said, especially among residents who pay hefty property taxes. "… And the reality is that taxpayer dollars is not going to any of this."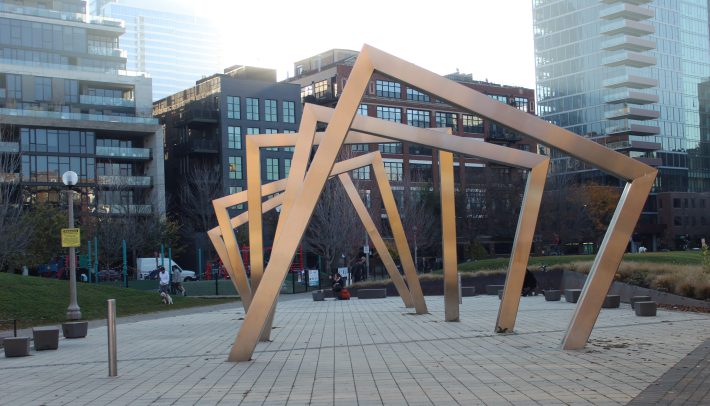 What Developers Give
Prominent developer Sterling Bay only recently agreed to donate to the Skinner Park Advisory Board after being courted by Toy for "nearly 20 years," she said. It gave a one-time donation of $750, which frustrated Toy, since she believes the developer has deep pockets.
At Bartelme Park, donations from Sterling Bay, Shapack Partners and John Buck all have fallen off after 2019 despite having active developments in the surrounding neighborhood, Kanter said. Most of those donations averaged $500 to $1,000, Kanter said.
A Sterling Bay spokesperson told Block Club company leaders were "happy to contribute" with a donation to support Skinner Park's Pumkinpalooza and said the company had not been approached by Bartelme leaders for a donation since 2019.
"We invite all organizations seeking donations from SB Care, our firm's philanthropic initiative, to contact us on our website's Contribution Request Form," the spokesperson said in a statement.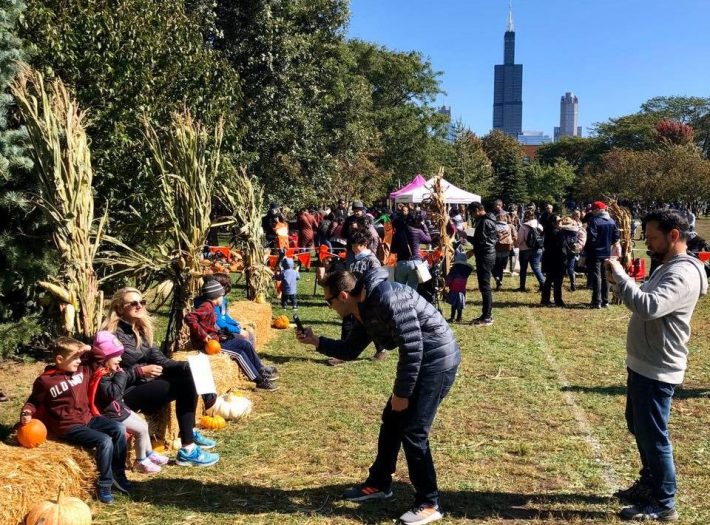 Michigan Avenue Real Estate Group has given to Skinner Park consistently, Toy said. Belgravia gave a one-time donation of $1,000 in 2007, but nothing since, she said.
The development of The Duncan, a 260-unit conversion of an old YMCA next to Skinner Park, was also a disappointment for Toy who said developer Cedar Street didn't donate to the council. Many of its residents frequent the park and its events, Toy said.
Over the years, Toy has also approached representatives of Pizzuti, Tandum Partners and LG Development for donations, but was denied. Toy meets developers at community meetings. She estimates she's successful in securing a donation around 10 percent of the time.
A spokesperson for Pizzuti said the company's community contributions have been directed towards the CTA Blue Line for improvements of the West Loop stop. The spokesperson didn't share a reason for not contributing to Skinner Park, but said they would like to reach out to Toy.
Representatives from developers Shapack Partners, John Buck, Cedar Street, LG Development and Tandum did not respond to requests for comment.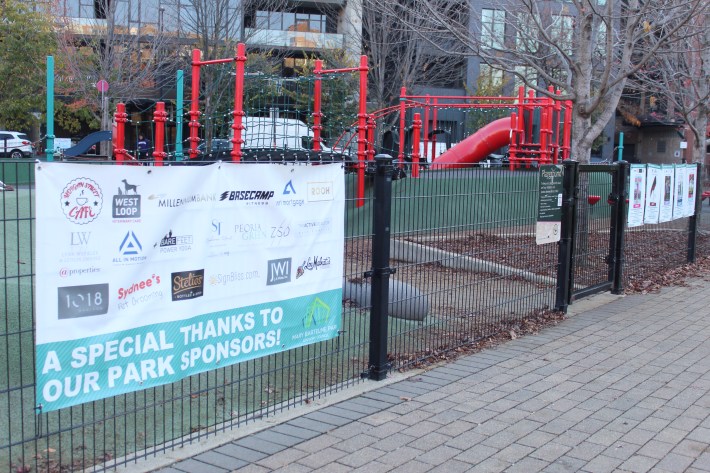 'The City Just Lets [Developers] Profit Off Us Continuously Without Giving Back'
The impact of the recent residential boom on the Near West Side can be shown in the July 2022 Community Data Snapshot from the Chicago Metropolitan Agency for Planning.
According to the report, there is 1.44 acres of park accessible per 1,000 residents on the Near West Side versus the city's average of 2.42 acres per 1,000 residents.
Juanita Irizarry, executive director of Friends of the Parks, which helps establish local park advisory boards in Chicago, told Block Club the group has seen an added strain on local parks from increased density. Under former Mayor Rahm Emanuel, Downtown residential development was emphasized, with no "concomitant emphasis on new green space," Irizarry said.
"And so we have seen added strains to parks, even parks as big as Grant Park to be honest," Irizarry said.
Those increased demand on Mary Bartelme space have emphasized the need for a water fountain; currently it has none. The park district has agreed to add the water line, Kanter said, but the council needs to foot the bill for the drinking structure: $5,000.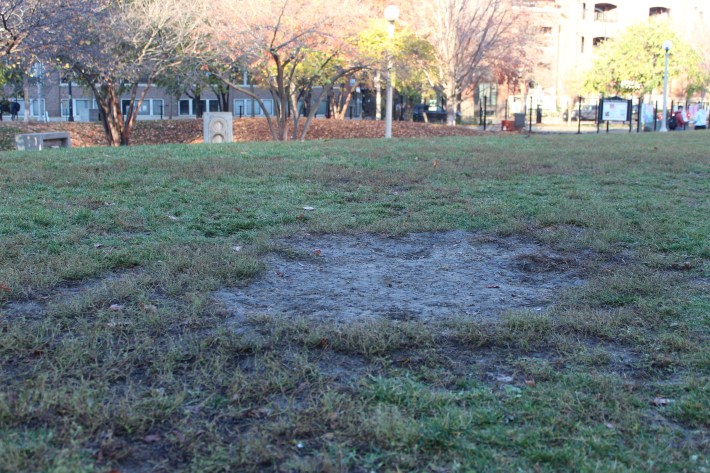 At Skinner Park, Toy said the playground needs to be expanded. The park can be overwhelmed with 1,000 kids a day frequenting the park from day cares, Skinner West Elementary School and after-school programs, Toy said.
"All major improvements that we've had at the playground, the Park District did not fund any of it. We had to privately raise funds or go to the city to get funding for it," Toy said.
"Basically the [Park Advisory Councils] are raising money for things that really should be budgeted for by the Park District," Irizarry said.
Kanter and Toy want the city and its local leaders to require developers to contribute to the parks.
"These are things that the city is allowing [developers] to do, which they shouldn't be and that in itself was frustrating because we can only ask for donations. The city, by law, can mandate them, but they don't," Toy said.
"The city just lets [developers] profit off us continuously without giving back," Kanter said. "The city needs to be held accountable. We'll tell them we are not being supportive but they'll add 2,000 more people [to the neighborhood]."
Although the West Loop is an affluent neighborhood, accessibility to public space is still important, park advocates said.
"Because of these high-density neighborhoods, we really do need to think about parks and green space for those communities, even though people there are not as needy as far as their income goes," Irizarry said.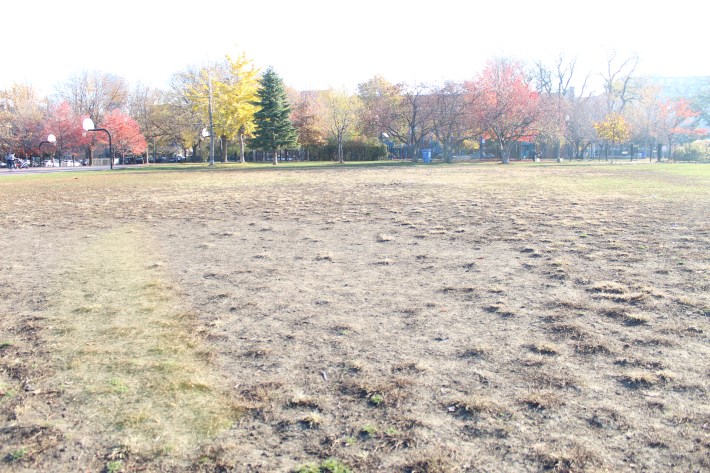 In the West Loop, developers can build taller and denser projects by paying into the city's Neighborhood Opportunity Fund. While most of that money goes to fuel projects on the South and West sides, 10 percent of that money must be spent on projects locally, like West Loop parks, streetscape improvements, bicycle networks, transit improvements, restoration of landmark buildings and improvements to public facilities, according to the city's planning department.
In May, both parks were finalists to receive money under the Neighborhood Opportunity Fund program. Funding to "support green space" was one of five projects competing for $2.9 million. A streetscape project to improve Madison Street in the West Loop was ultimately was chosen as the winner.
Skinner Park has secured about $500,000 in local impact funds set aside for the development of a field house, but the estimated project cost is $25 million, Toy said. That project has been in limbo while a location for the field house has not been finalized.
Mary Bartelme has not benefited from the local impact funds since Kanter has been involved with the advisory council, she said.
Watch our "On The Block" TV show on The U, CW26 and MeTV.
Listen to "It's All Good: A Block Club Chicago Podcast":