LINCOLN SQUARE — I Monelli's owner has partnered with a friend to open Territory Kitchen, a restaurant serving hearty Italian and German food out of the former Famous Dutch Pancake Huis in Lincoln Square. 
Territory owners Vittorio Iasalvatore and Chris Royce signed a lease for the 4757 N. Western Ave. spot in April and spent the next eight months renovating the interior to get ready for Tuesday's soft opening, the owners said.
"We did almost everything ourselves. I'm not a carpenter, and neither is Vittorio. He's a chef, and I've been a bartender for 10 years," Royce said. "But we picked up hammers and figured it out."  
Territory Kitchen will be open 11 a.m.-7 p.m. Tuesday through Thursday and 11 a.m.-8 p.m. Friday and Saturday for the first two weeks, Royce said.
People can call or check their website for permanent hours, menu and new specials as the restaurant gets up and running, the owners said.
During the buildout, the owners wanted to expand the seating area by getting rid of booths that took up a lot of square footage, they said. They created bar counter seating along the wall by salvaging the tabletops the previous owner had left them, Royce said. Another improvement was modernizing the bathroom and making it larger, he said.
Territory's initial menu includes Panino Overseas, an Italian sausage served on a bun with ricotta, sautéed mixed peppers and a pickled red onion on a bun. Another menu item is the Panino Western, a bratwurst served with sautéed sauerkraut, bacon and a house mustard.
Iasalvatore has Chilean and Italian roots, while Royce is German and a third-generation Dank Haus member. When the duo were designing the menu, they wanted to avoid fusion dishes while highlighting their cultural backgrounds. 
"Our concept is called 'tavola calda' in Italy, which means 'hot table.' It's like Italian fast food because it means you can grab a hot plate in a timely manner," Iasalvatore said. "You don't need to wait 20 or 30 minutes to get a hot plate. Instead, your order will be ready in like five or six minutes."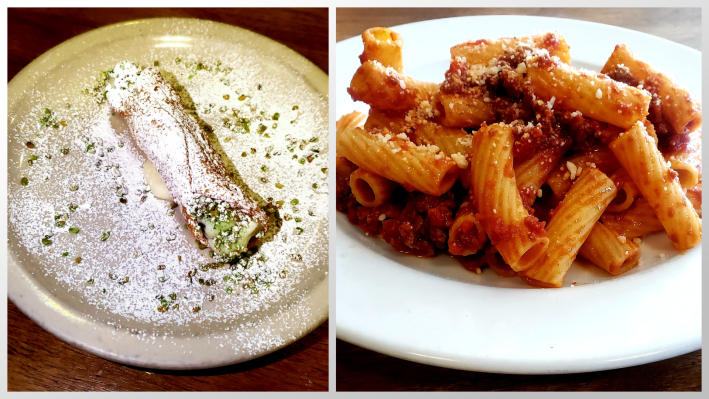 The owners have hung memorabilia on the walls, including old German-language newspapers, photos of family and, in one corner, a small green "Pannenkoeken Cafe" sign they salvaged during their buildout.
RELATED: Lincoln Square's Beloved Famous Dutch Pancake Huis Is Closed For Good
Iasalvatore was the owner of beloved Italian restaurant I Monelli further north on Western for 11 years before he closed it during 2020's pandemic disruptions, he said. 
In late August 2020, Iasalvatore ended up running into Royce for the first time while at Barba Yianni Grecian Taverna, near the Heart of Lincoln Square. The two quickly became friends, they said.
"After his restaurant had closed because of the pandemic, he was still getting over that. He's very driven, and we ended up talking about our passion for food," Royce said. 
While hanging out drinking beers at the Barba Yianni, the two also realized they shared a love of heavy metal music and spent many late nights chatting at the bar and dreaming about opening their own restaurant together, they said. 
When it came time to come up with a name for the new business, they hired local artist Delia Jean to create a logo featuring illustrations of themselves and pulled inspiration from Brazilian heavy metal band Sepultura's song "Territory" for the restaurant's name, they said.
"The band, they have a good concept, a good power to the people concept. And with the song 'Territory,' it's about how no one can tell you what to do," Iasalvatore said. "That's why we thought using the name Territory was best, because we're making our own culinary territory." 
With I Monelli, Iasalvatore was limited to Italian cuisine. But with Territory Kitchen, he and Royce are free to change the menu however they please and plan to add seasonal specials, breakfast sandwiches and other menu items after the soft opening is over, they said. 
One of those menu items slated to be added is a Chilean-style hot dog called a completo, which is larger than a Chicago hot dog and made by boiling the sausage. The boiled link is then placed in a bun and topped with palta, which is smashed avocado with a pinch of salt, chopped tomatoes, sauerkraut and a lot of mayo, Iasalvatore said. 
"I said before, we have a ton of Italian and German stuff on the menu, but we're also going to do some really cool stuff like the completo too," Royce said. 
Territory Kitchen's soft opening menu: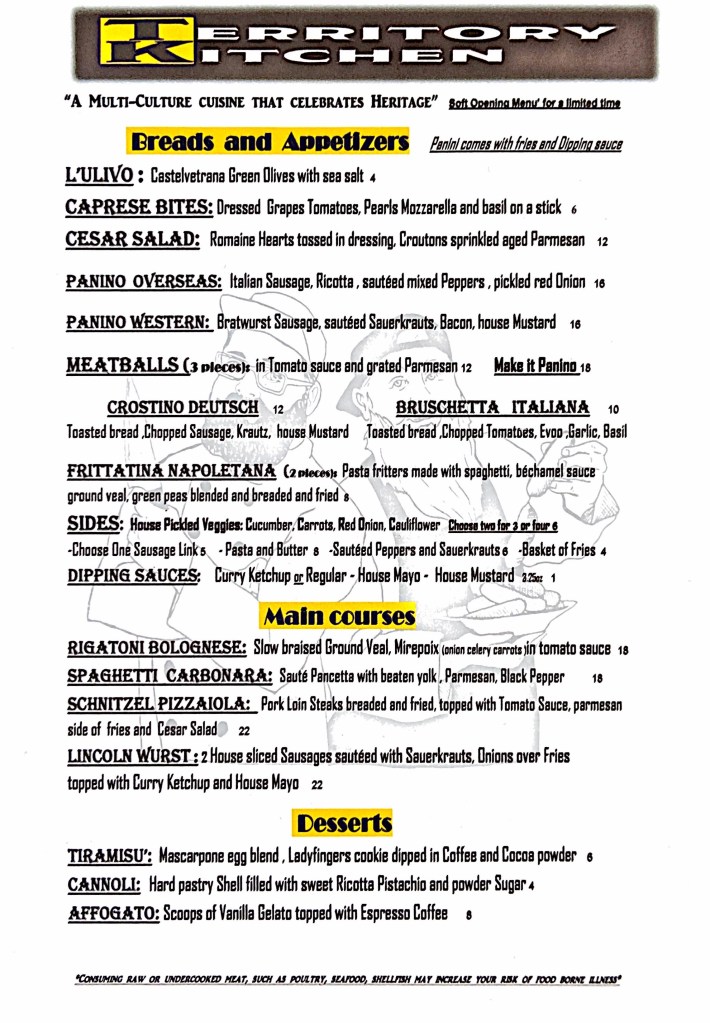 Listen to "It's All Good: A Block Club Chicago Podcast":