PORTAGE PARK — People near the Culver's in Six Corners now have a wall of art to check out highlighting work from five local artists.
"Music You Can See" is the title of the latest mural, which adorns on a dentist building wall facing the Culver's drive-thru, 4939 W. Irving Park Road. It's a beautification effort to bring more art to the busy business corridor, officials said.
Artists Carly Derec, Kathryn Eli, Penny Pinch, Shawn Smith and Cyd Smillie each painted a section of the project, bringing their own styles and colors to the 70-foot mural, which was grant-funded by the Six Corners Association in partnership with Arts Alive Chicago.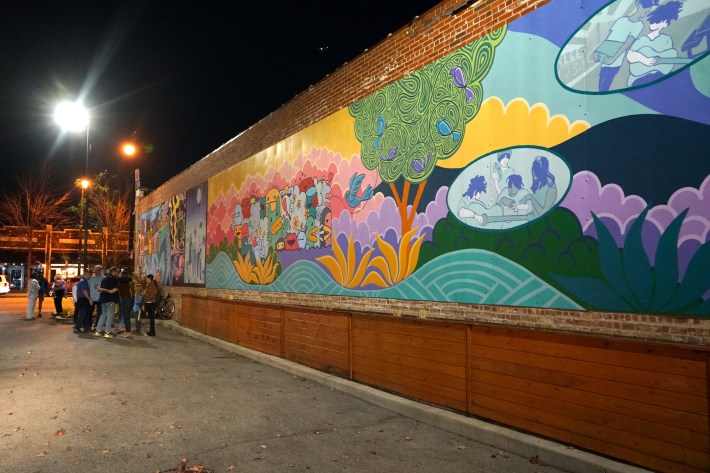 "It's highly collaborative and we each have our styles but then we had to find a way for it all to be cohesive," said Smith, who paints under the name Shawnimals. "It ends up being these facets of a neighborhood."
Smith, who has 30 murals in the Chicago area, is glad to finally have painted one in his own neighborhood, he said. His section of the mural sits in the middle with colorful analog characters smiling, waving and holding up the peace sign to viewers — a representation of the community, he said.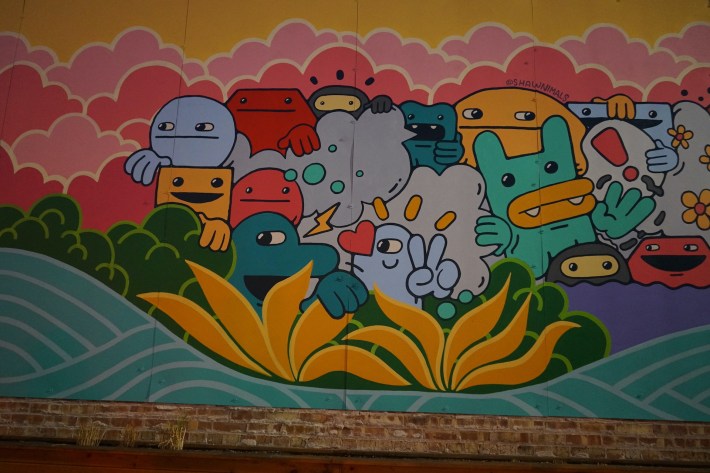 Danny Ehle, the franchisee of the Six Corners Culver's who also lives in Portage Park, said the mural will help the store and the neighborhood shine brighter and put the area more on a map for outsiders.
The fast-food restaurant sees about 4,000 people a day and that number could increase because of the art, he said.
Since opening Culvers about five years ago, he's long wanted a mural on the wall and thanked the Six Corners Association for making it happen, he said. He's already noticed more foot traffic because of the art.
"People would walk through to go to other businesses and now they stop and check it out," Ehle said.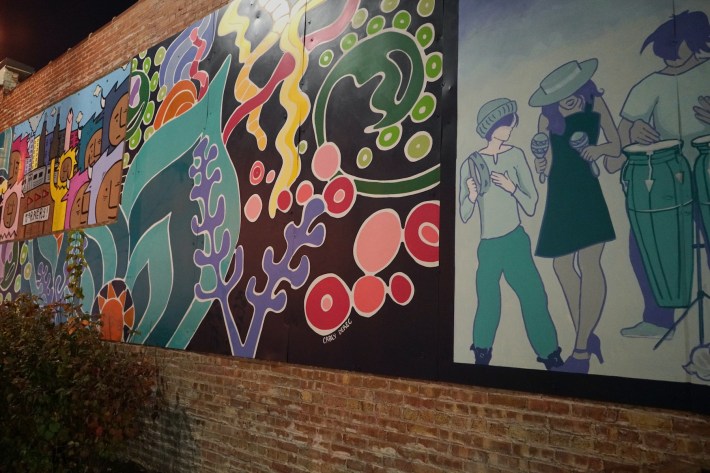 Derec, who painted abstract shapes that resemble a seascape with a black background, said she spent 20 hours on the work.
"Everything is oddly placed together in a really thought-out way that wasn't even thought out," said Derec, who lives in Niles. "Penny Pinch's colors he uses, he finds his own colors and his design with mine flows. … It just happens to work that way. It's very organic."
The mural is the third project by the Six Corners Association this year with Arts Alive Chicago, and the state has taken notice. Last week, the association was recognized for its work in bringing art and revitalization to the community, winning the Lieutenant Governor Award for Design. The award by the organization Illinois Main Street works with communities in bringing economic vitality to historic shopping centers.
Watch our "On The Block" TV show on The U, CW26 and MeTV.
Listen to "It's All Good: A Block Club Chicago Podcast":