WASHINGTON PARK — Deeply Rooted Dance Theater is finally getting its own home on the South Side after five years of planning.
The company is moving from its shared space with Ballet Chicago in the Loop to a facility in the 5400 block of South State Street in Washington Park. The 30,000-square-foot South Side Dance Center is scheduled to open in 2024.
Deeply Rooted's move has been buoyed by millions in new funding. The state gave nearly $3 million through its Rebuild Illinois Downtowns and Main Streets Capital Program grant in August. The organization also received a $500,000 Together We Heal Creative Place grant from the city, plus another $1 million from private donors, said Kevin Iega Jeff, creative and executive director.
Deeply Rooted has planned the move since 2017, Jeff said.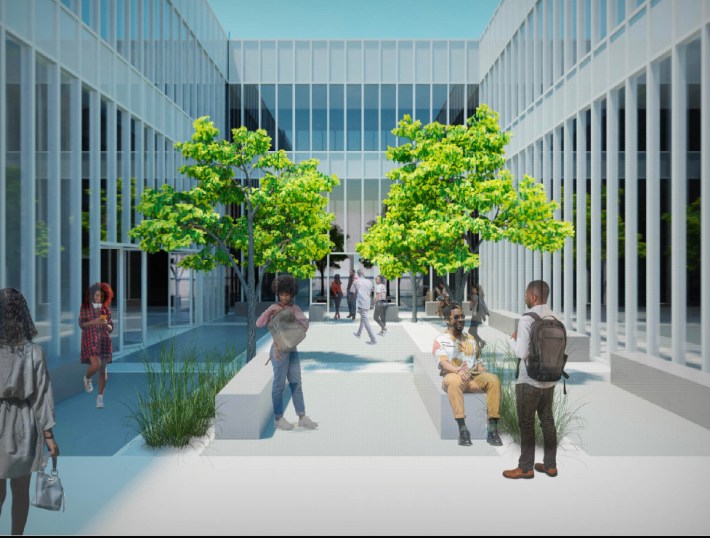 The partnership with Ballet Chicago has been good for the dance company, but sharing facilities has become more challenging as Deeply Rooted has grown, Jeff said. With Ballet Chicago being the primary tenant, Jeff and his troupe had to work around its schedule, which limited their ability to expand their programs, he said.
Jeff began to envision a center that could be home to Deeply Rooted and provide a space for its partners. It's held performances at the University of Chicago Logan Center for the Arts along with other small companies, and its new center on State Street will have room for those troupes, Jeff said.
"We wanted to create a forum for relationship-building, and that's happened through our partnership with the University of Chicago's Logan Center. There were other dance companies in need of more space," Jeff said.
Company leaders began developing the project around two years ago, Jeff said. The infusion of funding puts the team within reach of their initial $5 million fundraising goal, Jeff said.
Construction of the dance center will cost $15.6 million, and the company hopes to raise an additional $10 million for its program fund, Jeff said. Leaders hope to take advantage of New Market tax credits, as well, Jeff said.
Moving to a predominantly Black community will allow Deeply Rooted to expand its outreach efforts and offer programs like its summer intensive during the day instead of in the evening, Jeff said.
"The facility will enable us to accommodate more people and allow families to get there in a more affordable way. Going Downtown, you've got to worry about parking and the other complications of getting in and out of The Loop," Jeff said.
The company is also gearing up for its "one-night only" performance honoring the work of Quincy Jones Saturday at Auditorium Theater.
"Q After Dark" will feature three choreographed pieces set to the Chicago legend's songs, including "You Put A Move On My Heart" and "Summer in the City."
Celebrating Jones's contributions to the musical landscape was important for Artistic Director Nicole Clarke-Springer, who has been a fan since childhood, she said. Growing up in a family of musicians, it wasn't uncommon to hear Jones's music paying in the house, she said.
"When we had two performances at the South Shore Cultural Center and Garfield Park, the turnout was big each time. It shows how his music has touched so many individuals, especially in the Black community," Clarke-Springer said. "It can take you back to that childhood moment, your first date, your family barbecue. Quincy Jones is somewhere in there."
Clarke-Springer is also excited about the move to the South Side.
"Representation matters, and to have a company like Deeply Rooted there, where we are seeing ourselves in our home. And then the community gets to see themselves inside of us, and the possibilities therein. That's exciting for me," Clarke-Springer said.
Watch our "On The Block" TV show on The U, CW26 and MeTV.
Listen to "It's All Good: A Block Club Chicago Podcast":