HUMBOLDT PARK — The family of Akeem Briscoe is in disbelief after someone opened fire near their home Wednesday evening, sending a bullet through the bathroom window that struck and killed the 7-year-old.
The fatal shooting happened around 8:20 p.m. Wednesday in the 2600 block of West Potomac Avenue, police said. Akeem was washing his hands to get ready for dinner with his two older siblings and his mother when a bullet flew through the window and hit the boy in his stomach, police and family said.
Akeem's family scrambled to help the wounded 7-year-old, family said. Akeem was taken to Stroger Hospital in critical condition and later died, authorities said.
Police said they don't think anyone in the home was the intended target of the fatal shooting. Akeem's grief-stricken family is urging anyone with information about the shooter to come forward as the investigation continues.
"Turn yourself in. If you don't turn yourself in, everybody know you ain't got a heart," Akeem's uncle, Terribia Misters, said outside of the family home Thursday morning.
"When they catch you, you need to sit down and be in jail for a long time to think about what you did. You took a young boy's life who didn't even get a chance to experience life itself."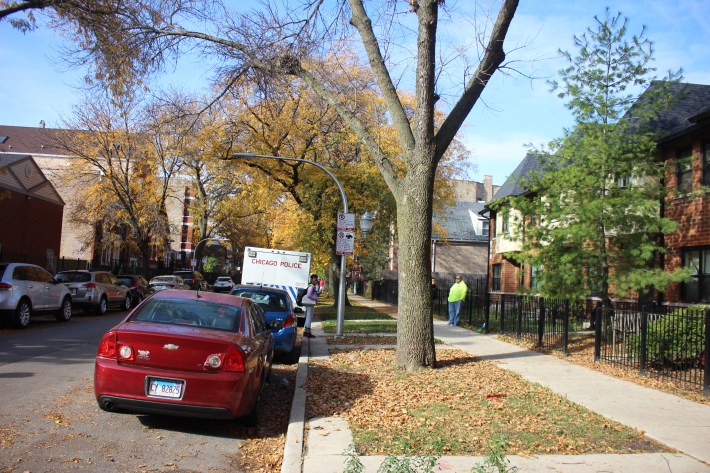 The back of the family's apartment building, where the bullet ripped through the window, was cordoned off with red police tape Thursday morning as detectives and anti-violence workers talked to neighbors and family members. Jessie Fuentes, a local activist running for 26th Ward alderperson, was also at the scene.
Officers had received multiple calls for shots fired at Rockwell Street and Potomac Avenue and found several shell casings in the alley behind the home, police said.
"Any person that's shot in the city is tragic. When it's a young child like this, an innocent child, in the safety of their own home, it's entirely tragic," Detective Chief Ron Pontecore said at a news conference. "It's something we take seriously. We'll deploy a lot of resources to the area to find out who is responsible for this."
Akeem was a talkative and affable kid who liked to watch movies, play video games and play with his friends, his uncle said.
The boy attended Walter L. Newberry Math & Science Academy in Lincoln Park and was looking forward to going on a school field trip Thursday, his uncle said.
"He enjoyed talking a lot. He was definitely a talker," Misters said. "He used to call me his favorite uncle 'cause I've been around him the longest, playing with him and doing things with him."
Akeem lived with Misters, his two siblings and his mother, Misters' sister. The family moved into the Humboldt Park apartment four years ago, Misters said. Shootings have become a common occurrence in the area, he said.
"It's just been going a little crazy over here in Humboldt Park," Misters said.
Most nights, the family eats dinner together  — the kids eat first, and then the two adults grab a plate, Misters said. The night Akeem was shot, the family was eating a meal of chicken, vegetables and rice prepared by Akeem's mother, he said.
Misters said his sister was also making Akeem a bagged lunch for his field trip the following day. 
Misters was at work when he got a frantic call that Akeem had been shot. Akeem's mother declined to be interviewed.
"It made my heart race; I had to rush home. At first, I thought it was unbelievable. I just rushed home, almost ran every light to be there," Misters said.
Akeem was killed just a few days after the funeral for his father, who died this month after a "heart surgery gone wrong," Misters said. Akeem's family now is grappling with the unexpected deaths of two family members within just a few weeks.
"My sister is going through it. … My sister feels sometimes like she don't want to be here no more," Misters said of Akeem's mother.
At least 12 children 13 and younger have been killed in Chicago this year, the Sun-Times reported, citing the paper's data.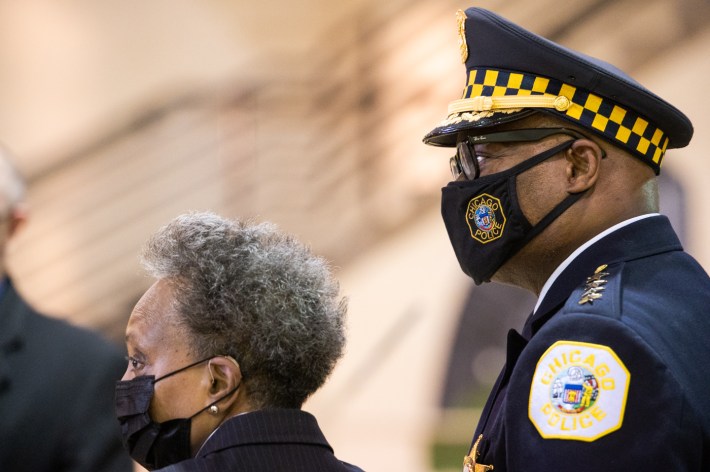 Mayor Lori Lightfoot and Chicago Police Supt. David Brown decried the shooting deaths of Akeem and a 15-year-old boy in Greater Grand Crossing at a press conference Thursday about Halloween safety.
The 15-year-old was shot around 11 p.m. Wednesday while walking in the 7700 block of South Vernon Avenue, police said. A gunman in a white Jeep opened fire, hitting the 15-year-old multiple times in the leg and torso, police said.
The boy was taken to University of Chicago Medicine Center in critical condition and later pronounced dead.
"These two boys should've been in school today, anxiously awaiting a weekend of fun. They should've gone on celebrating afterwards. Instead, today, two families have been ripped apart," Lightfoot said. "The city is, once again, mourning the loss of two of our precious young people."
Lightfoot and Brown appealed to the public for help in bringing justice to the two families.
Anyone with information about the shootings should call the police anonymous tip line at (833) 408-0069 or submit an anonymous tip online, they said.
"In each of these, someone knows who is responsible for these heinous crimes. This didn't happen in a vacuum. There are people who are out there right now who know exactly what happened," Lightfoot said. "You must, must come forward. These families are deeply grieving. Come forward for them."
Listen to "It's All Good: A Block Club Chicago Podcast":