GRAND BOULEVARD — Activists and preservationists are calling on President Joe Biden to declare the South Side church where Emmett Till's funeral was held a national landmark as renewed interest in the teenager's murder grows.
On Friday, Interior Secretary Deb Haaland visited Roberts Temple Church of God in Christ, 4021 S. State St., as part of a community conversation about landmarking it. She was joined by Reps. Bobby Rush and Danny Davis and Sen. Dick Durbin, all of whom represent parts of Chicago, and the Rev. Wheeler Parker, a civil rights activist who is the last living witness to Till's kidnapping.
"President Biden has charged our entire government with combating racial injustice, and one way we do that at the Interior is the tell the full story, the good and the bad," Haaland said. "Through these stories, we can work to build an equitable and inclusive future. Your history is American history."
After white men brutally tortured and murdered Till as he visited Mississippi, an estimated 100,000 people walked through Roberts Temple to pay their respects to the teen over three days in September 1955. Till's mother, Mamie Till-Mobley, insisted her son's service be held with an open casket so the attendees could see the violence inflicted upon the 14-year-old.
Till-Mobley's decision spurred the Civil Rights Movement, with some saying it was the origin of the fight. More recently, Till's story has been in the headlines as Mississippi honored him with a statue and a movie, "Till," about his brief life and death is set to open Friday in theaters nationwide.
But the push to landmark the church that played a key role in Till's story is still in the works.
In March 2021, Durbin and Sen. Tammy Duckworth introduced a bill that would have Roberts Temple declared a national historic site. The 125-year-old church, which moved to its current location in 1923, was also the recipient of a $150,000 grant that summer from the African American Cultural Heritage Action Fund. The money was used to repair water damage and cracks in the foundation.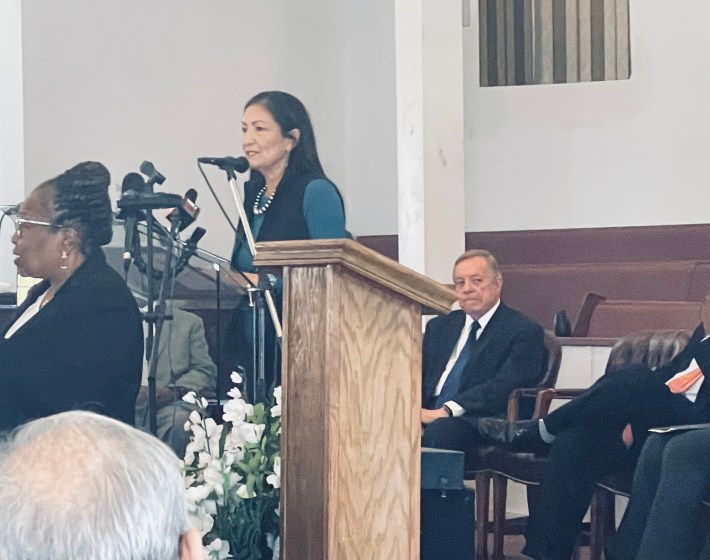 Roberts Temple was granted city landmark status in 2006, but national status could offer it more protections.
Residents and community leaders at Friday's meeting implored government officials to persuade Biden to invoke the Antiquities Act, which would put the building — named one of the United States' most endangered historic places — in the care of the National Park Service.
President Barack Obama used the Antiquities Act to declare the Pullman neighborhood a national monument in 2015. The site opened to great fanfare last year.
"We will always talk about what mattered in the history of this country. [Mamie Till-Mobley] was determined for the rest of her life that we wouldn't look away, and she lived her life on purpose with that in mind," said Christopher Benson, a Northwestern University professor who serves as president of the Emmett Till and Mamie Till-Mobley Institute.
John Adams, Bronzeville Trail Task Force chair, said a national designation for the church could complement neighbors' efforts to convert 2 miles of old railroad tracks into a running and hiking trail. The Bronzeville Trail — which hundreds of Black workers once used to travel to the stockyards — could be a "companion" project to the church, Adams said.
National recognition of the site would also complement efforts to turn Bronzeville into a national heritage area, which would include Tilll's childhood home in Woodlawn, attendees said. Efforts are underway to transform the two-flat into a museum.
Sherry Williams, the founder of the Bronzeville Historical Society, said Haaland's visit illustrates the "national importance of Roberts Temple" in American story.
"The advocacy of African Americans was beyond Emmett's death in Mississippi. This shows that Chicago galvanized behind Mamie Till-Mobley in order to make certain that his death was not in vain, and we understand clearly that it catapulted the modern Civil Rights Movement, which is still in action today," Williams said. "The struggle still remains as important as it was at the time of his death in 1955."
Haaland said she and her team will take what they heard back to Washington, D.C., as they explore next steps.
Listen to "It's All Good: A Block Club Chicago Podcast":