WEST LOOP — Residents called for more officers to patrol the West Loop and more communication between police and neighbors at a Thursday night meeting led by Near West (12th) District Police.
Nearly 70 neighbors attended the meeting, which was held so people could share their ideas for how local officers should police the area in 2023.
The West Loop neighborhood — which is known for its trendy restaurants and booming development — has been the site of attempted kidnappings and other crime recently. Some neighbors have asked local aldermen to bring in private security, a tactic that's proven controversial in other neighborhoods, and a local group recently asked for 100 surveillance cameras to be added to the area.
Carjackings, shootings and thefts have been a top priority for police in 2022, Officer Paris Edwards told attendees at Thursday's meeting. Shootings decreased 16.1 percent while carjackings increased 7.5 percent and thefts from vehicles increased 84 percent Jan. 1-Sept. 30 this year compared to in 2021, according to police data.
Officers asked attendees what issues they should prioritize in 2023 and how they can better engage with the community.
Information from the meetings will be aggregated into a 2023 strategic plan draft, which will be sent to participants for feedback before posting a final version on the district's website.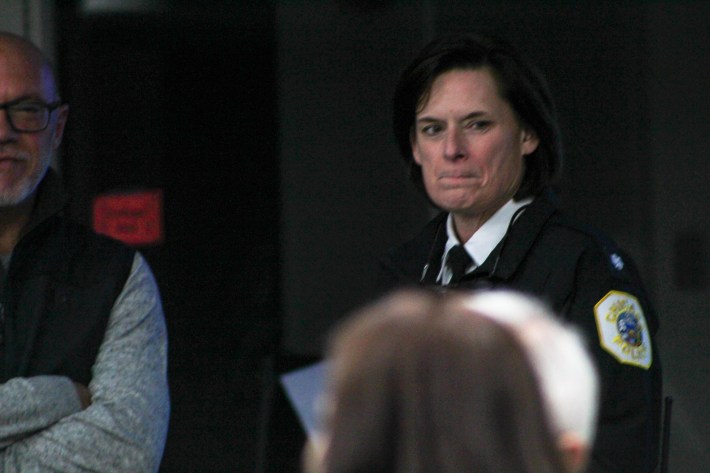 Many attendees said they'd like to see more officers patrolling on foot.
"When I grew up, there was always a beat officer on my street and I knew who he was," an attendee said.
Others said having more officers patrol the area would make people more comfortable walking at night.
Police Cmdr. Beth Giltmier declined to say how many officers are assigned to the Near West (12th) Police District. But the Police Department is down overall nearly 1,300 officers, according to CBS2.
Residents also want area police leaders to better communicate how they are following up after high-profile crimes. An attendee said she'd heard about attempted kidnappings near Mary Bartelme Park in the news — but then never heard anything again, leaving her wondering if she was safe.
Others said they're concerned about "fear mongering" and "misinformation" about crimes on social media, saying such posts can cause confusion.
Neighbors also said they want more street lights, better resources for people experiencing homelessness, for officers to pay more attention to armed robberies and for police to patrol near highway exits and entrances.
Residents said they'd also like to see the district engage with residents more by providing updates via mail, being more active on social media and hosting more community events.
Listen to "It's All Good: A Block Club Chicago Podcast":